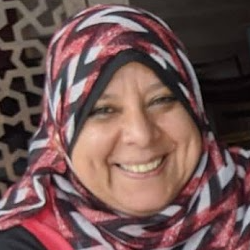 About Ghada Gad:
Dear Hiring Manager, 
I am writing to express my interest in the position currently available at your facility. As a retired operations manager, I am excited about the opportunity to contribute my skills and experience.  I am impressed with the company's profile and I believe that my background and work ethic make me a good candidate for the position.
During my time at Amazon, I worked my way up from an associate to an operations manager, and I developed a keen eye for detail and a strong understanding of logistics and operations, strong excel skills, coaching and employee development experience and good administrative background, troubleshooting and delivering results. I am confident that these skills will be an asset to your team. In addition, I am a quick learner who is comfortable with new technology and systems, and I am able to work independently or as part of a team.
As someone who is retired, I am looking for a part-time or virtual position to keep me busy and engaged. I am available for any shift except nights and am willing to work weekends and holidays as needed.
Experience
Operation Manager-On Road Delivery Operation
Amazon
May 2021 – May 2023
AMZL Academy Dean
Amazon
Apr 2020 – April 2021 (1 yr 1 mos)
Shift Manager
Amazon
Jun 2018 – March 2020 (1 yr 10 mos)
Shift Assistant
Amazon
Sep 2017 – May 2018 (9 mos)
Learning Coordinator
Amazon
Apr 2016 – Aug 2017 (1 yr 5 mos)
Seasonal Trainer
Amazon
Sep 2015 – March 2016 (5 mos)
Education
Education
Tanta University, Faculty of Medicine
Master's degree, Clinical and chemical pathology
1995 – 2000
The University of British Columbia
certificate, Laboratory Quality Management
2014 – Present
edX
Business Administration and Management, General
The Value of Business Models 
Professionals who compete with Ghada
Professionals in the same Transportation / Logistics sector as Ghada Gad
Professionals from different sectors near Vancouver, Metro Vancouver Regional District
Jobs near Vancouver, Metro Vancouver Regional District
---

Net Impact

Vancouver, Canada

Chief Social Purpose Officer & Vice President, Marketing BC Lottery CorporationReporting to the CEO, the Chief Social Purpose Officer & Vice-President, Marketing (CSPO) works closely with the CEO, Exe ...

---

Biba Canada

Surrey, Canada

Education: Secondary (high) school graduation certificate · Experience: 7 months to less than 1 year · or equivalent experience · Tasks · Assign sales workers to duties · Authorize return of merchandi ...

---

Michels Canada

Coquitlam, BC, Canada

Full time

Fraud Alert · Please keep in mind these important tips: · Personal information and banking information is NOT collected until you have been personally onboarded by our HR Team. · We do not extend a ...