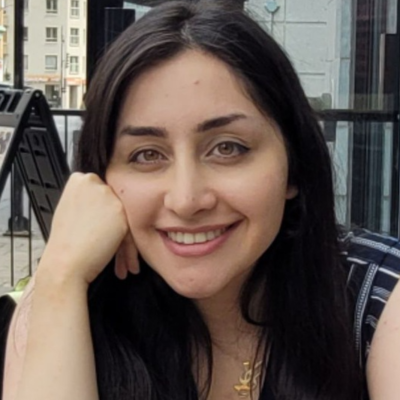 About me:
The most satisfying moment of my life is when I come up with a solution to solve problems of either others or mine. I am passionate about analyzing the business's structures and recommending creative and helpful solutions for various projects. I am confident that I have the adequate knowledge and expertise to excel as a business analyst.   
Experience
Business Analyst                                                                                                                            Apr 2019- Oct 2019
Taran Company Tehran (Software Development)- Tehran, Iran
𝐂𝐨𝐧𝐝𝐮𝐜𝐭𝐞𝐝 𝐦𝐞𝐞𝐭𝐢𝐧𝐠𝐬 with 𝐤𝐞𝐲 𝐬𝐭𝐚𝐤𝐞𝐡𝐨𝐥𝐝𝐞𝐫𝐬 to collect information on the business processes, implement 𝐫𝐞𝐪𝐮𝐢𝐫𝐞𝐦𝐞𝐧𝐭𝐬 𝐞𝐥𝐢𝐜𝐢𝐭𝐚𝐭𝐢𝐨𝐧, and prepare 𝐛𝐮𝐬𝐢𝐧𝐞𝐬𝐬 𝐜𝐚𝐬𝐞𝐬
𝐀𝐬𝐬𝐞𝐬𝐞𝐝 existed strategies and 𝐬𝐮𝐠𝐠𝐞𝐬𝐭𝐞𝐝 more 𝐩𝐫𝐨𝐝𝐮𝐜𝐭𝐢𝐯𝐞 𝐬𝐨𝐥𝐮𝐭𝐢𝐨𝐧𝐬 or technology directions
Provided comprehensive technical and functional specifications for business requirements
Developed multiple 𝐫𝐞𝐩𝐨𝐫𝐭𝐬 and 𝐝𝐨𝐜𝐮𝐦𝐞𝐧𝐭𝐚𝐭𝐢𝐨𝐧 for both 𝐬𝐨𝐟𝐭𝐰𝐚𝐫𝐞 𝐝𝐞𝐯𝐞𝐥𝐨𝐩𝐞𝐫𝐬 team and the 𝐜𝐥𝐢𝐞𝐧𝐭𝐬
Performed User Acceptance Testing and other testing
Assigned to 𝐭𝐫𝐚𝐢𝐧 and 𝐠𝐮𝐢𝐝𝐞 3 junior colleagues
Increased stakeholders' engagement and Buy-in by providing BA models such as Root-cause Analysis, Mind Mapping, Process Modelling, and Activity Diagrams by %50
---
Graduate Research Assistant                                                                                                     Jan 2020- May 2022
McGill University (Supply Chain Optimization)- Montreal, Canada
𝐂𝐨𝐧𝐬𝐭𝐚𝐧𝐭𝐥𝐲 looked for the 𝐩𝐨𝐭𝐞𝐧𝐭𝐢𝐚𝐥 𝐛𝐚𝐫𝐫𝐢𝐞𝐫𝐬 in a business chain and applied the 𝐏𝐫𝐨𝐜𝐞𝐬𝐬 𝐈𝐦𝐩𝐫𝐨𝐯𝐞𝐦𝐞𝐧𝐭 𝐜𝐨𝐧𝐜𝐞𝐩𝐭
Facilitated 𝐬𝐭𝐚𝐭𝐢𝐬𝐭𝐢𝐜𝐚𝐥, 𝐪𝐮𝐚𝐥𝐢𝐭𝐚𝐭𝐢𝐯𝐞, and 𝐪𝐮𝐚𝐧𝐭𝐢𝐭𝐚𝐭𝐢𝐯𝐞 𝐚𝐧𝐚𝐥𝐲𝐬𝐢𝐬 by using my statistical knowledge and 𝐚𝐝𝐯𝐚𝐧𝐜𝐞𝐝 𝐄𝐱𝐜𝐞𝐥 skills 
Provided multiple 𝐩𝐫𝐨𝐠𝐫𝐞𝐬𝐬 𝐫𝐞𝐩𝐨𝐫𝐭 𝐩𝐫𝐞𝐬𝐞𝐧𝐭𝐚𝐭𝐢𝐨𝐧𝐬 with 15+ attendees, which improved my 𝐩𝐫𝐞𝐬𝐞𝐧𝐭𝐚𝐭𝐢𝐨𝐧 skills
---
Life Cycle Assessment Intern                                                                                                      Sep 2020- Apr 2021
HubTrack Corp. (Transportation)- Montreal, Canada
Prepared clear and compelling market intelligence reports on innovative approaches 
Conducted a variety of life cycle analyses to support the delivery of client sustainability solutions
---
VP of Finance (Volunteer)                                                                                                              Jul 2021- Jul 2022 MISA (with +1K members)- Montreal, Canada   
Increased 20% of total annual balance by reasonable events' ticket pricing and attracting sponsors
Established and maintained strong relationships with Senior Executives to identify their desires and provide cost-effective solutions
Communicated with potential sponsors and negotiated with potential suppliers
Lead the members and assigned roles to each of them
Education
EDUCATION & CERTIFICATION                                        
M.Sc. Engineering, McGill University, Montreal, Canada (3.86/4)                         Jan 2020- May 2022
B.Sc. Industrial Engineering, University of Tehran, Tehran, Iran (3.52/4)             Sep 2014- Sep 2018
Business Analysis: Essential Tools and Techniques
SQL Essential Training
SQL for Exploratory Data Analysis Essential Training
Upper Management / Consulting profesionals
Professionals from different sectors near Toronto, Ontario
Jobs near Toronto, Ontario
Found in: Talent CA - 3 days ago

---

Location · Toronto (GTA) · South West Ontario · Job Description · We are seeking an Inside Sale Coordinator who will work with our Account Executives to manage the day-to-day service requirements with existing accounts. You will be responsible for internal resource coordination t ...

Found in: Talent CA - 3 days ago

---

Line of Service · Tax Industry/Sector · Not Applicable Specialism · Entrepreneurial & Private Business (EPB) - Private Clients Management Level · Senior Manager Job Description & Summary · A career within PwC Private will provide the opportunity to help private companies ...

Found in: beBee S2 CA - 18 hours ago

---

Magna International Inc.

BRAMPTON

Job Number: 45185 · Group: Cosma International · Division: Cosma Canada Group Office · Job Type: Permanent/Regular · Location: BRAMPTON · Group Description · Cosma provides a comprehensive range of body, chassis and engineering solutions to global customers. Through our robu ...