4 years ago · 3 min. reading time · visibility 0 ·
Barcelona Van Murder 17 Aug 2017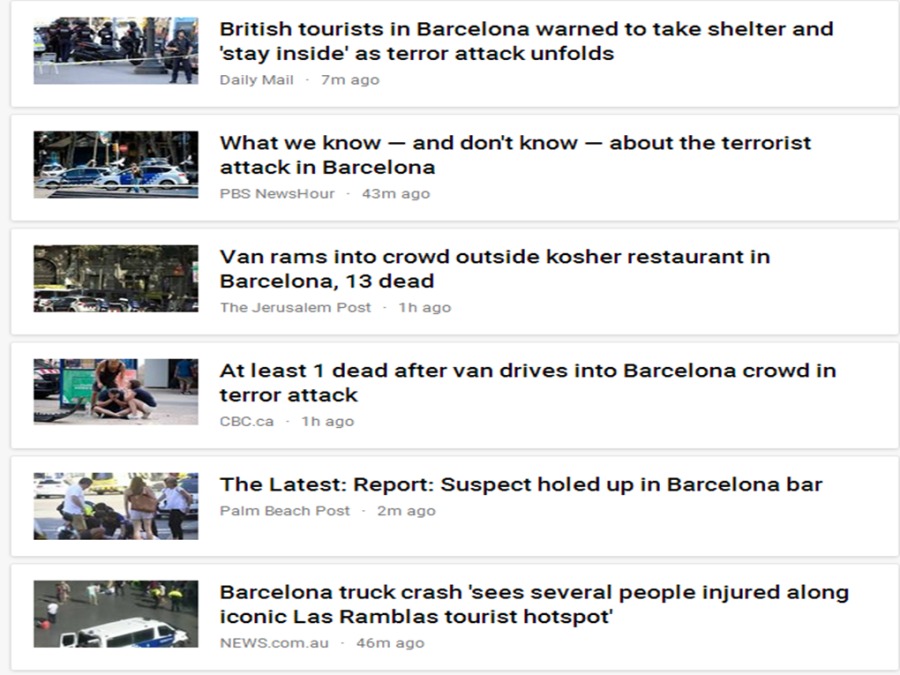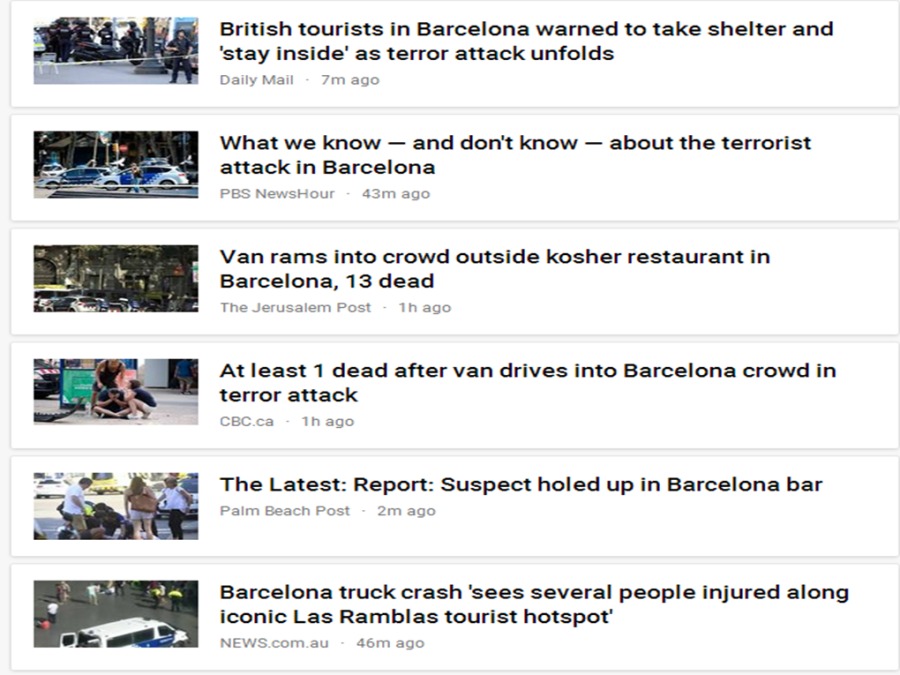 The tragic news coming out today in Barcelona leaves us yet again personally hurt by people whose loss pours into our own living rooms and this is the emerging reality of what news folk call a terror attack but which I simply describe as murder. 
Terror attack psychology is aimed directly at how it will affect us in our living room, it's design is to psychologically affect and disturb us.  My daughter and her husband were in Las Ramblas on Monday, currently she is in Rome, so on the one level it is how we identify with any particular attack that marks how we absorb it, the more closer we connect with it, the more the attack hits home at the center of own being, and the uncertainty created.
Whether the murderer represents radical religious groups or is another group, murder is murder and to see this is as a political act or the act of freedom fighters lends an unnecessary level of credibility to what are barbaric people whose only instrument of control is absolute fear.  The general response to terror murders so far has been a consistent defiance and a coming together of people and Barcelona is no different - this will bring us closer as people.
The screenshot header captures the news agencies that Google were reporting on their news feed earlier this afternoon, and what is interesting to me is the reporting stems from news groups all over the world.  If we are short of humanity in situations like this, we are certainly not short of news outlets or ways of news being delivered to us.
What we do control is how we relate to such news and whether we empower murderers by paying attention to killers and giving them what they want, which is for us to cower in fear or have our nerves frayed by the uncertainty created by such psychopathic acts.  It does not take much brainwashing to radicalize a human being to get them to kill people in the name of something which is futile and evil.  If the idea is we pay attention to people being killed in the Middle East, that is immediately negated by the violent murder of muslims by these same groups.  They torture and kill their own people and then justify their actions by creating an enemy and using God's name to justify blatant acts of evil. 

It is not that my daughter was in the same spot 2 days ago or that I have a high regard for the Catalan culture and people, it is that in the 21st Century news is organized in a particular way and murderers try to manipulate the way that news is organized in order to spread fear and dread.  That is what "terrorism" banks on, using the instruments of media to get our attention.  Ironically it is what media also banks on that we will watch this violence unfold because it is natural for us to do want to know more.  If we are capable of becoming a captive audience for such a news then this tells me that we have the power not to let those objectives work.
When these events break, we are saturated with a battle for our attention and media outlets create graphics and add music to pictures, repeat the same footage over and over and then should we call that news?  News should make us brighter and more stronger as a society but that is not what the word "terrorism" implies - for it can only work if we consume and view news in a particular set way, making our actions and behaviours predictable.  

Instead of giving these murderers air time, we need to suffocate their attempts to have our attention spin upon them.  For sure we should focus on the people who have suffered but even here we must have a greater regard for privacy because anything less than that is news voyeurism.   We should not be voyeurs of what should be called news porn, because the news outlets that are the most profitable are masters of maintaining our attention, but in a world where we can get news perspectives from Australia, Israel, Canada, other US outlets etc etc we don't need to accept news coverage that sensationalizes murder or seeks blood ratings on the back of news we will pay immediate attention to.
There should be memorials and there should be community appreciation and the strength that comes from being together in moments like this, but now these moments are guaranteed to be regular events, it is time to reevaluate how we personally consume news and that is a sign of the times.  The loss of people in Barcelona unites us as we think of them.  In our age how we engage and receive this news will be just as defining as the people we want to pay homage to as citizens of the world just like us.

""