9 months ago · 3 min. reading time · visibility 0 ·
Brand New Day Links To Volumes 1-24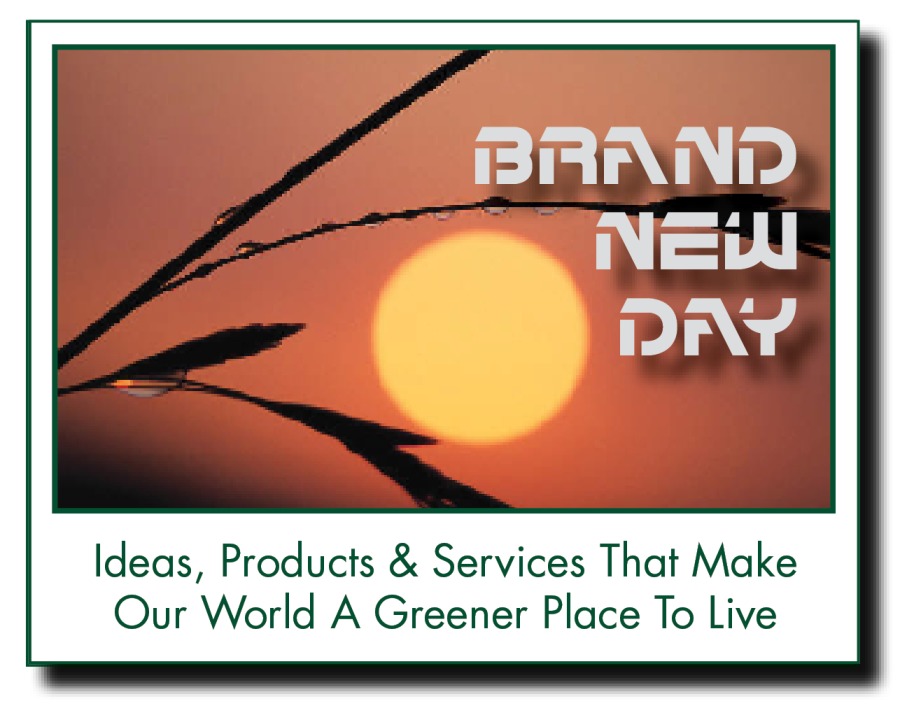 I am 24 posts into my new column, Brand New Day, where I am showcasing some of the great developments in renewables, greentech, recycling, up-cycling and re-use, etc. 
This is a very fast growing market and one that is already producing the jobs and investment opportunities of tomorrow that we keep hearing so much about. 
If you are interested in this sector, as either a consumer, entrepreneur or investor, feel free to check it out. I'm trying to do one a week or so, and trust me when I tell you there is no shortage of stuff to write about. 
But if you have or know of someone who has a company they would like publicized here,  just send me a link and I'll get right on it.
 
Volume 1: https://tinyurl.com/y5a84du2
Bullfrog Power • Tesla vs Lucid Motors • Choice Quotes: Trends In Renewable Energy
Volume 2: https://tinyurl.com/y47j4sqg
REE, Revolutionizing the E-Chassis • NEOM The City State Of The Future • For The Needy Not The Greedy: Renewed Medical Equipment
Volume 3: https://tinyurl.com/y6pkkf7r
3D Printed Solar Trees • Steve Hanley • Tru Earth Laundry Strips
Volume 4: https://tinyurl.com/y5kpfsk7
Maserati Goes Electric • Getting Up To Speed On Renewable Energy • Creative Problem Solving in The Wind Industry
Volume 5: https://tinyurl.com/y4va4f7h
Paving With Plastics • Innovation In Scrap Metal Recycling
Volume 6: https://tinyurl.com/y7869wdd
The Changing Shape of The EV Market • BioEnergy DevCo: Creating Renewable Energy and Healthy Soil • Editorial On The USA
Volume 7: https://tinyurl.com/ybcv7dsz
ESG….And What It Means To The World • The Greening of Ride Sharing
Volume 8: https://tinyurl.com/ybpustfq
Elon Musk The Heavyweight Champion Of Renewable Energy
Volume 9: https://tinyurl.com/y545ce5n
X-Prize Carbon Re-Use Competition
Volume 10: https://tinyurl.com/y6klg9q2
GE Monster Wind Turbine Installation • Solar Energy Market Explodes in Vietnam • Dealing With The Jumbo Problem Of E-Waste
Volume 11: https://tinyurl.com/43dc5xng
Canada Ups Its Commitment To The E-Vehicle Future • Elon Musk Steps Up Big Time To Fight Carbon Pollution • Nine Lives: Lightening The Landfill Load In My Area
Volume 12: https://tinyurl.com/eaksk9uv
The Circular Economy & What It Means • Solar Roadways: A Little Idaho Company With a Big Renewable Idea • Denmark's Offshore Wind Plant Will Power 3 Million Homes
Volume13: https://tinyurl.com/muh9h34k
Mexico's New Self Sufficient Green City • Vertical Indoor Farming In Scandinavia • Subterra: Geothermal Energy for Greener Buildings
Volume14: https://tinyurl.com/9wmvtc7r
Vietnam's Great Big Solar Commitment • The Residential Greenhouse: Sustainability On The Homeowner Level Greentown Labs: Where Green Ideas Get A Real Chance To Grow
Volume 15: https://tinyurl.com/j9vptvb6
Sistema: Helping Farmers In Developing Countries Create Renewability From Organic Waste • The Use Of Ferrous Scrap Metal In The Steelmaking Process • Hydrogen Power: The Fuel of The Future
Volume 16: https://tinyurl.com/4xa3xak9
Transparent Wood. The Windows Of The Future • Global Recycling Day, March 18 • Plastic Road…The Circular Economy Rolls On.
Volume 17: https://tinyurl.com/3358nkmh
Two Plants That Can Save The World • The Baltimore Wood Project • A Whale Of A Tale
Volume18: https://tinyurl.com/57pu8fca
Norway's Wind Energy Dilemma • Portable Recycling Plants • Hydrogen Power Takes To The Skies
Volume 19: https://tinyurl.com/932j973u
Aptera:The First Mass Produced Solar Powered Car • The Future Of Mining from the ESG Perpective • Another Mayflower Heads For America
Volume 20: https://tinyurl.com/ymjpw8ra
Bladeless Wind Turbines Are On The Way • Hydrogen: The More You Hear About It, The Better It Sounds • Wireless Electricity…Everything Old Is New Again
Volume 21: https://tinyurl.com/3xdrzhm2
Mineral Carbonation; Prison for CO2 • Green Energy Usage Is On The Move…Upwards • Painting Our Way To A Global Warming Solution
Volume 22: https://tinyurl.com/4varxbys 
Hemp…The Wonder Plant That Can Save The World's Bacon • And Speaking of Weeds…How about Laser Weed Control

Volume 23: https://tinyurl.com/vb3u5k6k
3D 
Printed Homes - The Future Of Environmentally Responsible   Housing  • The Future Of E-Vehicles • Renewable Energy Is Making Hydrogen A Viable Fuel Source
Volume 24: https://tinyurl.com/r2mbjuku

What We Need To Do To Save The World
 

My blogs are all accessible on beBee.com
https://www.bebee.com/@jim-murray">https://www.bebee.com/@jim-murray
I am also a Featured Contributor at Bizcatalyist 360˚
You can follow me:
On beBee: https://www.bebee.com/@jim-murray
On LinkedIn: https://www.linkedin.com/in/jim-murray-b8a3a4/">https://www.linkedin.com/in/jim-murray-b8a3a4/
On Facebook: https://tinyurl.com/y97gxro4
On Bizcatalyst 360˚ https://www.bizcatalyst360.com/author/jimmurray">https://www.bizcatalyst360.com/author/jimmurray
You have no groups that fit your search