5 years ago · 2 min. reading time · visibility 0 ·
Can a Canuck give thanks on American Thanksgiving?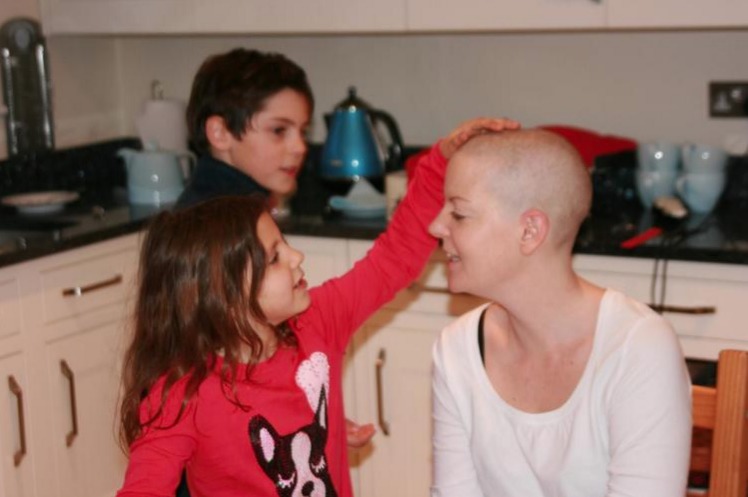 Don't walk behind me; I may not lead. Don't walk in front of me; I may not follow. Just walk beside me and be my friend.
Tomorrow my many American relatives,
friends,
 and colleagues celebrate Thanksgiving. While unclear on the etiquette of a native of Canuckistan participating in this event with his own expression of thanks, I am throwing caution to the wind.
Since the fall of 2011 when breast cancer reared its ugliness in our family, we have sought to find things for which to be grateful. At times this has been as futile as attempting to tattoo a soap bubble.
A recent communication though brought me back to an event in February of 2012. Kate was undergoing chemo following two surgeries. It was a dark time. She was sick. Horribly sick as the anti-nausea medicine simply wasn't working for her.
Couple that with uncertainty about our future and the hideous nature of the Canadian climate in February, we were pretty gloomy.
Then came a photo via email. 
Here's what happened:

Today, Katie's best friend forever, Alex shaved her head.
As it turns out she really has quite a lovely noggin.
Regardless, this act of solidarity and support for my wife is non-pareil. Additionally, Alex raised around $5,000.00 for UK Cancer Research.
For one of the few times in my life, words escape me.
I couldn't let the day pass though without some effort to record what her actions mean. So, I wrote a letter to her children - George and Sofia. I am sharing it here because it is the most accurate reflection of the deep and abiding respect and love and I have for Alex and indeed for my wife.
Thank you forever, Alex.
Dear George and Sofia,
Today, your Mommy did something very, very special. She did something that I will remember for the rest of my life. Years from now you may sit back and have a fond remembrance of that time Mommy shaved her head. And, while the act of cutting off her hair is certainly remarkable I hope you'll recall the true meaning of what your very special Mom did.
What she did was prove herself to be one of the most rare commodities on earth - a genuine, true friend.
You will learn, unfortunately, that people such as her are very rare and that many of us will be able to count on the fingers of one hand those people who stood with us through the peaks and valleys, the trials and triumphs, the bitter and the sweet.
Your Aunt Kate is a very lucky person to have a woman such as your Mom in her corner. I am incredibly fortunate to have both of these wonderful women as part of my life and I hope beyond hope that many years from now, the four of you will sit down, perhaps with a glass of wine (obviously when you're much older!) and laugh about the wonderful memories that are created when true friends find their souls bonded as one.
With much love and gratitude,


Uncle Don
I wish all of you in America a blessed day with your families. I expect many of you will be giving particular thanks that the recent painful ordeal of your election is over. I further expect that many of you will be hoping for good outcomes arising out of the rather surprising results.
Mostly
though, I hope you recognize how great it is to be alive, today. And, how great it is to live in a country on a day when it is acceptable and expected to devour vast amounts of mashed sweet potato covered in
marshmallow!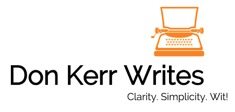 © Copyright 2016, Don Kerr, Don Kerr Writes - All rights reserved.
don@donkerrwrites.com
https://donkerrwrites.squarespace.com
https://ridingshotgun.squarespace.com
""
You have no groups that fit your search