Fridays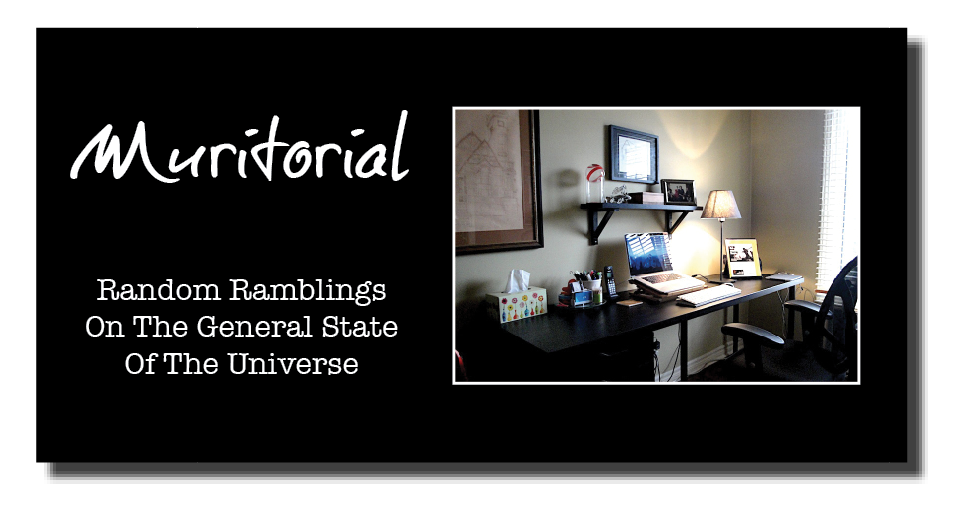 We get around 52 of them every year.
And for most of that last 30 or so years, I have never had an office to go to that wasn't a room in my house, and always used Fridays as a blogging, billing, screenplay and poetry writing day.
My wife and one grandson, Rowan, are outside tending to the grounds and the pool. He evidently has a PD day, even though he goes to school on computer. He loves to come over to work on the yard. He has this vision of having a small lawn care business when he gets a little bigger. He even has a name for it. So I told him I would make him a brochure he could hand out in his neighbourhood, once he gets it together and his parents say it's OK.
On this Friday, where I live in Southern Ontario, the sun is bright. The sky is clear. The pool, which I haven't figured out how to get into and out of yet is at 83 degrees. We had a tree cut down on  Monday that was blocking the morning sunlight and that means using a lot less propane to keep it heated.
I'm sitting here in my office, drinking Nescafe French Vanilla iced coffee and munching on a new marble rye my son Dan has been experimenting with at the Cobbs bakery he manages over on the west side of the city. I just texted him a little review.
When I finish my coffee, and this little blog, I have to get on to my exercises which consists of a series of various right arm stretches to keep a torn ligament in my shoulder from healing up wrong and restricting my arm motion, Then I do some standing, over on the edge of my bed where I can read my Kindle and do knee bends to keep my legs limber. I do three groups of four minutes at a time, to get keep my circulation strong in my legs, Then I go outside and do 30 lengths of my driveway. 15 downhill and 15 uphill. What this is is sitting in my chair, and turning off the power then pushing backwards with my legs. It's very hard work, but getting easier all the time because my legs are quite strong from having been going at it for months now.
I will repeat this after dinner, which we are having with the kids and grandkids. It's from a Chinese from a restaurant called Ma, which is the best Chinese restaurant in the city.
During the afternoon, I will have a shower. One of the personal care workers will supervise that. Today it's Conchita. These ladies come three times a week and help up us out.
After that I will do some work on a new screenplay I am writing based on a story I wrote a while ago. Next week I will start sending material out to production companies and begin the long and grinding road of seeing if there's a market for them.
Before dinner, I will get out of my chair for an hour and read and or meditate, while I watch the birds and squirrels in the back yard.
After dinner I will do some more exercising and then write until about 11 PM, then get into bed and watch something on Netflix and read my Kindle until it's time to put out the light.
It's much more of a restricted life than is used to be before my surgery. That may change, time will tell, but I'm still alive and sort of kicking so I can't really complain. Besides, what good would it do?
So that's my Friday. No politics. No bullshit. Just me and my full rich life here on what my friend Kevin Pashuk calls The Quiet Side Of The Lake.

You may be interested in these jobs
Found in: Talent CA± - 4 days ago

---

SIX MILE PUB LTD

Victoria, Canada

Education: · No degree, certificate or diploma Experience: Will train Tasks Bring clean dishes, flatware and other items to serving areas and set tables Clean and sanitize items such as dishwasher mats, carts and waste disposal units Operate dishwashers to wash dishes, glassware ...

Found in: Talent CA± - 4 days ago

---

A New Creer in · Behavioural Psychology: · Behavioural psychology is primarily concerned with habit formation in individuals. Our work includes the analysis and alteration of undesirable behavior patterns in clients. Behavior Analysis is one of the most scientifically rooted fie ...

Found in: Talent CA - 3 days ago

---

Marketers on Demand

Brampton, Canada

Permanent / Full time

Brampton - ONMarketers on Demand is on the hunt for an · Assistant Category Marketing to join our client's team You will be responsible for producing and executing category growth plans for one of our client's specific businesses. · Key Responsibilities · Develop and execute the ...