4 years ago · 4 min. reading time · visibility 0 ·
Hives of Manjit Earlier today Aurorasa made a suggested WONDER which triggered this buzz, and her suggestion was that I might want to consider linking my hives to my profile page.  The problem I immediately realized is that of the 42 hives I want to utilize for my online learning purposes, 41 have already been created but 41 links is not a good idea on a profile page.  That is when the Ah-ha moment hit me, that I can have one link and for the first time create an order that I can use.  The way hives are arranged the order is based on activity rather than my own personal learning affinity.
What emerged was 3 Distinct Groups of Hives that I have created viz:
1. Learning Hives
2. Personal Hives
3. Sheridan Hives
Learning hives are based on my Spectraneuron and these hives started out as twitter accounts :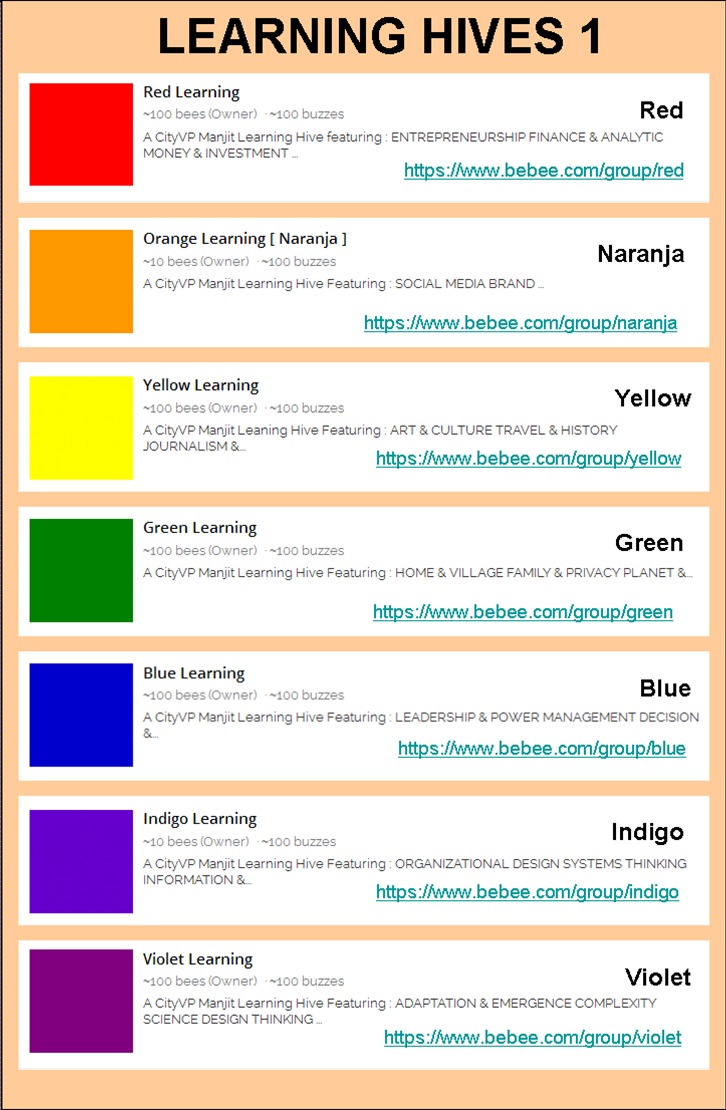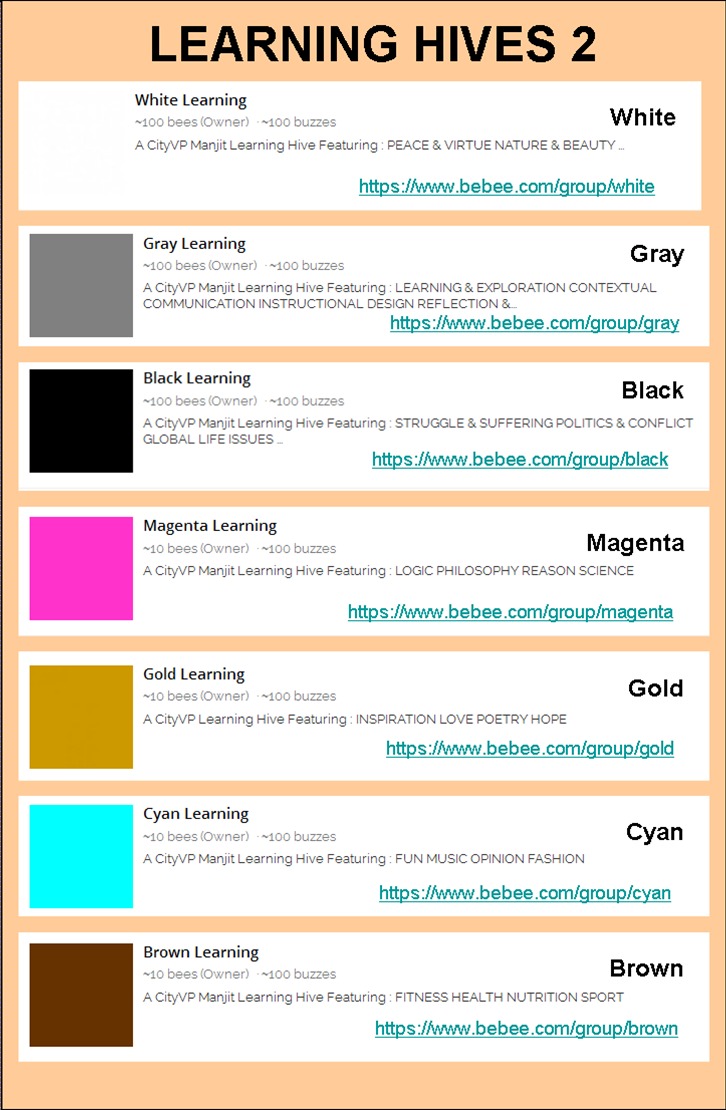 Learning Hives group buzzes that I have read into 14 different groups
Red Learning represents learning hives where I can strengthen my mathematical energy - energy being an expression of practice.
I need to be aware of Orange learning though I am not selling nor have adopted a personal brand for commercial purposes, but it is an area which is good to keep in the know from a generalist view.
Yellow and Green hives mean that I am not work bound, that I recognize the learning space that is centred around culture and home, as well as the world I live in.
Blue and Indigo form the leadership and work centers of my learning journey.
Violet is the innovative, fractal and conceptual, I have an affinity for violet learning but I have not invested in this as much as I should.
White learning would be dear to the heart of Aristotle because it is virtue and character centered and an appreciation of beauty.
Gray Learning is CITYVP MANJIT - the educational and relational life I am most strong in and invest in creating this.

Black learning brings exposure of the challenges and struggles of life, to be wise about the darker aspects of existence.
Magenta, Gold and Cyan are the newest hives and after Aurorasa had made the suggestion, I created Cyan Learning today, moving Brown Learning into a new category.  These three hives now represent mind, spirit and body, whereas Brown learning now takes in the physical that originally used to be a core part of Green Learning.
The Learning Hives represent the large core of my learning journey online.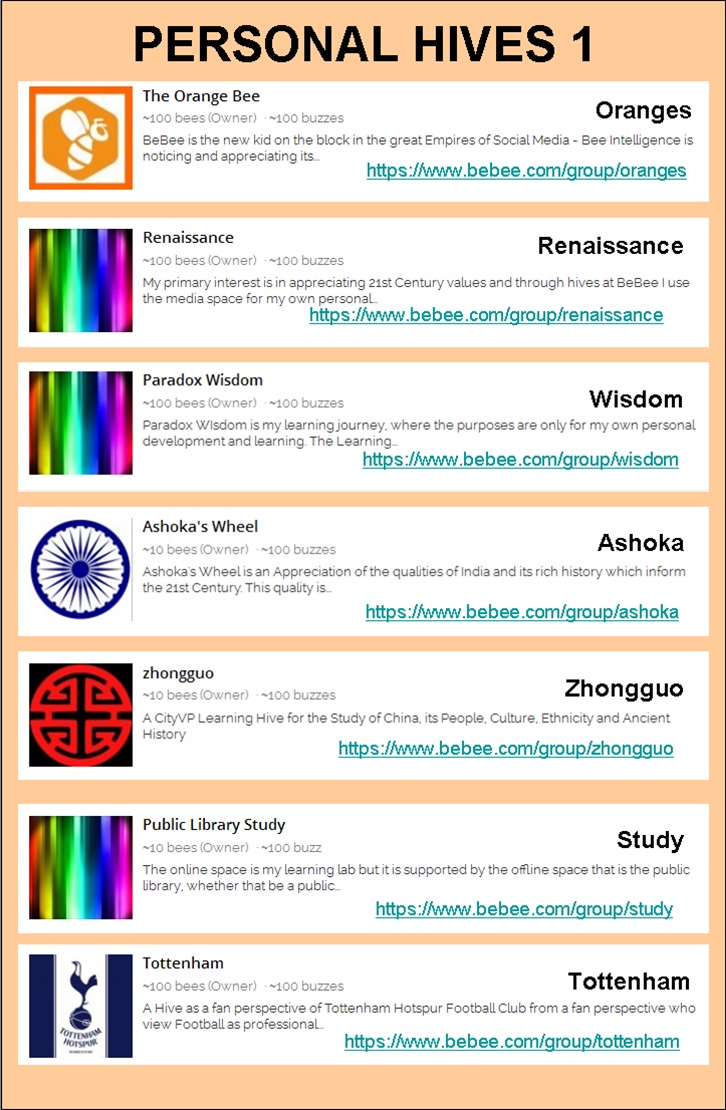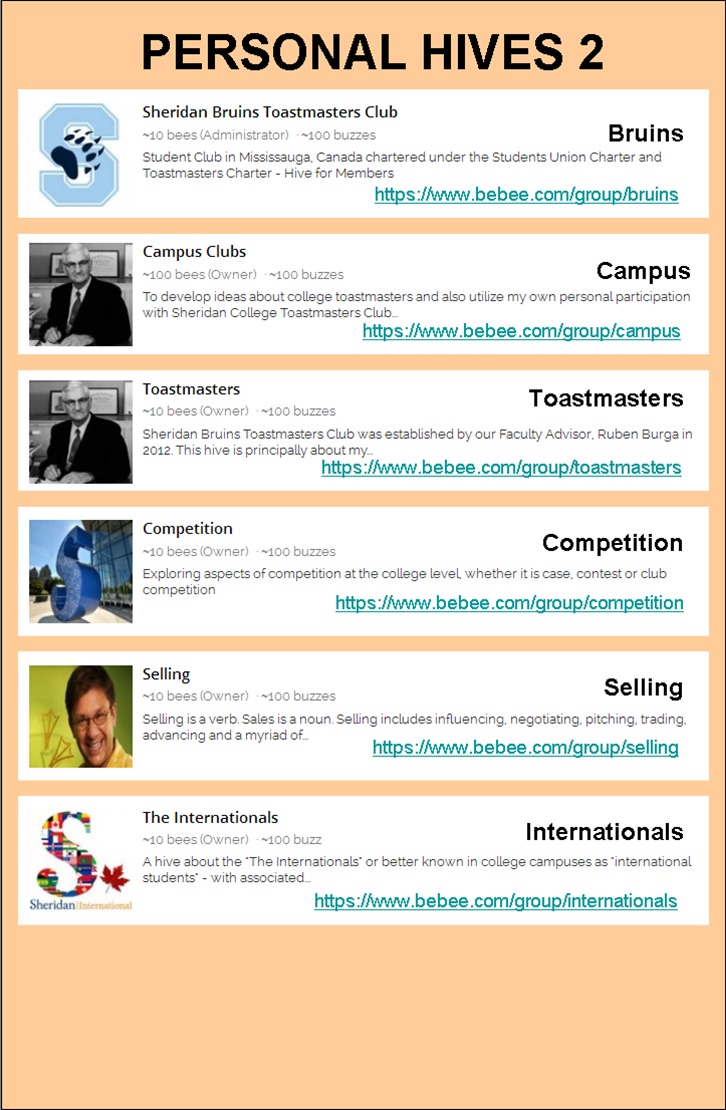 The Orange Bee was my first personal hive and that is something I had to create because the Orange or Naranja hive was being dominated by information about beBee.  I use Naranja because it is Spanish for "Orange".
This buzz is being written in my renaissance hive, which together with Paradox Wisdom represents the core of my Personal hives.

I do have an interest in India and China as emerging powers so Ashoka and Zhongguo are hives are look forward to develop.
One of the hives I have not had a chance to develop but which is central to my offline learning is the Public Library Study hive - this hive is about books I am reading, but it is not presently active because I have not found the time to read.
My most active Personal Hive is my Tottenham hive which is my life-long love and support of Tottenham Hotspur Football Club.
The Personal Hives have more offline links to my involvement in Toastmasters - and the Bruins hive is actually a club hive belonging to my club.  If I were to leave this club, this is a hive that will become the responsibility of the club, for now I share it with my club member Daniel Anupol.  Toastmasters is open also.

Campus Clubs is my exploration of what it means to be a Toastmaster club formed on a campus with two charters - the other being the charter of the students union to bring into being a student club.
Competition and International hives are in relation to two groups we have at college that I am interested in outside my own club and the Selling Hive was formed with acknowledgement to Mike Bosworth, a mentor and business partner of Aurorasa. The picture on this hive is a late business partner of ours and this is a tribute picture.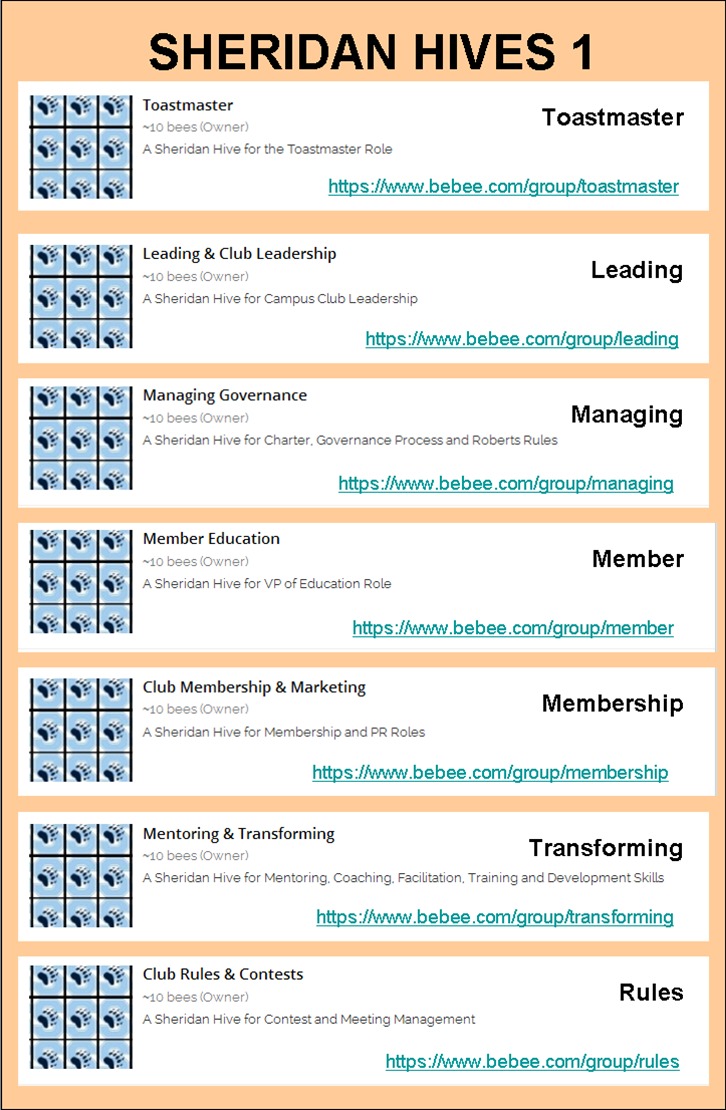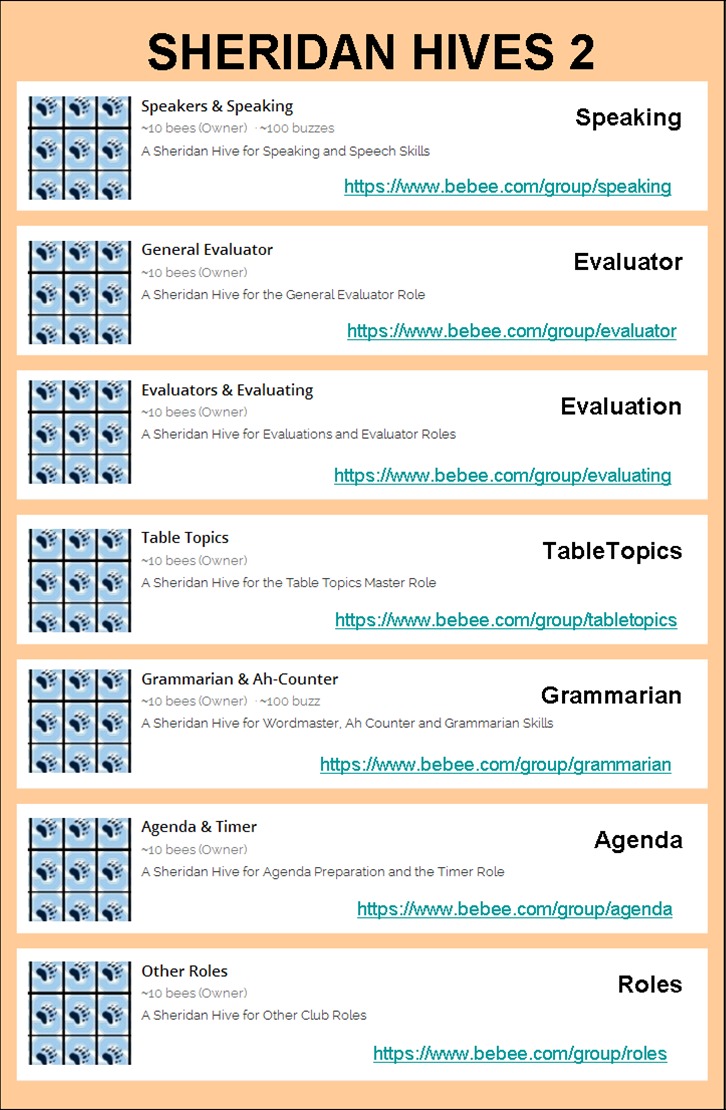 The Sheridan Hives are still being formed and they represent the hives I am sharing with my club.  Members of my club have not been introduced to the Sheridan Hives yet because I have not populated it with content, or created documentation to guide members how they can access and contribute to these hives.
While the club follows the Toastmasters program I am cognoscente that there are responsibilities to the student charter.  Without this charter, our club cannot continue or can only continue off college premises as a private community club.  Not only are there are clear governance processes involved with the student charter, but there is also a separate student based deliverable, that all clubs maintain, which is called the CCR or co-curriculum record. This is a document that students can show employers that they have amassed certain leadership hours.
The Sheridan Hives 1 is more the larger organizational items such as leadership, education mandates, mentoring, contest processes and guides.  Sheridan Hives 2 contain the day to day activities which pertain to specific roles on the club agenda.
There is a lot of information that will begin to flow into these areas and just having buzzes is not sufficient.  My plan is to link these buzzes and shares to the club website, where a separate page will log an index to the Sheridan Hives - and this portal will be called Athens.
The picture in the Sheridan hives is not the Toastmasters logo but the logo of the Bruins, which is the college sports teams.  Since our club carries the Sheridan Bruins name, it is just as important to the culture of our club as is the kind of campus club that we are becoming and that is still a work-in-progress.  This year it is our colleges 50th anniversary and the Clubs 5th Anniversary.  Key milestones.
The final part of this buzz is the chief purpose I wrote this, which is to create working links to the Learning Hives, Personal Hives and Sheridan Hives.
Learning Hives 1
"""""""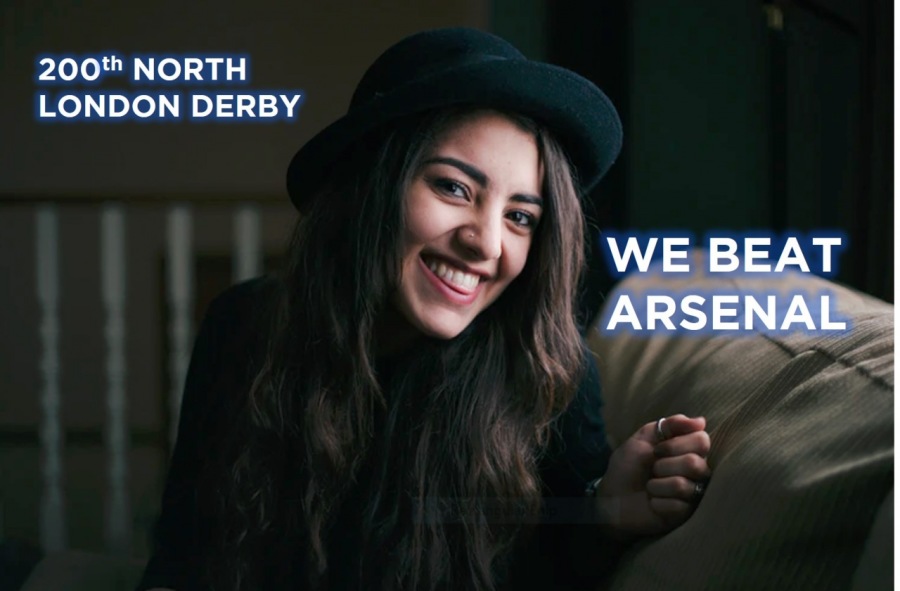 We Beat Arsenal
We beat Arsenal. · Did we beat Arsenal? · Spurs le ...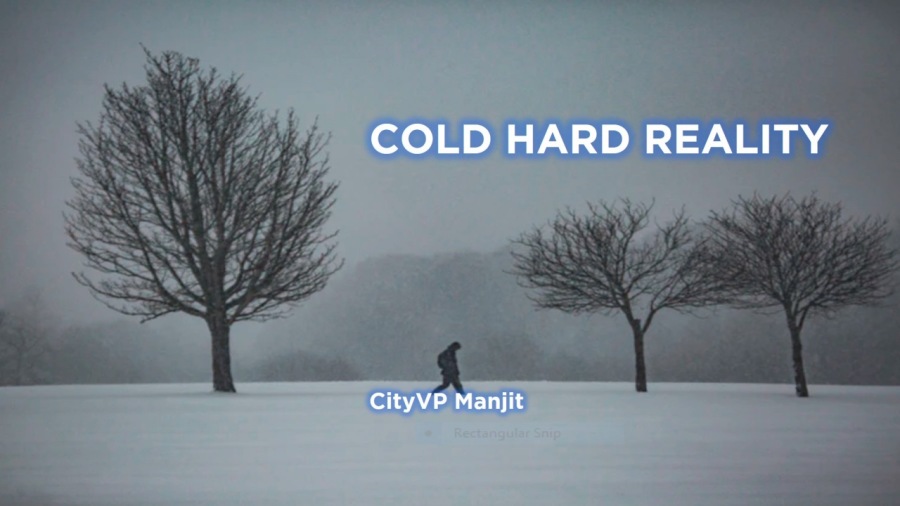 Cold Hard Reality
On the week that the Amazon documentary released i ...
1 year ago · 2 min. reading time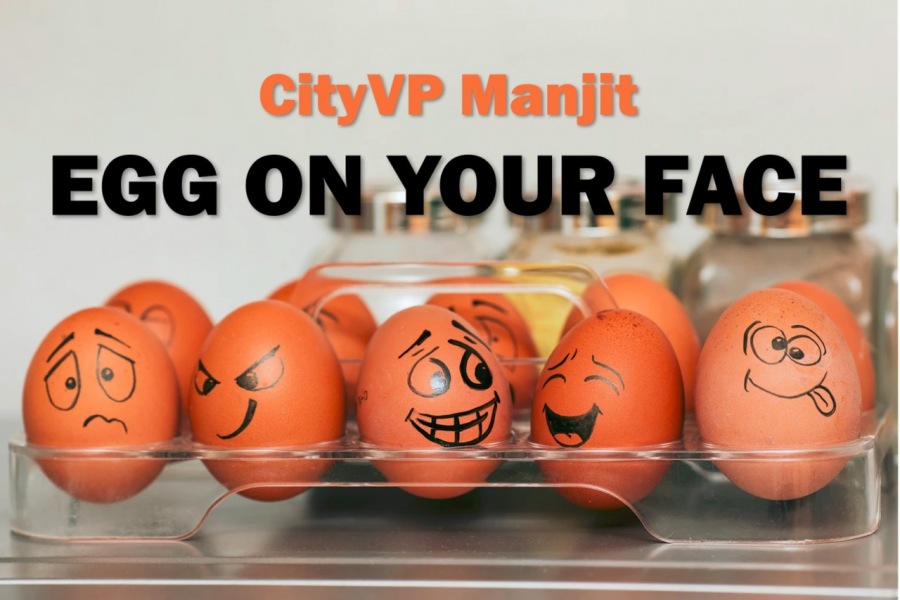 Egg On Your Face
When Manchester City were second place in the 2018 ...
You have no groups that fit your search