I Loved To Ride My Bicycle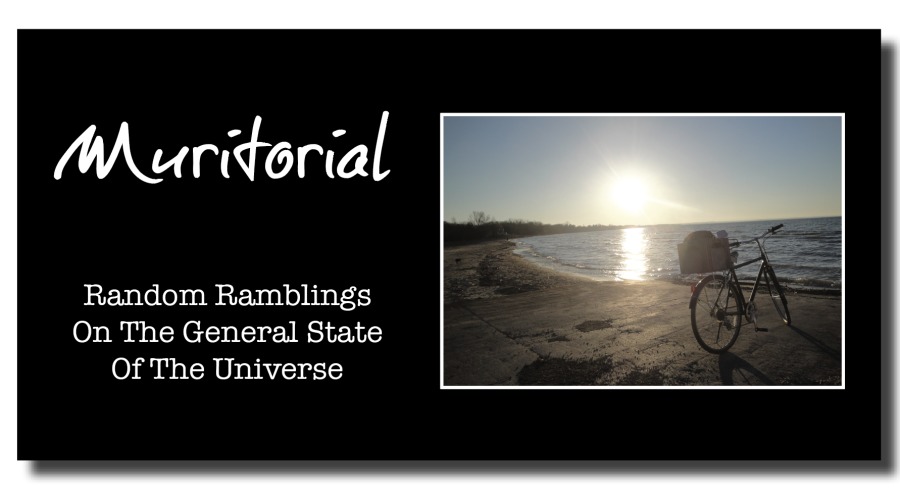 Most of you who know me will have figured out by now that I am in a wheelchair, the result of spinal surgery from an e-coli infection.
It's not at all likely that I will ever regain the use of my legs without some sort of assistance, and it's pretty much a foregone conclusion, because of the balance issues involved, that I will not be able to ride a bike again. And though my surgery has left me alive and functioning on many many levels, that is the thing I will miss the most.
I have been a bike rider all of my life. From the first tricycle as a kid up to the last bike, an Evo cruiser, which we just sold to a lovely girl from Niagara Falls. I have totally lost count of the number of bicycles I have had.
My bicycles got me to and from the golf course were I caddied as as a kid, through the long Niagara Falls Review paper route, to school and back, to baseball games all over Fort Erie, to endless rides down the Niagara River Parkway, and to the houses of friends, girl and otherwise, all over town.
The only time I was without a bike was a two year period after I left Fort Erie to live with my dad in Ottawa. There I had the use of a scooter, thanks to a girlfriend.
Once I got to Toronto, finished high school and started college, I was back up and riding. And from there it was pretty continuous, through several part time jobs, a couple of full time jobs and then into the advertising business, where, I rode in to work almost every day.
I also rode during my lunch hours, because my photography jones started around the same time as I got my first big time agency job.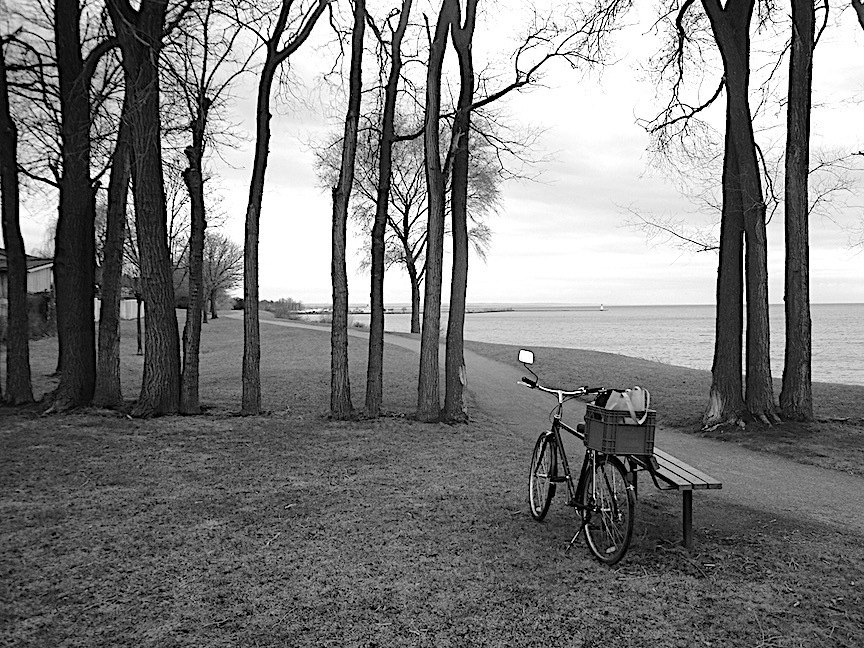 Whenever I bought a bike,
I always made sure that it had one of those carrier racks on the back. I would attach a plastic milk case to it and be able to lug around all my stuff.
I know that it looked kind of weird, especially when I had a fairly expensive bike, but I didn't really care because camera equipment was bulky back then.
The best thing about the bike was that, for a street photographer, it was like walking around on steroids. You could cover lots of ground and see lots of stuff.
Whenever we went on trips down to Fort Erie, I would bring my bike and ride around the town, thinking about all the shit I used to get into when I was a kid. I was always amazed at just how many street names I could remember and how many houses I could say I had been in.
One weekend we went to Chautauqua, and I rode my bike all around taking pictures while Heather went to lectures and concerts.
With some of the images I shot I actually included my bike figuring it would add a bit of documentary feel to the whole thing.
After the kids left home, I took over the food shopping, and the bike was very handy for that. I could pack two days worth of stuff in my little milk case, and my wife, who decide to go back to work, got to strike shopping off her list of things to do.
But the best part of riding a bike was the headspace it put you in. I like to write poetry and lyrics, in addition to all the other stuff I like to write. So as I would ride I would start to hum a little chord progression to myself, then pretty soon, words would fall into place. When I had a whole verse I would stop and write it all down, then start up and sing it to myself until I got a second verse and maybe even a chorus. By the time I would get home I would have a whole song written out. Then I would sit down, transfer it into the computer and revise it into proper metre. I have done this literally hundreds of times. Some efforts were better than others, but all of it got entered up and at least once a week I go back and pick one to clean up.
But it's funny, because whenever I do this I always imagine myself riding my bike. Which I guess makes it, at least in my current condition, very much a state of mind.
All in all, I have had a bike for pretty much all of my life. I was never big on driving a car. I didn't get my license until just before my son was born and I was in my early thirties.
But then again, I never really needed a car. Just a bike, and the freedom of the open bike lane.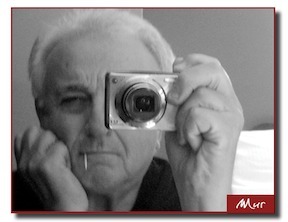 Jim Murray (that's me) is a writer, marketer, editorialist, reader, TV watcher. I have been actively posting on social media since the early 2000s. I live with my wife on the beautiful Niagara Peninsula in Canada and work with a small group of companies who are trying to make a positive difference in the world.
My blogs are all accessible here:
https://www.bebee.com/@jim-murray
I am also a Featured Contributor at Bizcatalyist 360˚:
https://www.bizcatalyst360.com/author/jimmurray
You can also follow me on social media:
beBee: https://www.bebee.com/@jim-murray
LinkedIn: https://www.linkedin.com/in/jim-murray-b8a3a4/
Facebook: https://tinyurl.com/y97gxro4
You may be interested in these jobs
Found in: Talent CA± - 4 days ago

---

Docsons Security Inc.

Surrey, Canada

Education: · Secondary (high) school graduation certificate Experience: 2 years to less than 3 years Tasks Calculate and prepare cheques for payroll Keep financial records and establish, maintain and balance various accounts using manual and computerized bookkeeping systems Maint ...

Found in: Jooble CA - 1 day ago

---

Do you want to participate in the production of recreational vehicles known around the world? BRP has a Production Worker (Assembler) position for you at its Valcourt plant. Switch up your daily routine and come work with a team that makes things move. Your BRP benefits, to live ...

Found in: Jooble CA - 1 day ago

---

Southern Health-Santé Sud

Morden, MB, Canada

Facility/Program: · Boundary Trails Health Centre Position Type: · Part-Time · Position Status: · Term · FTE: · 0.7 · Hours of Work: · 7.75 & 11.63 hour shifts · Union: · MNU · Start Date: · Mar 26, 2023 · End Date: · Sep 30, 2023 · Closing Date: · Feb 21, 2023 ...