It's About Brains and Leadership – Stupid!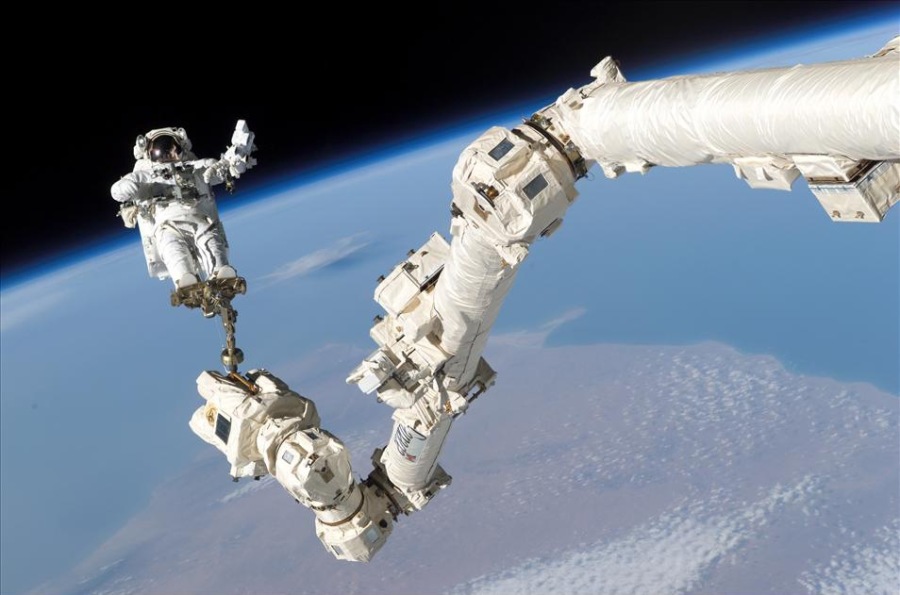 This leadership post is about building the collective brain power of a nation, from which innovation and technology advancement emerge to strengthen its global competitiveness, and in turn its economy and standard of living.
Some pithy quotations go down in the history books as being highly malleable for borrowing. Such is James Carville's famous comment: "It's the economy, stupid!" Carville, for many years an endearing political analyst, was Bill Clinton's campaign manager during his run for office against President George H.W. Bush in 1992, a time when the United States was experiencing a weak economy.
However, in this post it's about brains and leadership – stupid! (No offence intended to the reader.) Specifically, it's about the extremely important roles that education, knowledge, technology, know-how, and leadership play in today's brutally competitive global economy. It's about building the collective brainpower of a nation, and then exploited in a focused manner by its political and business leadership.
Given your correspondent's past long history in the fields of labor markets, innovation and leadership, a certain amount of pent-up frustration has finally let loose to produce a commentary on his home country, Canada, and particularly a Maritime province–New Brunswick–where he lived for almost three decades before moving to the nation's capital in 2000.
Canadians have a peculiar perspective of how they fit in the world. Canada's a wonderful country with a lot going for it. However, it also has a lot going against it: a massive geography, yet with only 39 million inhabitants stretched mostly as a ribbon within 200 kilometres of the U.S. border; a weak literacy rate (51% of Canadians 16 to 65 have a level 3 or higher, out of scale of 5); a continued strong dependence on exports to America (over 75% of total exports); to name but just a few "challenges." (Above photo: Canadarm2 on the International Space Station)
Despite Canada's enormous physical size, surpassed by only Russia, Canadians chuckle when they hear visitors from overseas mention that they have a relative in Calgary, Alberta, and if they could drive to visit them that same day. The problem arises when the visitor is visiting, say, Montreal or Toronto. "Sure, we can visit your uncle, but it will take a couple of days to get there."
Canada is struggling to maintain its global standing on a variety of indicators. Unfortunately, the country has been sliding on a number of fronts, whether it's global competitiveness (15th place), business innovation (26th), infrastructure (15th), or end of life palliative care (11th). Yes, the country comes out well on education statistics up to the end of high school (tied in 1st place with Finland), but much weaker on workplace skills training and adult continuous learning. However, education is a legislated provincial responsibility (with ample transfer payments from the federal government), with the result being a hodgepodge of education initiatives and metrics from the ten provinces.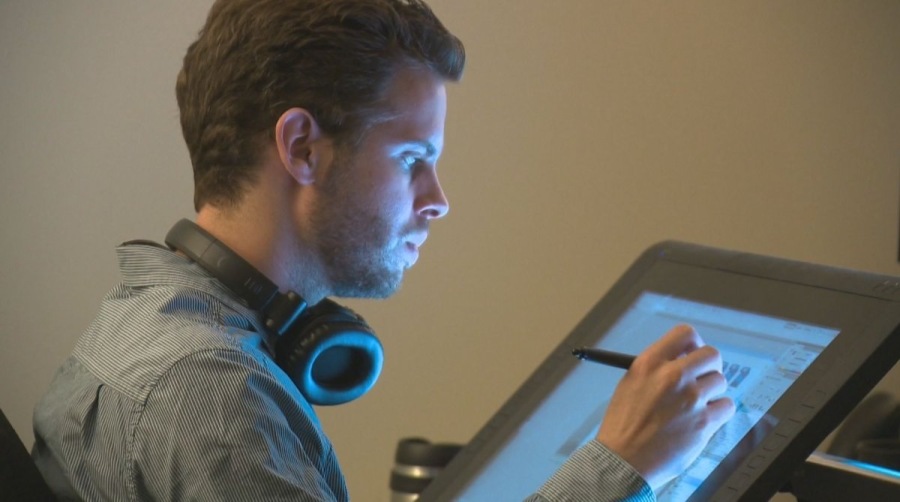 Alberta, for example, is known for having perhaps the country's best elementary-secondary education system. (Above photo: employee doing digital artwork in Edmonton.) At the other end of the country, the four Atlantic Provinces continue to wallow in a sinking quagmire of poor educational outcomes. Literacy (level 3 or higher, where 3 is needed to function in society) on the East Coast (some 2.4 million people in the four provinces) is the weakest in Canada, ranging from a low of 43% in Newfoundland to 54% in Prince Edward Island (the only Atlantic Province above the national average).
In contrast, the three Maritime Provinces (Newfound-Labrador excluded) rank at the top with Ontario for high school graduation rates around 85-87%. Provinces such as Quebec and Alberta are around 70%, reflecting the wild swings in youth completing high school (the three territories are even lower). Unemployment in the Atlantic Provinces has historically been the highest among the provinces, blamed largely by neo-liberal economists for an over-reliance on unemployment insurance and welfare (the latter funded through block transfer payments from the federal government).
Canada's provincial premiers have a propensity for navel-gazing and engaging in beggar-thy-neighbour economic policies. Of special concern are near bullet-proof inter-provincial barriers to trade on a wide variety of goods and services. This practice, now ensconced in Canada's daily economic undertakings, is in direct opposition to the intention of the country's founding fathers in 1867. Parochialism may have become one of Canada's identities over the decades; it does NOT work in a globalized economy, driven frantically forward by technology and the rapid rise of emerging economies that are hungry for their economic share of the global pie. Indeed, Canada's interprovincial barriers are responsible for three billion dollars in lost wealth annually.
For a long time, Canadians have managed to keep their collective head in the sand as rich provinces such as Alberta and British Columbia (and more recently Saskatchewan) have contributed significantly through equalization payments to boost the level of public services in the other provinces. Perhaps most revealing is that Ontario, the biggest province with 14.5 million people, has waffled between a "have-province" and a "have-not." At the core of the problem is leadership and Ontario's paucity of effective leaders over two-plus decades. Consider that only 11percent of Ontario companies export their products and services. Extract those that export to the U.S. and you're left with a mere one percent that export abroad.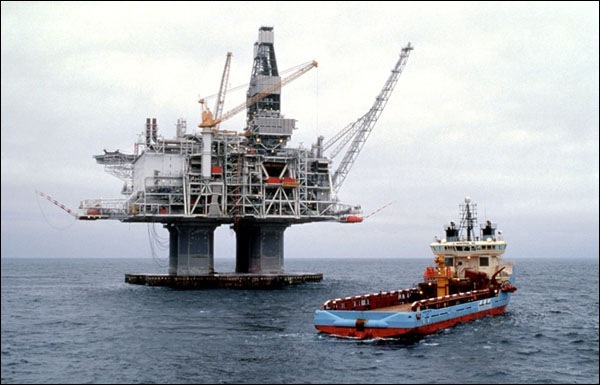 Canada's current economic state, and by attachment its social welfare situation, is untenable. Alberta has been hurting badly from slashed oil production due to plummeting oil prices, and now with in 2021 President's Biden executive order to shut down the Keystone XL pipeline, the economic hurts has worsened. 
Ontario limps along following 17 years with two Liberal spendthrift premiers, and now with a neophyte Conservative premier whose world was turned upside down with the SARS-CoV-2 pandemic. And the Atlantic Provinces are increasingly in a desperate situation. Newfoundland-Labrador's relatively brief love affair with oil extraction has waned due to the global oil scene, putting the province within spitting distance of insolvency. New Brunswick, Nova Scotia and Prince Edward Island face bleak futures as their respective finances sink deeper and their populations age. (Above photo: Hibernia oil platform off Newfound coast.)
Plenty of academics and business people have waded into the "have-not" Atlantic Provinces swamp to suggest their solutions, ranging from tough love on unemployment benefits to eliminating regional development subsidies to bringing in large numbers of immigrants to address the region's increasingly warped population composition. There are merits to such ideas. However, what continually gets omitted are such key factors as entrenched illiteracy, abysmally low productivity, and poor technology adoption.
This brings to mind that across the pond reside relevant examples of coastal-based small countries that have done rather well for themselves. Setting aside historical differences, one important point to keep in mind is that Canada's 10 provinces have enormous autonomy when placed against other countries, including the United States.
So what countries are we talking about? Norway, Sweden, and Finland. Yes, Finland's has had a tough time due, in part, to a plunge in its oil exports to Russia and the country's decision to adopt the Euro. In February 2021, the Ministry of Finance questioned whether Finland could continue to consider itself a Nordic country due to the growing economic gap between it and those closest comparable countries (Norway, Sweden, Germany and the Netherlands). The way forward for Finland is growth rates half those of its neighbours over the next decade.
In contrast, Sweden's economy remains strong and diversified. And for Norway, sure it has oil and gas production, but that's been only a very small part of that nation's long history. For example, Norway began commercial aquaculture in 1970 when the first cage was introduced; it's now the biggest producer in the world. Salmon is Norway's second-largest export. However, aquaculture first appeared in 1850. While 95% of production (of a wide variety of fish and shellfish) is exported to the European Union, salmon is shipped around the world. (Below photo: Norway salmon farm)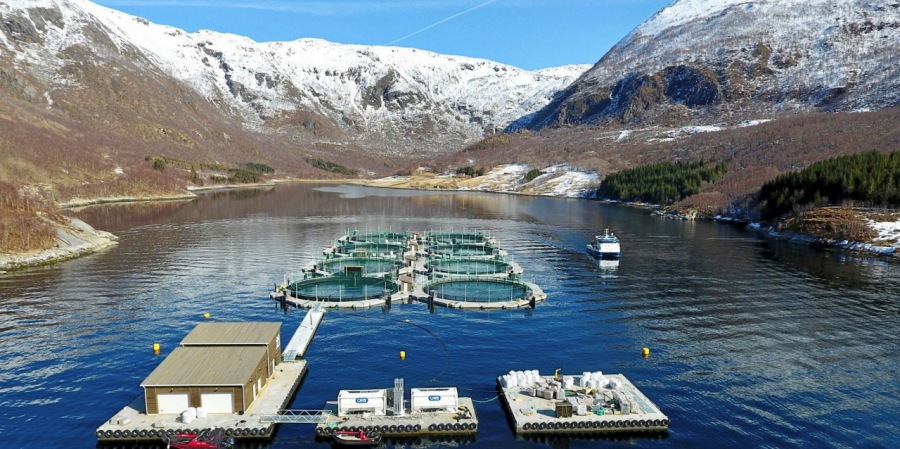 Ironically, it was the Norwegians who in the early-seventies were asked by the New Brunswick government to share their experiences on fish farming and applications for the Bay of Fundy. New Brunswick, whose small-scale fish farming industry (relative to global competitors) has consolidated in recent years, has no-where near the sophistication of Norway's industry. Yet New Brunswick has been in the business for four decades. It's about technology adoption and enhanced productivity.

Indeed, it took until 2015 for new federal regulations to be proposed for Canada's aquaculture industry to clarify federal-provincial jurisdictions on such issues as the use of chemicals (eg, pesticides to control sea lice) and the overall health treatment of farmed fish stocks. In 1998, the Government of New Brunswick ordered the slaughter of several million salmon because of the threat that wild salmon faced from a disease that spread among aquaculture farms. Canada's aquaculture industry is about $1 billion a year. (British Columbia started into aquaculture around the same time as New Brunswick.)
Consider a few salient statistics from these Nordic countries.
Norway (population 5.3 million) is not the most climate-friendly country, stretching across the top of Sweden and bordering on the icy Norwegian Sea and North Sea. It isn't situated in as geographically advantageous locations as New Brunswick (with its deep water ports) and Nova Scotia (with ready access to Europe and the U.S. Eastern seaboard).
Yet Norway's GDP per capita is an eye-popping $97,000 against Canada's $58,400. Sweden comes in at $71,000, with Finland at $61,750. (Numbers in Canadian dollars.) Sure, Norway's benefited from oil, and invested wisely, with one trillion dollars USD in its sovereign wealth fund as of 2020 (the largest in the world by assets). In contrast, oil-rich Alberta, through poor fiscal leadership, squandered a portion of its royalties over many years (and, yes, it has contributed significantly to equalization payments to Quebec and the Atlantic Provinces.)
While countries such as Russia are burning through their oil-based reserves, Norway has taken a prudent approach. As the finance minister, Siv Jensen, said to Bloomberg BusinessWeek in 2016: "The fund has a very long-term perspective. It's constructed to sustain large fluctuations in exposed periods."
Pre-pandemic, Norway was at essentially full employment, recording the envious unemployment rate of 3.5%. Finland's and Sweden's unemployment rates were around 9 and 7%, respectively, with Canada's at about 7% (the Atlantic Provinces run several percentage points higher).
When it comes to health, Norway's mortality rate is between that of its two neighbours and Canada. But it has a higher fertility rate than Canada (1.8 vs. 1.6), and just behind Sweden's which is almost at the replacement rate of 2%. Life expectancy is pretty much tied (82 years), with Finland's slightly lower. However, infant mortality in Norway is only 2.8 deaths per thousand vs. Canada's 5.2 (Sweden and Finland are at about 3.0).
Canada has an overall internet usage rate of 85%; Norway's is 95%, with the other two Nordic countries at about 93%. Mobile cellular subscriptions are 81 per 100 people in Canada, while Norway has 116. However, Finland has an astounding 172 and Sweden 125, representing how skewed the statistics are when placed against Canada which has been a laggard on mobile technology adoption.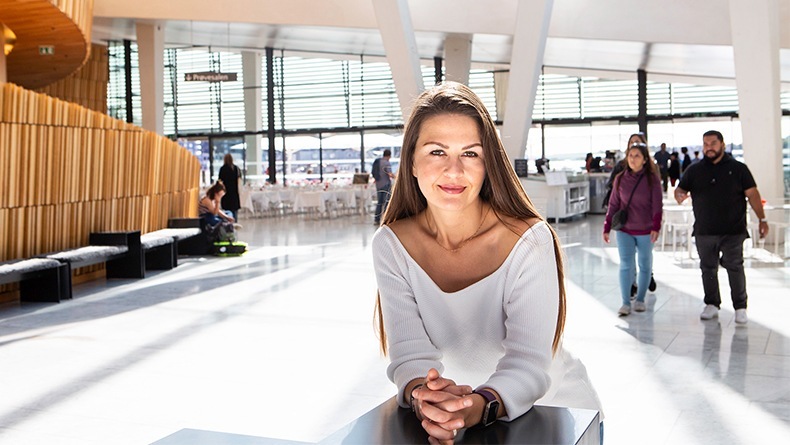 The point in illustrating some statistics from Norway and its neighbours is to underscore that very small countries are capable of achieving not just robust economies but, just as important, healthy societies from which creativity and innovation emerge. (Above photo: Silje Bareksten, head of sustainability and technology at Nor-Shilling.)
That Norway is located at a very northern latitude with a less than desirable strategic geo-location shows a country that has focused national leadership with a view to the long-term. It's not just about the immediate "now" when it comes to placating the electorate, one of Canada's (and America's) political practices.
Norway may be an out-of-the-way small northern country, but what it lacks in access to sandy beaches and warm tropical waters it more than makes up in the way of brain-powered innovation. Norway is blazing ahead on many new technologies, from robots used in drilling to social media indexing tools to expanding the use of electric vehicles through accessibility to charging stations to smart products for home remote connectivity.
It's not just about exploiting resource extraction and related exports. More importantly, it's about building a country's collective brain capacity and know–how when it comes to creating a spirit of innovation and intelligent technology adoption. Smart leaders, whether at the nation-state, organization or community level, engage their constituencies to bring out the best in them, to share a vision of the future, and to move forward together to improve their well-being.
Behind the clouds the sky is always blue.
– Norwegian proverb
You may be interested in these jobs
Found in: Talent CA± - 17 hours ago

---

Innovation Credit Union

Swift Current, Canada

Innovation Credit Union has a bold ambition. In addition to being Canadas next Federal Credit Union, we will be the most digital, member-centric organization in our industry. · We are on a journey to embrace the core tenants of the digital business model like ideation, the networ ...

Found in: Talent CA± - 4 days ago

---

1736060 ONTARIO LIMITED

Toronto, Canada

Education: · Secondary (high) school graduation certificate Experience: 1 year to less than 2 years Tasks Study plans, specifications or drawings of articles to be made, or prepare specifications Trim joints and fit parts and subassemblies together to form complete unit and reinf ...

Found in: Jooble CA - 1 day ago

---

Hydro-Québec

Québec Province, Canada

Conseiller(ère) Stratégies analytiques Concours: 145580 Titre à l'interne*: Conseiller(ère) Stratégies analytiques (Assignation temporaire durée indéterminée) Statut: Temporaire Durée: Indéterminée Lieu: Plusieurs villes disponibles Horaire de travail: 35 h/sem. 5 ...