Key Tips For Creating Communication That Sells. (Part 12 In A Series)

This is 12th in a series of posts I have created to help people improve the quality of their communications. Other posts in this series can be accessed in my blog repository at  https://ca.bebee.com/bee/jim-murray/blog">https://ca.bebee.com/bee/jim-murray/blog">https://ca.bebee.com/bee/jim-murray/blog">https://ca.bebee.com/bee/jim-murray/blog
If you are interested in creating good digital content, you really need to take a lesson from the past, when content was called advertising copy.
Creating strong content, like creating strong advertising copy, is a two-part process.  

Part 1: The Concept. The givens are that it has to be arresting, intriguing and engaging enough to grab the reader. But more importantly, it needs to represent a complete idea, well thought through, before you start writing.  
Part 2: The Execution. This is where it gets dicey. Because this is the nuts and bolts part of the process, where the writer needs to:

A) Hold the prospect's attention, (after they hopefully have grabbed it),  
B) Write compellingly enough to have people read the entire story,

C) Make sure the reader come away come away with a good level of understanding about the product or service that is being promoted

D) Make it easy for the readers to further engage. 
 This is the real challenge, and the real point of difference between people who purport to create good content and those who actually do, is the ability to perform at this critical stage. This has proven to be the Achilles' heel of many so called content writers. Mainly because they do not have the ability to do everything I have just mentioned.  
Skimming Is A Bit Of A Myth. People Read Content  
Consumers, (B to B or B to C), who are about to part with or invest any budget read your content. Businesspersons with jobs that depend on the purchasing decisions they make read it. And the executives and business owners whose businesses depend on the supplier relationships they develop read content too. You can bet your buns they do.  
And for being generous enough to read down through the concept and into the nitty gritty, these readers deserve a product or service story well told. This is where the quality of writing can make all the difference.  

The key thing I have learned from the thousands of ads and commercials, booklets, brochures, flyers, emailers web sites, blogs and presentations I have written is that the cake is every bit as important as the icing. And that paying equal attention to both parts of the process is the key to creating communication that does what it's supposed to do, which is inform and sell.  
Every Message Is A Selling Message…Or Should Be  
It doesn't matter what school you come from, all communication is some form of advertising. And if it's not trying, even in subtle ways, to sell, I would argue it's nothing but a waste of time.  The vessels that carry your messaging have changed. But they have changed for the better. They allow you to dimensionalize your communications in a whole new way, and get a lot more of what we used to call 'depth of sale' into your messaging. This allows you to, among other things:

A) Talk at greater length about the skills or products you offer,
B) Use customer testimonials to reinforce your brand message,

C) Use case studies to show how your services or products performed in the real world and,

D) Describe the support network you have to facilitate the delivery of you products or services. 
 People Haven't Changed. Because People Don't.  
If you have drunk the Koolaid that a lot of digital marketers are handing out freely about how people nowadays don't like to be 'sold', you can take it from someone who has been on both sides of that argument and concluded that's bullshit.  
If you are dealing with people who are selling this Koolaid, I have a word of advice for you…run. These people will be happy to take your money and tell you to be patient because the market out there is different than it used to be. Bullshit. People haven't changed. They still window shop and comparison shop before they buy or hire. They just use different tools to do it. And sure, the process takes a little longer, but that's the nature of the beast that content marketing has created.  

Anyone who is encouraging you to beat around the bush with your content is basically selling you a time share on the moon. Because they are creating or teaching you to create content that deliberately slows the process: i.e. Content that tells people very little or a lot of stuff that everybody else is telling them, and at the end of the day, wastes their time and erodes the credibility and equity in your brand.

The Learning…  
1. Good content requires a solid concept and a good story well told, just like advertising copy. It also requires thinking through your idea before you write it, so you know where you want to end up.  
2. If it doesn't sell, even just a little, people won't know what to do and you will be squandering a chance to further engage them.  
3. Don't beat around the bush…it wastes your time and the time of anyone reading your content. Get to the point. Don't be afraid to sell yourself and support your brand. And always try to lead your reader to a place where they can find out more about you.  
4. People do need to be sold. Maybe not hard sold, but sold all the same.  
Hope this has been informative and a proper kick in the arse for anyone who needs it. If you need some help with content or any other kind of communication creation and or editing, let me know.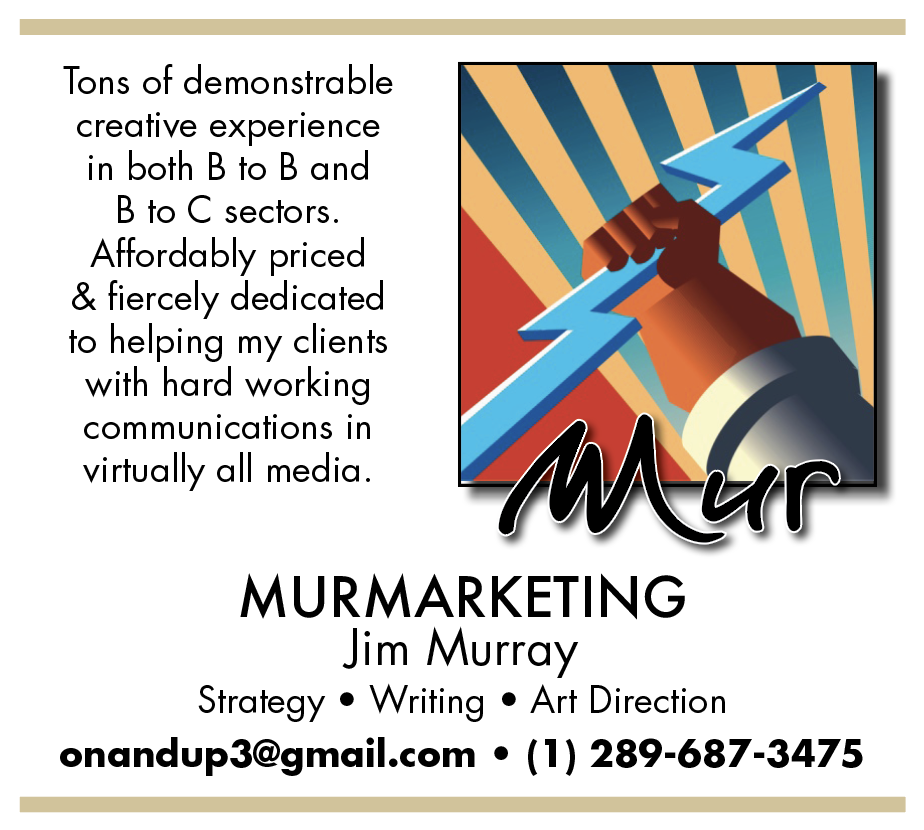 You may be interested in these jobs
Found in: Jooble CA Organic - 19 hours ago

---

Amzauthority

Ontario, Canada

VP of Infrastructure - Agensight X - Webflow Ecommerce website template FREE STRATEGY CALL Toronto, CA Freelance VP of Infrastructure · Et arcu varius velit vitae orci duis pharetra bibendum sed posuere integer id aute irure dolor in euismod viverra mattis ornare. · About this ...

Found in: Talent CA3 - 1 day ago

---

Petro Canada/ A&W

Calgary, Canada

Employer Petro Canada/ A&W Languages English Education No degree, certificate or diploma Tasks Keep records of the quantities of food used Package take-out food Portion and wrap foods Prepare, heat and finish simple food items Serve customers at counters or buffet tables Stock re ...

Found in: Jooble CA Organic - 11 hours ago

---

Quinte Immigration Services

Belleville, ON, Canada

Full time

Description · ARE YOU LOOKING FOR A JOB? · TAKE A STEP TOWARDS YOUR EMPLOYMENT GOALS JOIN OUR FREE STEP PROGRAM TODAY · The Quinte Skills Employment Program offers: · 3 weeks of online training to increase your confidence and skill in applying for and gaining employment · Resum ...