1 year ago · 3 min. reading time · visibility ~100 ·
Misadventures in MidLife Dating: On Lost Keys, Overestimations, and Vegans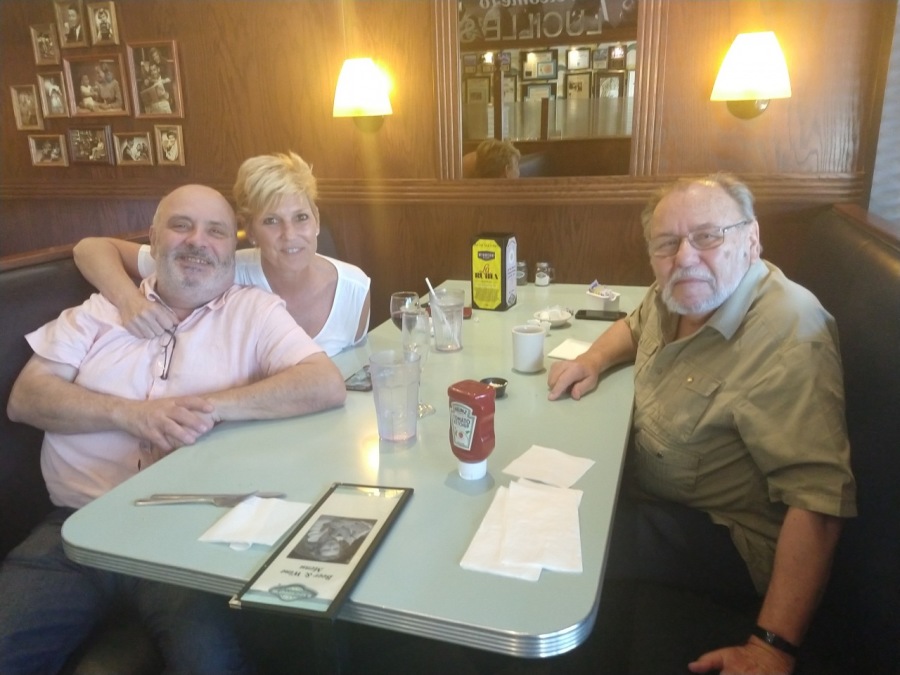 Hi, y'all. It's been a while. In fact, it's been so long, I forgot how to use the Producer platform. 
I'm sure it will come back to me. 
There hasn't been much to talk about on the dating front. I just sort of let it fizzle and die.
 In fact, if it weren't for a lunch with Melissa Hughes, I probably wouldn't have bothered writing this.
Feel free to blame them.
The header image is from that lunch. No, Melissa (who is quite the nutbar, BTW) isn't groping me. I think that's called foreshortening. It's an optical illusion thing.
What looks like quite a belly is also an optical illusion thing.
Or is it?
Anyway, let's get to it.
I've been alone for a touch over two years now. I'm getting used to it. Being alone and being lonely are not the same thing. You can be just fine on your own. You can also feel lonely in a crowd.
Maybe it's time for me to look more seriously... maybe not.
Whatever. You know what they say, "There are plenty of fish in the sea." Mind you, I'm not a big fan of fish. Besides, my hook is getting old and rusty.
That said, RANT MODE ON...
Beautiful women have it rough. 
Don't laugh. It's true. 
Here's a case in point. When a certain stunningly beautiful woman of my acquaintance posts a picture on Facebook, she invariably gets 50+ likes and comments. 
When she posts a thought or an idea... CRICKETS.
I find it annoying. She thinks it's normal. 
No, Hon, it isn't.
I call that the "Lost Keys Syndrome"
We've all heard someone say that when they lose their keys, the keys are always in the last place they look.
No shit, Sherlock. Why would you continue looking once you find them?
Beautiful women are like those keys. We see their beauty and stop looking. There can't be anything more to them, right?
Wrong. Dead wrong. 
What's even worse is when the woman herself subscribes to the same assumption.
Beauty will attract attention (and usually from the wrong people). It's temperament and personality that holds the attention. Remember, Coco? She was a stun blast in whom I initially lost interest within minutes. Only later did she let her real self out.
The question is, are you a beautiful woman who is intelligent, funny, and fun to be around, or are you an intelligent, funny, fun-to-be-around woman who happens to be beautiful?
There's a difference... a fricking big one.
Don't sell yourselves short, all you beautiful women. Level up already.
You make it tough on yourselves too
Beauty, no matter how stunning it may be, can only go so far. Over surprisingly little time, it becomes expected, assumed, and not so big a deal. The novelty wears off.
Don't buy into your own bullshit. You get no points for being beautiful. That's just coming out lucky in the gene-pool lottery. Attractiveness and beauty are related, but they are two completely separate things. 
How many beautiful, but unattractive women do you think I've met? Tons! 
How many women do I know who would be just as attractive even if they were much less beautiful? Many, but fewer than you may expect. Many just carry around a sense of entitlement that does not exist.  
Maybe it's just me. 
I was raised by a beautiful woman, raised with a beautiful woman, married a beautiful woman, and together, we raised a beautiful woman.
Maybe I just developed an immunity.
In general, women put far too much stock in beauty, their own and that of other women. Which is an excellent segue into this post's dating misadventure story.
RANT MODE OFF
The Militant Vegan Date
Many of you know that I'm trained as both a chef and pastry chef. It would be safe to assume I like food. I'm also a dedicated carnivore. So, now that you know all that, can you explain why a female friend who has known me since high school would set me up with a vegan? 
You read that right.
She didn't just set me up with a vegetarian. That would already be an unlikely match. Oh, no... she set me up with a militant vegan! 
I'm not big on militant anything, frankly... but militant vegan???
The date started off okay. I made a reservation at a decent restaurant -- not too fancy, not shabby either. It was a Greek place. 
She ordered a Greek Salad, no feta cheese. I thought nothing of it. Women often salad-out, although I prefer women who are actually human -- you know -- they eat. I wondered about the no feta thing. Feta is tasty yet very low-cal. No worries, to each her own.
As I always do in Greek restaurants, I ordered lamb chops. I like my lamb chops blue i.e. rarer than rare. 
She said, "I'm getting grossed out watching you eat."
WTF? I don't eat with my mouth open, so what was the problem. At this point though, I didn't know she was vegan. She let me know soon enough.
She launched into a whole "meat is murder" monologue.
I'm a pretty level-headed guy. I don't lose my cool easily. I can get annoyed, but I rarely get angry or rude. I told her I respected her opinion but didn't share it. 
I told her repeatedly. 
She didn't even slow down.
I told her in different ways.
I don't think she heard me.
Even my patience has its limits. After about a half-hour of meat-is-murder, why-does-an-animal-have-to-die-for-you, and eventually, cow-farts-cause-global-warming (oy!), I couldn't take it anymore.
I called the waiter over.
"The lady will need another table."
She left in a huff and I was able to finish my meal in peace.
Her salad wasn't bad, but it needed that feta.
The Why of it
On the way home, I called the friend who set us up. I had a single question, "Why the f!ck did you set me up with a vegan?!?"
Given the subject of this post, I'm sure you can guess the answer. "But she is so pretty!"
Yes, she was.
I don't particularly give a crap.
That's one friend who is no longer allowed to set me up.
Cheers, all.

You have no groups that fit your search