My Cat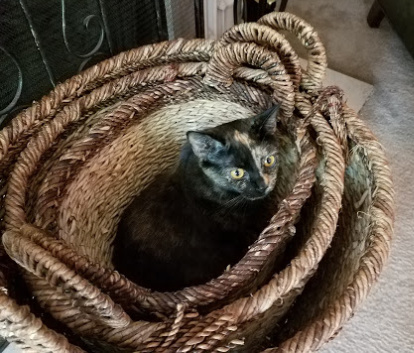 My cat sits on the window sill
My cat sits on the window sill
Watching the birds and bees fly by
They flit and flutter in the sky
Her antics more than meet the eye
Watching the birds and bees fly by
My cat she lets out such a sigh
My cat she lets out such a sigh
Watching twinkling stars as they dance
Her wide golden eyes in a trance
Hoping to see a ghost perchance
Watching twinkling stars as they dance
My cat naps on warm summer days
My cat naps on warm summer days
Sun puddles sing their lullabies
She dreams of birds and bees that fly
Sun puddles sing their lullabies
Sun puddles sing their lullabies
This poem is my endeavor for the poetry form Singsangsong.
 An eighteen-line poem consisting of six stanzas. The lines can be metered or not and have no fixed lengths (the length of each line can vary within the poem). The stanzas alternate between couplets (two lines) in which the first line repeats as the second, and quatrains (four lines) in which all four lines rhyme with each other (a monorhyme). The first line of the quatrain also repeats as the fourth line (and in the case of the final quatrain, the third line as well). In other words, the singsangsong's rhyme scheme can be expressed (with capital letters representing repeated lines) as AA BbbB CC DddD EE FfFF.
The poetry form was invented by fellow blogger, Paul at Paul's Poetry Playground. https://playground.poetry.blog/2021/07/27/invented-poetry-forms-the-singsangsong/
Franci Eugenia Hoffman
Franci enjoyed a dedicated career in the insurance industry for over 20 years being rewarded both professionally and personally. Now it's time for Franci to follow her dreams by doing things she enjoys…spending time with family, learning, sharing, traveling, and writing poetry. Franci's writing and creative endeavors can be found at her blogs, Eugi's Causerie and Eugi's Milieu. Franci has authored eBooks Fanciful Delights and Mama, me and Mother Nature, and also has writings at Spillwords, PoetrySoup, beBee.com, and various anthologies.
Articles from Franci 🐝Eugenia Hoffman
View blog
You may be interested in these jobs
Found in: Jooble CA - 4 days ago

---

Jodoin Lamarre Pratte architectes

Montréal, QC, Canada

Temporary

Jodoin Lamarre Pratte architectes invite les techniciens en architecture et les dessinateurs en bâtiment de tous les niveaux à acquérir une expérience concrète de toutes les étapes d'un projet ou à partager leur expérience et leurs connaissances au sein de son équipe, où chaque p ...

Found in: Talent CA - 1 day ago

---

About the Role · : · Corus London radio stations (FM96, 103.1 Fresh Radio, Country 104 and 980 CFPL) are looking for a casual Street Team Member to join their team. Reporting to the Promotions Coordinator, the successful candidate would be responsible for representing the statio ...

Found in: Jooble CA - 4 days ago

---

SFSALES005328

Montréal, QC, Canada

Job Description · Primary Duties and Responsibilities · Maintains staff by recruiting, selecting, orienting, and training employees; maintaining a safe, secure, and legal work environment; developing personal growth opportunities. · Accomplishes staff results by communicating j ...