5 years ago · 2 min. reading time · visibility 0 ·
On losing a friend: old advice made new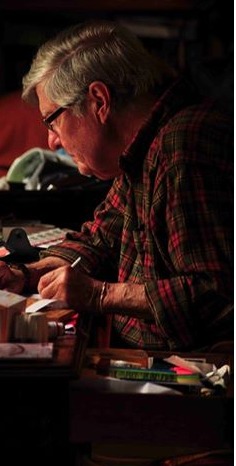 Don't put off until tomorrow what you can do today.
Ben Franklin (probably but he gets credit for lots of stuff that I'm not convinced he really said!)
Today I lost a friend.
He was my mentor.
He was my guide.
He was my counsellor.
He was my reality check.
He was my brother from a different mother.
He was my father.
He was my supporter.
He was my coach.
He was my editor.
He was my link to the past and my bridge to today.
On July 22 of this year I wrote this post: 
https://www.bebee.com/producer/@don-kerr/the-paddle-dame-fortuna-at-work
In it I wrote of my friend. The friend who died last night.
His name was Brian Blackstock.
From the age of 13 he was on my side.
He never let me wallow in the messiness of my mind.
He though always ALWAYS would listen.
The following is excerpted from my July 22 post.
When I visited my friend in Toronto I was seeking guidance on a few fronts - he's a published author so I sought his counsel on how to proceed with my publishing efforts. I wanted him to share some insights on raising young boys and when he felt was a good time to introduce them to a camp environment similar to that which we had shared. I was hoping to learn from his experience as a lifelong teacher and a man.
As we were talking I was thinking about how in life so much of what we do is similar to travels in a canoe. Sometimes it is smooth paddling and we relax while enjoying the silence and smooth rhythm of our strokes. Other times we venture into fast-running water and have to skilfully navigate the rapids. This is when our skills must be top notch and our judgement as well must guide us as we determine whether to run the rapids or head to shore to portage. 
While I was thinking of this, Brian left the room. He came back carrying a magnificent beaver-tail paddle. It is emblazoned with the crest of Camp Mazinaw and it is truly a wonderful creation.
He told me it was mine.
He told me that I must use it. A dry paddle is of little use.
He told me to think of our journeys every time I dipped the paddle into the water and pulled to move forward or feathered it as I moved sideways. He told me to use it wisely to quickly negotiate the turns that life requires by employing the pry stroke and then to change direction again with the draw.Me
The waters have suddenly become roiled and it will be with Brian's spirit and guidance in mind that I move forward.
I am grateful that I saw him so recently and benefited from his counsel.
I am regretful that I shan't have that opportunity again.
If you have someone like this in your life, count your good fortune.
Speak to them now.
We know for certain what is happening in this moment.
We have no idea at all what may happen only minutes from now.
Peace and may the waters be calm on your journey my friend.
Good bye.
For now.
You have no groups that fit your search