Reelin' In The Years: A Fan's Tribute to Steely Dan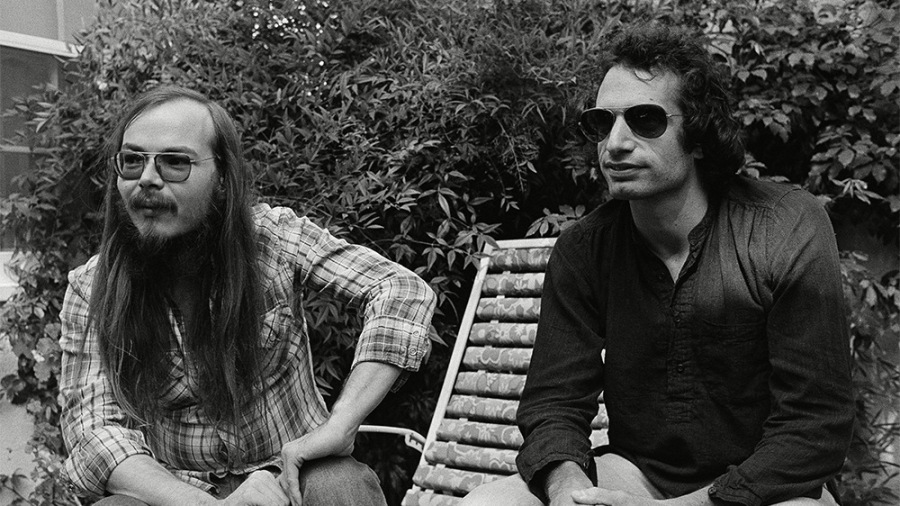 One of the exercises I do, and it takes about half an hour twice a dad, is to turn off my wheelchair and use my legs to push it backwards across the span between my dining room and my office, about 40 feet. I do 40 lengths in each session. I count them off with toothpicks on my desk, which I shuffle along so I don't lose track.
This method of keeping track frees my mind to listen to music while I am doing these 'steps'. I got a Bose speaker for my last birthday and usually listen to a lot of the music I have uploaded to my computer from my CDs.
I have a number of artists that I really like, Dylan, Jackson Brown, The Eagles, Bob Seger, Joni Mitchell. Jakob Dylan, Springsteen and Dire Straits.
But the band I love the most is an American duo called Steely Dan.
This band is essentially a songwriting partnership between Donald Fagen and Walter Becker. There's a lot of stuff that I like about the songs that these guys write, but the thing I admire most is that, as a band, they managed to create a huge musical; success for themselves while at the same time avoiding being slotted into a musical genre. At best they could be called a Jazz/Rock fusion band, but then if you listen to them enough you can probably find enough to add more adjectives to that description.
Fagen and Becker were both lyrical and musical geniuses. They write in metaphor, and they let the music take them wherever the song needs to go to be understood. They were also brutally perfectionist about their sound, and drove a lot of great session people and their band members crazy to get what they were looking for from each song.
Though the arrangements of their songs are wonderfully eclectic, sometimes going to horns, sometimes strings, they always managed to remain quintessentially Steely Dan songs. The guitar work on some of their songs is so intricate I'm not sure that it was actually done by human beings.
But in the end, each album they created was a little masterpiece and part of a collection which, over the course of the nine original albums they did, are just simply listenable, admirable and very high end production wise.
Steely Dan is my hands down choice for my exercises because the music hits my ears so effortlessly that it seems to flow with my own rhythm better than pretty much any music I own. And I own a lot.
Their stories are as eclectic as their musical arrangements. They talk a lot, in metaphorical terms about what it's like to be an American, back in the day when America really was the bright shining city on the hill, and the veneer had not yet been peeled back to any great degree.
Oddly enough, the group's name, Steely Dan, was the term used to describe a dildo that junkies would use on their arms to pop a vein where they could inject their heroin. The name was appropriated from that term, used in the 1959 William Burroughs novel, Naked Lunch. The irony is that Walter Becker, had suffered from drug addiction for most of his adult life, which led to his eventual death in 2017. This also created an up and down world for Becker and Fagen after their seventh studio album.
A lot of people think of groups that defy description as somehow unfocused compared to those who are full tilt into whatever style they are working in. But to me at least, Steely Dan, was all about the song and the mood and the metaphor. As a writer and amateur lyricist, I find these qualities extremely desirable.
Steely Dan Titles (Original Studio Albums),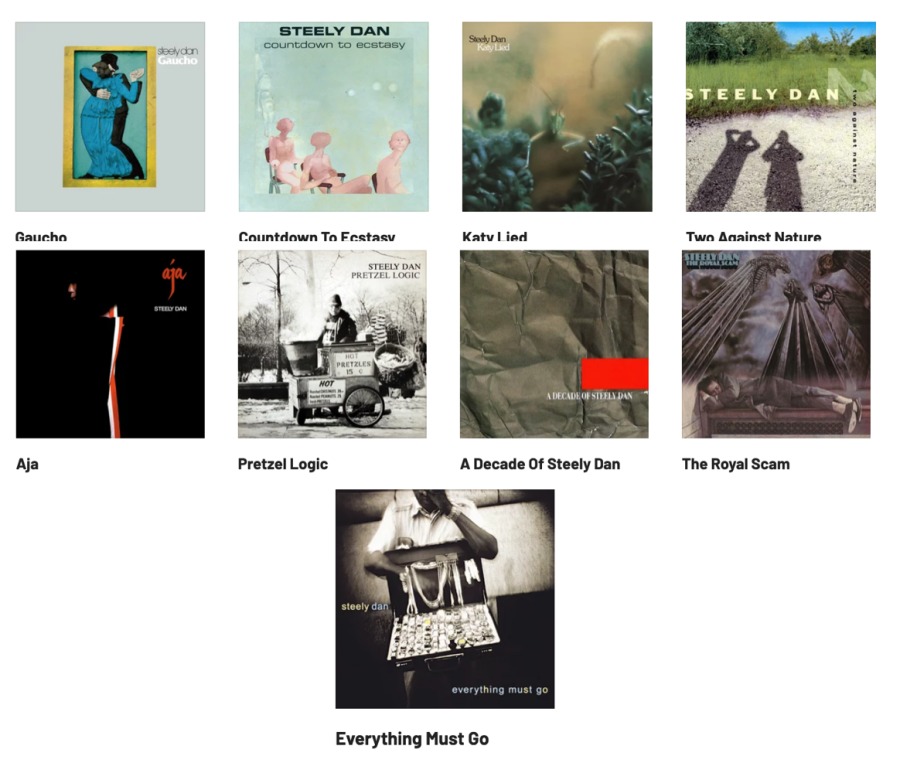 https://en.wikipedia.org/wiki/Steely_Dan

You may be interested in these jobs
Found in: Jooble CA - 4 days ago

---

PathFactory

Toronto, ON, Canada

Full time

PathFactory is revolutionizing the way that B2B companies interact with their buyers. In much the same way that modern publishing platforms like Netflix can provide a fantastically micro-personalized experience because they are intimately familiar with your past content consumpt ...

Found in: Talent CA± - 4 days ago

---

BIG TIME IT SOLUTIONS INC.

Surrey, Canada

Education: · Bachelor's degree Experience: 2 years to less than 3 years Work setting Relocation costs covered by employer Tasks Collect and document user's requirements and develop logical and physical specifications Research, evaluate and synthesize technical information to desi ...

Found in: Jooble CA - 4 days ago

---

International Financial Group

Toronto, ON, Canada

Temporary

Pay Rate: $23 · Location: Toronto ON · Job Type: Contract · Our client, a top 5 bank, is looking for a Talent Acquisition Specialist for a 6-month contract located in Toronto. This is an excellent opportunity for a Talent Acquisition Specialist with a financial services backgroun ...