11 months ago · 2 min. reading time · visibility 0 ·
REVIEW: In the Shadow of Gold: A Tale of the Lost Confederate Treasure
Author: Michael Kenneth Smith
ISBN: 9798684953736
Michael Kenneth Smith's compelling and imaginative historical novel, In the Shadow of Gold: A Tale of the Lost Confederate Treasure, unfolds in June 2020 on an opulent estate, known as the Arvin property, where we meet billionaire Jonas Arvin. Jonas receives a phone call from someone who is investigating the origin of the Arvin family's fortune.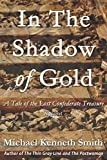 He relates to Jonas that the family's wealth was created in the mid-to-late 1880s. The seed capital, however, was probably amassed closer to the time of the American Civil War. He further points out to Jonas that there is one gigantic puzzle of the war that has never been cleared up. What happened to the Confederate Treasury after the war ended? Apparently, most of the Treasury's horde of gold and silver, it's "hard currency" reserves, never was captured by Union soldiers. It vanished. Or did it?
In the subsequent chapters of this electrifying work, Smith takes us back to 1865, the era of the American Civil War, where we follow the central character, midshipman Yancey Arvindale whose task is to guard the Confederate Treasury that fled from Richmond, Virginia, then the Confederate capital, to Abbeville, just ahead of the Union's soldiers successful effort to capture the city.
The bulk of Yancey's story reveals how he cleverly would creep at night under the trains he was defending, mount into the appropriate car, snag a box of gold, and submerge it right under the rail car. He carried this out about four or five times. He also carefully maintained a record of precisely where he buried his cache. One day Yancey is captured in the act, lands in jail, and practically loses his life to a savage beating.
After the war ends, Yancey returns to where he hid his stash and deposits it in a few banks. He rationalizes that clearly, he did not plunder the gold, as it did not belong to President Jefferson Davis or his cabinet. As for the people, even if it belonged to them, how would they receive it?
Another narrative thread that Smith cleverly weaves into the novel concerns a runaway slave, Ellie, whose life will be inevitably bound to Yancey's. With Ellie's story, Smith draws a vivid portrait of survival and struggle for self-worth against a backdrop of one of the bleakest periods of American history. 
We learn that Ellie had stabbed her master to death and made her way to a camp of runaway slaves. The camp occupants had welcomed her with open arms, believing that she was delivered by the Lord to help them. Ellie takes control of the camp and propels the runaways to aid in its management. She warns them they must work collectively to ward off starvation. 
While one of the runaways, Simon, is searching for food for the camp dwellers, he runs across a severely injured soldier who turns out to be Yancey. Ellie instructs Simon to take Yancey back where he discovered him, as there is no place for a white man in the camp. Simon refuses and tells Ellie that Yancey is one of God's children, just like her, and he can't let him die. Quite interesting is Ellie's ambivalence about Yancey, who she initially resents and ultimately comes to love.
To read Michael Kenneth Smith's fascinating novel is to surrender to a raconteur of the traditional school. His writing is rich with strong characterization, compelling plotting, and above all, his storytelling gift, which is abundantly supported, thanks to expertly voiced narration and masterly evocation of time and place. Also, the novel is accessible and written in clear, uncluttered prose that moves steadily forward.
We have quite a romp in which actual events are cleverly intertwined with the author's imagination. It leaves readers with the feeling that they are not quite sure which to believe. The yarn seems as vivid and immediate as something that happened only yesterday.
Follow Here To Read Norm's Interview With Michael Kenneth Smith
You have no groups that fit your search