Review: Kathy Brodsky's High Wire Act
Author: Kathy Brodsky
Illustrator: Cameron Bennett
Publisher: Helpingwords
ISBN: 978-0-9828529-6-5
The key to a captivating children's picture book is a simple text, contextual illustrations, a reflective theme(s), and integration between the written word and visual images. These attributes are handily prevalent in Kathy Brodsky's latest tome, High Wire Act.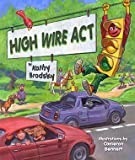 Brodsky, with illustrator Cameron Bennett, recounts the importance of traffic lights and other safety lights. Their use of wit, simple structured rhyme combined with bold exquisite pictures undoubtedly increases children's engagement in the story.
With the opening page, youngsters are introduced to the "Light family, that live together, yet hang s-e-p-a-r-a-t-e-l-y." Standard features of traffic lights are depicted through double-page spreads facing each other that take in a great deal of information. Mention is made that each traffic light watches over a particular route. They sway when traffic flows by, and drivers pay attention to their green, yellow, and red glows.
From here, the narrative follows a tale about a traffic light that was snatched away on a windy day and found itself tossed into a truck carrying soft merchandise. The traffic light moves along with the truck's chauffeur through the city streets. During the trip, the traffic light discovers they brake when they appear before a school bus with flashing red lights. And to the astonishment of the traffic light, children near their school bus wave to it shrieking out red light, green light.
Stops are made where there are construction site signs and a flashing red light at a railway crossing. The traffic light looking up in the sky notices airplanes and airports where lights guide them in and out of their slots.
Slowly moving further along their route, the traffic light notices an alert where they are cautioned of a traffic jam ahead. As the truck draws closer to the intersection, the traffic light is reunified with its family.
After the city tour, the traffic light realizes its importance. Without it in its place, traffic couldn't circulate at its average pace. Next time you are traveling with your family, you may appreciate why we need lights for our safety. Don't fail to hesitate and glance up at the traffic lights; they just might wave to you.
A delightful added feature is the inclusion of discussion questions at the end of the book. These questions and activities, known as "Funtivities," pertain to safety, people, change, and kindness. Suggestions to involve readers include discussing such topics as why traffic lights are essential? What are the different kinds of signs, traffic lights, and signals you notice in your city? What does safety mean to you? Who would miss you if you were not here? If you have pets, how would they feel if you were not here? How can you let others know how important they are to you? Was there something that happened that changed your life?
Brodsky's themes are meticulously formulated with playful and innovative language. Kids will derive a genuine thrill in listening and reading the story independently.
The images are layered in concept and construction that vibrates with lively creative detail. 
The book is an excellent choice to introduce youngsters concerning safety and the necessity of traffic lights. With its visual impact that works splendidly with the verse, it is sure to be a welcome addition at storytimes. 
Follow Here To Read Norm's Interview With Kathy Brodsky
You may be interested in these jobs
Found in: Zoho GLB T2 - 4 days ago

---

Extra Multi-Ressources

Granby, Canada

Notre client dans le domaine du transport est à la recherche dun répartiteur pour compléter leur équipe de soir. · La personne aura comme responsabilités principales: · - Logistique · - Document de douanes · - Saisie de données dans le système informatique · La personne doit être ...

Found in: Talent CA - 5 days ago

---

Job description · Our team has an immediate permanent opening for an Architect · Responsibilities: · Researching new algorithms and architectures through academic literature surveys, competitive analysis, customer interaction, and application of good engineering practices · Stud ...

Found in: Jooble CA Organic - 2 days ago

---

Aramark

Edmonton, AB, Canada

Job Description · The Hourly Supervisor is responsible for improving the profitability of Operations. This person will ensure the highest level of customer service, safety, sanitation, quality, and consistency while driving sales and controlling costs. Enter Job Description here ...