1 year ago · 3 min. reading time · visibility ~100 ·
Review of Steven Dodge's The Intelligence of Captain Heinz
Author: Steven Dodge
Publisher: Outskirts Press
ISBN: 978-1-9772-1648-9
On December 7th, 1941, Japan launched an attack on Pearl Harbor, where over 2000 Americans perished, 100-200 aircraft destroyed, and 4 or 5 battleships sunk, which ultimately led the United States to enter into World War II.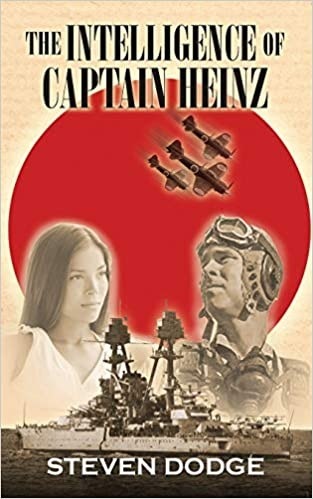 What if science and technology have advanced to the extent that it is possible to insert a human into a sophisticated computer simulation program that would alter the outcome of the Japanese attack on Pearl Harbor. Wouldn't that be awe-inspiring where scientists can experiment with history? And if we had the technology back in 1941, would we have altered the outcome of World War II? Steven Dodge has come up with such a scenario with his recent tome, The Intelligence of Captain Heinz. This may sound far-fetched, yet Dodge manages to make the wholly imagined world of a fictional narrative feel genuine and credible.
Dodge devoted eleven years in the researching and writing of the novel, and as he mentions on his website, his interest can be traced back to one of his high-school teachers, who was a survivor of Pearl Harbor. He further acknowledges that he was obsessed with the attack on Pearl Harbor as a result of his serving at the Army Hospital in Honolulu, where he had an excellent view of the harbor from the hospital's medical library located on the eleventh floor. He also attributes his interest to the testimony of his mother-in-law, who had witnessed the attack first hand.
The setting of the opening scene of the novel is San Diego, California, on March 11th, 2025, at the Florence and Walter Ray Institute of Experimental History. It is here where we are introduced to a 101- year old former World War ll fighter pilot, Bill Baxter.
Baxter meets Dr. Jane Gaffey and Dr.Price, who are scientists at the Institute. The scientists explain their research project to Baxter, who has volunteered to participate in an experiment involving the Pearl Harbor attack of World War II. The project is called "Pearl Harbor 6-B," which means that it will be the sixth time that they have investigated the Pearl Harbor attack, and the letter "B" indicates a new approach.
The scientists inform Baxter that history began 2,500 years ago, but up until recently, historians could only try to figure out the facts based on the past. They were unable to answer the 'what if' questions' such as if the "lame-brains in charge of Pearl Harbor had done their jobs properly." With the advent of superior computer technology, they now have the means to answer those questions scientifically. They are capable of programming an actual setting concerning a critical event in history, alter one variable, and then run it forward to see if the outcome changed significantly due to the adjustment they made. When Baxter volunteered to join the project, he agreed to insert himself into the experiment and which involves his enter into the simulation, becoming part of it. With his participation, their computers will be able to access his memory of actual events in 1941 and make the simulation  more realistic and accurate. He will become Captain John Heinz, who is a non-historical creation and a Marine Corps pilot assigned to one of the airbases near Pearl Harbor. His old memories of who he was will be completely blocked out, and new ones will be provided.
What he is not told is that he will be stationed at the EWA Marine Corps Air Station. While in the Territory of Hawaii, he will be communicating with several military officials who were present at Pearl Harbor at the time of the Japanese attack. These include Rear Admiral Kimmel, who was commander of the Pacific Fleet, Lieutenant Commander Layton, the intelligence Officer on Admiral Kimmel's staff, who predicted that Japan would attack the USA, and several other military officials who were present at the time. He will also have an aid to help with administrative and clerical work, Yeoman Robertson. As it turns out, Robertson is more than a lonely clerk but rather a tremendous help to Heinz.
Dodge cleverly writes romance into his story as he creates the beautiful and dynamic character of Kathryn Fujita, who is the librarian at the navy base's library. Heinz is immediately smitten when he meets her  and every time he is in Kathryn's presence he hyperventilates. There is a real attraction between the two, although initially, Kathryn is very coy and careful not to get too much involved with this cocky fighter pilot. Ultimately, tension is built, and the stakes are raised, including the challenges that get in the way. Although sex is not part of the story, there is a kind of intimacy between the couple.
In the end, we have an enjoyable and ambitious alternate history fiction, sometimes quite addictive, and perhaps occasionally overwritten with too many chapters filled with air battles. Nonetheless, Dodge displays a great deal of imagination and research as he effectively mixes elements of history with science fiction in a manner that is incredibly engaging and very much satisfying. And if you find yourself wishing that perhaps you could change the past, pick up a copy of The Intelligence of Captain Heinz for en enticing take on what could have been. 
Follow Here To Read Norm's Interview With Steven Dodge

You have no groups that fit your search