3 years ago · 2 min. reading time · visibility 0 ·
REVIEW: PERCY AND TWO OTHER FOOLS
Author: Michael J. Merry
Publisher: PublishNation LLC
ISBN: 978-0-359-21164-7
In 1925 Percy Harrison Fawcett, a Lieutenant Colonel in the Royal Artillery along with his son Jack and a friend Raleigh Rimmel vanished while on an expedition exploring the forests of Mato Grosso in north-eastern Brazil. What interested Fawcett was the possible solving of a mystery concerning a mythical city called, "Z." Apparently, in 1753 João da Silva Guimarães wrote that he had discovered the ruins of a City, which he described in detail without providing its exact location. Fawcett believed that this might be his "Z."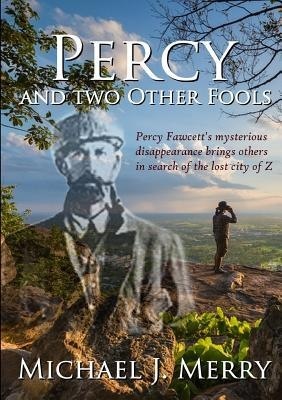 Fast forward to 2018 where a wealthy English landowner, Viscount Lynn is determined to find out about the mysterious disappearance of Fawcett and perhaps, many other questions that would be unraveled by the discovery.

To help in his search, Lynn puts together an expeditionary team consisting of nine members. The team comprises Lynn, his associate, Sir Paul Soames, who is a businessman and diplomat, Staff Sergeant John Pullen, an expert in jungle warfare, two guides, three very experienced canoe-men doubling as porters, and another jungle expert, Thiago Perez. Their mission is to travel to the Mato Grosso in Brazil in the hope of finding what actually happened to Fawcett and his companions. Rumour had it that they were slaughtered by a native tribe who inhabited the area.

Michael J. Merry's Brazilian jungle setting is exploited fully in his recent novel, Percy and Two Other Fools, a thriller plot which includes treacherous living conditions, friendly and not-so-friendly indigenous peoples of Brazil, near-death experiences, and a band of Mafia type pirates that through their corrupt government contacts got wind of Lynn's expedition. The Patrão (boss) of the pirates was Benico Renatto, who along with his assistant, Cezar 'o Escorpião Costa, was convinced that the lost city would contain valuables that they would love to get their hands on.

Their plan was to shadow Lynn's team and eventually relieve them of any treasures that may be found in the ancient lost city. Incidentally, Renatto is also the President of a legal Amazon transport operation, one of the biggest. He is a ruthless man backed by a very large organization that makes money by stealing cargoes on the Amazon. In addition, he is also involved with many other illegal activities.

Aside from the thriller feature of the story, Merry also irrigates the novel with some fascinating information about some of the indigenous peoples of Brazil or the tribes that have maintained their traditions of a previous culture associated with a given region. We learn about the Kayapo who inhabit a vast area spreading across the states of Pará Mato Grosso, south of the Amazon Basin and along Rio Xingu and its tributaries. They refer to outsiders as "Poanjos."

We are also introduced to the Piripkura tribe that live in the Amazon forest in the state of Mato Grosso. Their territory is in the Colniza district, which is estimated to be the most violent area in Brazil, and one of the worst in the Brazilian Amazon for deforestation. In our yarn, they are the protectors of the lost city and play an important role in the novel as they hold the key as to what happened to Fawcett and his companions.

As Merry mentions in his Observation page that appears at the beginning of the novel, he had no idea of the suffering and pain that many of the quarter-million indigenous peoples of Brazil have experienced.
As a result, the novel also reflects deep-seated respect of people and culture and it is recommended that one should read this multidimensional novel not only for its cliff-hanger aspect but also for its rich descriptions and full-blooded characters. In addition, quite impressive is Merry's measured narration and strong controlled writing that is full of concrete images that energetically carries the plot along and that once again demonstrate Merry as a great storyteller.

FOLLOW HERE TO READ NORM'S INTERVIEW WITH MICHAEL J. MERRY