1 year ago · 2 min. reading time · visibility ~10 ·
Review: SIDE BY SIDE BUT NEVER FACE TO FACE
To fully appreciate Maggie Kast's latest work, SIDE BY SIDE BUT NEVER FACE TO FACE, you have to look to her biography which no doubt plays an influential role in this resonant, deeply affecting work of fiction.
Kast is a former professional dancer and an acute observer of relationships who characterizes her lyrical prose with a great deal of depth and feeling. No stranger to tragedies, Kast had experienced a devastating challenge and extreme pain with the loss of a young daughter and a son. The latter being seriously ill and handicapped during his entire life.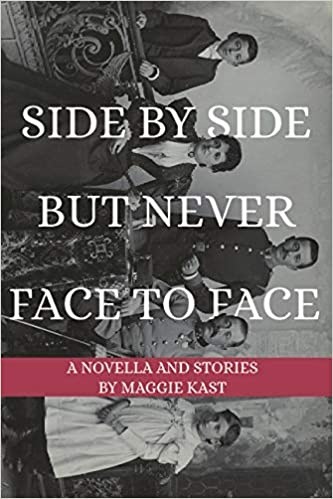 In the novella, a great deal ensues over several years, and it is strikingly well-told with revealing disclosures by its narrator, Greta.
The narrative sets out when the most horrendous event imaginable happens. Greta, and her husband Manfred, are in a horrific rollover car crash while vacationing in Jamaica, West Indies. Unfortunately, their young daughter Katrina was killed. As for the other members of the family, they suffer minor physical injuries. We also learn that one of their sons, Allen, is mentally challenged and suffers from Crohn's disease.
This deeply nuanced story meanders between Chicago, Austria, and rural Wisconsin, wherein Kast enlightens us with tidbits about interconnected issues involving Greta and Manfred. Greta studied dancing, and while in college she met Manfred. He was a medical doctor and twenty years her senior. She informs us that one of his attractiveness was his spontaneity that helped her connect words to feelings and gestures. We learn that their marriage was witnessed by a Unitarian minister, and was secular as her upbringing. They did not have a funeral for Katrina or any service when she died. Greta states: "Without a nest to hold or frame a ritual, it was simply too painful to craft a formal remembrance." We also learn about Greta's Jewish ancestry, and after losing Katrina, she turned to the Catholic Church. 
Manfred was born in Austria whose parents renounced their Jewish faith before his birth. At the age of three, he was baptized Lutheran and confirmed at thirteen. Their conversions, however, did not guarantee their acceptance as Austrians. Manfred's mother eventually turned to Catholicism as did Manfred. Manfred had been very adaptable as he made it through his loss of home in Austria, adopting a new language, and much more. 
Kast also explores Greta's encounter with the Hmong community who had settled on the remote Door Peninsula in eastern Wisconsin, that separates the southern part of the Green Bay from Lake Michigan. Many of their community fled Laos and had sided with the United States during the Vietnam War. In a recent interview, Kast states that she used the Hmong culture and religious practice to interrogate her own religion and that of her characters, hoping to learn from the Hmong.
One of the strengths of this powerful and engaging story, which at times may seem bleak, is that Kast skillfully interweaves Greta's and Manfred's experiences of the past with scenes from their present memories, establishing her strong grasp of the complexities of human character and interpersonal relationships. She demonstrates her full power as a writer who succeeds in writing persuasively about highly emotional issues. She never condescends to sentimentalize Greta, who for all of her despair, emotional conflicts and loss continues to do the one thing she has done all along, survive in her search for identity and for self. And amid her experiences and realities of the death of family members, there is a continuous vision of strength and hope. This is a novella that glows with penetrating insights concerning human conflicts and spiritual yearnings. 
Follow Here To Read Norm's Interview With Maggie Kast
You have no groups that fit your search