Review: Synchronicities on the Avenue of the Saints
Author: Deborah Gaal
Publisher: Anchor House Publishing
ISBN: 9781732589650
In her second work of fiction, Synchronicities on the Avenue of the Saints, Deborah Gaal skillfully weaves into her narrative a unique twist on the philosophical notion of synchronicity.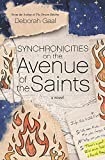 The concept was first proposed by the psychologist Carl Jung, which holds that events are "meaningful coincidences" if they take place with no causal relationship yet seem to be meaningfully related.
One challenge of a novelist is to create an innovative twist on an abstract concept into a story. The concept is the tale. It is the first grain of an idea. Once the author transplants it into your imagination, it develops into a complete novel, as with this work of fiction.
In the opening chapter, readers find themselves transplanted in April, 1918 to Yompola, Russia, where we meet Hadassah, who is expecting her husband, Chaim. Czar Nicholas has engaged him as his tutor, and he compensates him for his services with valuable imperial eggs.
A rumor is now circulating of an impending revolution to be raged among the inhabitants. To defend herself from a dangerous assault, Hadassah paints on her front door the word machashaifeh, which means witch. Perhaps the villagers will leave her in peace.
Hadassah recalls her last exchange with Chaim before his departure for Saint Petersburg. If he does not return, she was to deliver the eggs to Chaim's nephew, Pincus Goldberg in America. Hadassah knew she would never make the trip without her Chaim. How could she at nearly sixty years of age, and what would happen if Chaim returned to the village not to find her?
Fast forward many years in the future to the USA, where we find twenty-four-year-old Noah Friedman in a library in St. Louis. Gaal also introduces us to Noah's ninety-eight-year-old great-grandmother Sara.
The latter mentions to Noah that his mother Sally, is in trouble. Sara also discloses that there is something in his family's past that is appalling. She relates what transpired in Yompola during a pogrom where many of the residents were slaughtered by the Cossacks. The sole survivors were herself, her sister Faigie, her brother Jossel, her mother Leja, and one other. They were saved by Hadassah who sheltered them in her home.
Hadassah, who possesses magical powers, offers to put a spell on Sara, her mother, and siblings to keep them safe while they journeying from Yompola to America on condition that they deliver a magnificent box made with polished ebony, enclosed with a solid lock to Pincus in Brooklyn. They were not to open the box, and if they did not adhere to these orders, their lives would become worthless.
When Sara and her family arrive in New York, they are greeted by her father. With the box in hand, they go to Pincus's last known address. But he has moved. Sara's mother is set on fulfilling her pledge to Hadassah, even though her husband informs her that this is America, and her word no longer counts.
She decides to hide the box inside a cedar chest until she finds Pincus. Sara's father discovers the box and its contents, three jeweled eggs. Her mother is distressed and afraid of what would happen to her and  her family. She believes her family will be cursed forever. Her father sells the eggs and establishes a grocery shop, leading to the rise of the family's fortune: money looted from Hadassah's nephew in New York. So commences the saga that slowly unravels. The weight of a great-grandmother's story and her legacy is now passed on to her great-grandson.
It was much longer to get this tale out of my mind than to read it! You can speculate why when you recognize that Gaal brings into her narrative a concoction comprising the supernatural, a "quack" therapist, a shaman, a witch, an evil pharmaceutical company, an overbearing mother fixed on helping her twenty-four-year-old son who suffers from bipolar disease, who has been on an experimental drug with terrible side effects for fourteen years. And if that is not adequate to kindle your appetite, how about bringing in the notion that within our psyche is a community of individuals, or a village of our ancestors.
The narrative is permeated with several strands that intersect many times, like complex webs that clash at many points along their lengths. Gaal smoothly links her protagonist, Noah, to an array of the story's components. His actions, temperament, peculiarities, idiosyncrasies, and perceptions drive the story forward, providing its color and flavor. Also noticeable is that the secondary characters influence and are swayed by every one of these threads. And this is what makes the yarn a great read.
FOLLOW HERE TO READ NORM'S INTERVIEW WITH DEBORAH GAAL
You may be interested in these jobs
---

Ancia

Montreal, Canada

Full time

Sogefi Group is a world leader in the design and manufacture of filtration systems, suspension components and air intake and cooling systems for the automotive industry. · The Montreal plant, whose main customers are Ford, GM and Denso, employs approximately 300 people and has bu ...

---

Workker, a TPI Company

Woodstock, Canada

Full time

Our very large and reputable logistics company is looking for warehouse/forklift associates to become part of an excellent team · Hourly Pay: · $23.00 - $23.75 per hour · 2 different shifts available · Monday to Friday - 7:00am-3:30pm · Monday to Thursday 5:45PM-2:15AM/4:45PM-1:1 ...

---

Vancouver Coastal Health

Vancouver, BC, Canada

Full time

Come work as a Nurse in the Cardiac Surgery Intensive Care Unit (CSICU) at Vancouver General Hospital Vancouver Coastal Health is looking for Registered Nurses to join the Cardiac Surgery Intensive Care Unit (CSICU) at Vancouver General Hospital. Apply today to join our team As ...