REVIEW: We Demand: The Suffrage Road Trip
Author: Anne B. Gass
Illustrations by Emma Leavitt
Publisher: Maine Authors Publishing
ISBN: 978-1-63381-259-8
The names Ingeborg Kinstedt and Maria Kindberg probably don't ring a bell unless you are acquainted with the woman's suffrage movement. Yet, these two middle-aged Swedish immigrants, who settled in Rhode Island, played a meaningful role in the early part of the twentieth century in the movement.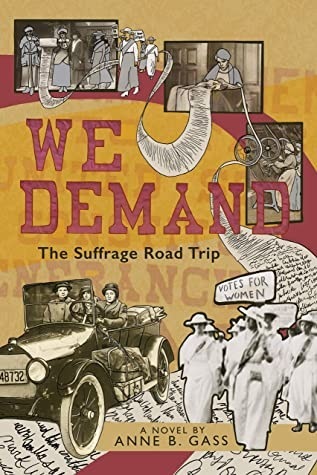 Based on a true story, Anne B. Gass in We Demand: The Suffrage Road Trip crafts a fictional reconstruction of a bold 3000-mile cross-country auto trip from San Francisco to Washington, D.C. in 1915 involving Ingeborg and Maria.

The two, along with Sara Bard Field and socialite Frances Joliffe were to amass and deliver thousands of signatures on a petition to Congress and President Wilson, demanding women's right to vote.
Field and Joliffe represented the Congressional Union for Woman Suffrage (CU), an organization set up by Alice Paul and Lucy Burns in the United States in 1913 to fight for a constitutional amendment guaranteeing women's suffrage. Because of ill health, Joliffe had dropped out before the trip was ongoing.
The narrative unfolds in late September 1915, where we first encounter Ingeborg and Maria. Their initial plan was to explore the USA on their own, and they never imagined they would become involved in such an important event. 
After decades of hard toil, the two had traveled by steamship to San Francisco to attend the Panama-Pacific International Exposition. It is here where they meet someone belonging to the Congressional Union, who briefs them that the CU. had prepared to launch a trip in a few weeks, sending one hundred cars to Washington, D.C packed with suffrage supporters. Their mission is to drive across the USA with petitions urging Congress pass the federal suffrage amendment. Unfortunately, there were no volunteers. 
Upon learning of their predicament, Ingeborg blurts out, without consulting Maria, that she and Maria will undertake it. She mentions to the woman they are purchasing a Convertible Overland Six automobile in San Francisco to travel back to their home in Providence, Rhode Island, which is not very far from Washington, D.C. She further tells her there is ample place for the petitions.
When Alice Paul gets wind of their offer, she agrees to have the two Swedes drive with the petitions and explains to them they will pay for the automobile and their expenses. The CU will compensate them for food and lodging for the two envoys that will tag along. The envoys turn out to be Sara Bard Field and Frances Joliffe, and as pointed out previously, the latter slipped out early in the adventure. Ingeborg and Maria were not totally thrilled when Alice tells them about the two representatives and reluctantly accept the two riders. 
At the commencement of the trip, a chauffeur drives the three women to Salt Lake City, who, incidentally, gets lost on the path to their destination. This doesn't sit very well with Ingeborg, who fires the driver. Maria takes over the driving, and Ingeborg, who knows the workings of a car, attends to the maintenance of the Overland Six. Sara becomes the spokesperson for the CU, who will be engaged with public relations while meeting with dignitaries, socialites, and politicians along the way. 
You can well imagine the harrowing adventures these women would experience, which Gass describes in detail in the narrative, as they make their way across the country through inclement weather, poorly signed mud roads, and where getting lost or stuck was part of the fun. 
And as one Congressman succinctly summed it up, "I know those roads.... some would be better done on horseback than in an automobile. Many a man has rued the day he attempted them."
Several times Ingeborg questions her judgment to having agreed to take part in the voyage. As she mentions, if only they had pinned Alice Paul down on the details: who would speak, the distances, and the road conditions? Then there was the matter of being shunned by some of the CU women because they were immigrants. And to add insult to injury, even the media ignored them as if they were ghosts. Likewise, there was the outright bigotry and racism, which she came across which was not considered before embarking on the trip. 
This extensively researched work is more than a record of a journey of two feisty Swedish women, which is truly remarkable. Gass skillfully interweaves the individual histories of these women with interesting contextual information regarding the social and political atmosphere that existed at the time. In addition, her appreciation for the prowess of her principal characters radiates throughout the story. She brings the cross-country road trip to convincing life through carefully wrought, affecting characterizations and accurately rendering details of place and time. A bonus for readers interested in exploring more of the women's suffrage movement is the selected reading at the end of the book. 
Follow Here To Read Norm's Interview With Anne B. Gass

You may be interested in these jobs
Found in: Talent CA - 1 day ago

---

Arbuckle's Service Center

Fredericton, Canada

Full time - Permanent

PROJECT CENTER SALES REPRESENTATIVE · Are you looking to grow your career and knowledge in a fast paced, friendly, safety-oriented environment? Are you up for the challenge of elevating the customer experience through providing the best solution as a trusted partner for our cust ...

Found in: Talent CA - 6 days ago

---

The Engineering Institute of Canada

St-Bruno-de-Montarville, Canada

Responsibilities Req ID: · Leading societies to a low carbon future, Alstom develops and markets mobility solutions that provide the sustainable foundations for the future of transportation. Our product portfolio ranges from high-speed trains, metros, monorail, and trams to int ...

Found in: beBee S2 CA - 2 days ago

---

Mallette S.E.N.C.R.L.

Lévis, Canada

Full time

Nous sommes actuellement à la recherche d'un(e) conseiller(ère) en qualité professionnelle qui se joindra à notre équipe provinciale de la qualité professionnelle. La ressource pourra être localisée à l'endroit de son choix parmi nos 33 bureaux dans la province de Québec. · Votr ...