Some Chicken McNuggets Of Accumulated Wisdom. (Part 6 In A Series)

Other posts in this series are accessible at the bottom of this post, by clicking on the 'View Blog' link
A few years ago I posted a series of articles on my history in the advertising agency business. This was entitled: My Life As A Hard Core Huckster.
It came with a whole litany of things I learned in each of the roles I played during the course of that part of my career.
These lessons, if you look at them as allegorical, have application to a range businesses. So as part of my effort to share knowledge and insight I have summarized them here.
I was in the agency/marcom business for about 25 years before going on my own. I worked my way up from lowly junior writer to senior writer, art director, group head and creative director.
It was a lot of fun and if I had it to do all over again, I wouldn't change a thing. Because the lessons I learned there have benefited me (and my clients, turn) ever since.

Despite the fact that this was a whole other historical era, and quite analog (as opposed to digital), the fundamentals I acquired on this journey still shape the way I do things today.
Chapter 1 – Overview Of The Creative Revolution
• Up to the time of the Creative Revolution in advertising, (1959-1960), most brands had been built on the promise of performance that they made to the customer. It was highly transactional. You buy this product or service, because you need this result. Badda bing…badda boom.
But with the proliferation of competitive brands in the marketplace, the need to differentiate by more than promise of performance became much more of a necessity.
Guys like Bill Bernbach and Helmut Krone realized that through creativity, they could start building a relationship with their customers based on something called Brand Character.
Digital marketers call it storytelling now, and a lot of them think they invented the concept. But all you have to do is read a Volkswagen ad from 1959, and you'll see where the innovation first manifested itself in the modern era of communications.
This is what's known in the advertising industry as the 'Big Idea'. And it was big enough to spawn an entire generation of creative marketing thinkers the likes of which the world had never seen before. It really did change everything.
Chapter 2 – Butler MacKenzie
• People are everything in this business. If you don't all get along, especially in a small company, it will really make your life miserable.
• The creative part of advertising is relatively small vis a vis the entire process.
And if you take the time to understand the entire process, it makes you a more well rounded creative or marketing person. Working at this tiny agency for two years was the equivalent of about a decade in a larger agency where all you do is write or art direct or whatever.
In fact, I was much busier and probably much more creatively fulfilled working in a small agency than I ever was at a big one. Although there were many other compensating benefits with working in big agencies. Many of which don't exist today.
Chapter 3 – Vickers & Benson 
• Effective advertising is like having a conversation with your neighbour about a product you just bought and are really happy with. If you can capture that in your communication, you'll be ringing bells all over the place.
• Advertising, as a career, is like baseball. There are a lot of ways to win. There will be times when you're in a slump. There will be times when you hit everything out of the park. And over the course of time, if you can hit .300 or better, you're beating the 80-20 rule by 10% and that technically makes you a superstar.
I don't think many people in advertising, or business in general, these days think in those terms. They're mostly into grabbing attention with cheap gimmicks and fart jokes and not really having any sort of conversation with the customer. They pay lip service to it, but what I see is mostly just a lot of yelling "Look at me".
On the one hand, it really sucks. But on the other hand, clients who are tired of or afraid of that crap are how I make my living these days.
Chapter 4/ Chapter 5 – Base Hamilton, Index Studio, Clancy Headford

• Long copy ads will not save the world. Sometimes ads with no words in them are every bit as powerful.
• Writing advertising is really more an art direction function with words as the primary tools.
• Creative boutiques come and go. Then come and go again.
• There are all kinds of ways to make a living in advertising if you're creative and lucky enough.
• Prima donnas usually get found out in the end.
• A career in advertising or pretty much anywhere, is like one of those Dubai to Daakar offroad races. Lots of bumps and detours along the way, with long stretches of smooth road. In order to finish, you really can't avoid either one.
Chapter 6 – The Jerry Goodis Agency, Cockfield Brown & Foster Advertising
• At a certain point in any career you start to see your path more clearly and engineer solutions that will get you where you want to go. In other words, you start growing up.
• Power tripping and insurrection always create situations that don't end well.
• Being known as basically a good guy in the business is just as important as being known as a talented guy. Or at least it was at the time.
Chapter 7 – DMB&B Canada
• When you hit the very senior ranks in advertising or any other business you start thinking about your work in terms of how it will radiate out into other areas In other words, how your ideas can have real legs and create synergy which will maximize effective reach across a wide range of activities.
• This business, and I have said this before, is all about people. People without big egos or hidden agendas. People who share the common ground of being able and willing to do whatever it takes to build their clients' businesses and in turn, their own reputations.
• It is very difficult to find or create an ideal kind of environment. If you can do that in your own world, do whatever it takes to preserve it, because it is rare and precious.
• Communication is communication. Certainly there are an array of different tools popping up all the time. But if you have a good understanding of the basics, the learning curves you encounter will not be very steep or long at all.
OK, so now you know what I know. I fully expect you to use this power for the betterment of mankind.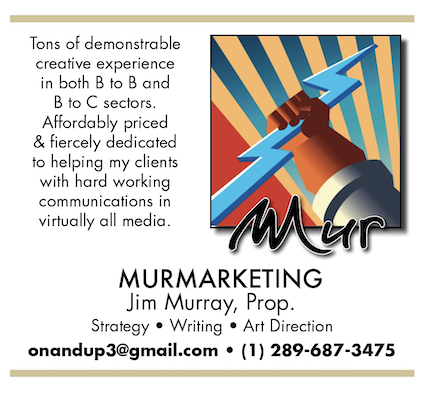 You may be interested in these jobs
---

Fantuan

Vancouver, Canada

Responsibilities · 1 加拿大地区HC梳理和控制 · 2 招聘的发布和初筛,offer的谈判。 · 3 入转调离事宜处理 · 4 员工绩效管理 · 5 员工满意度调研 · 6 员工考勤管理 · 7 其他HR相关事宜 · Requirements · 1 人力资源相关经验2年以上 · 2 对招聘有自己的见解 · 3 了解加拿大的本地的compliance · 4 沟通良好,愿意倾听 ...

---

Canadian Cancer Society

Montreal, Canada

Permanent - Full time

Work Model: Hybrid work model · Salary Band: 4 ($40,000 - $46,000) · WHY JOIN THE CANADIAN CANCER SOCIETY (CCS)? · The Canadian Cancer Society works tirelessly to save and improve lives. We fund the b ...

---

Parrish & Heimbecker, Limited

Bassano, AB, Canada

Full time

​ · Customer Service Representative · Parrish & Heimbecker Join our team that shares your Passion & Heart for Canadian agriculture Parrish & Heimbecker, Limited (P&H) has an opportunity for a motiva ...