The Fine Art Of Fishing Where The Fish Are. (Part 9 In A Series)

This is part of my series on smart marketing for small business. Other posts in this series are available at the bottom of this post, on mt beBee blog wall.
One of the things that you pick up if you have made it your business to not just participate in social media, but to really get down to what it's all about, is a sense of perspective.
First of all, you learn that this is a community. You put your opinions out there and push them around through your initial small network and your network grows and you find people who think like you do, or who disagree with you in interesting ways.
Secondly, you learn that it's a platform and if you let your contact base grow larger and interact with them, you will see that just about everybody has some sort of agenda or at the very least, things they care about and want to hip others to.
Finally, you learn that it's a business. Social media is the world largest database of people, interests and preferences. It is also the world's largest self-generated content library. And the weird thing is that billions of people are willing to give social media site owners all that information and content willingly, and for the most part, unwittingly, based on nothing more that the fact that they like being part of a community.
They are not alone in a community. They have compadres who feel their pain, bolster their egos, argue over whatever and provide just about everything a really friendship would provide, except the warm body sitting across from them at a Starbuck's, or Tim Horton's.
Social Media Junkies Are Everywhere
If you were to step back and really look at this critically, you could easily conclude that social media is both an addiction and a scam of sorts.
What it really offers is the opportunity for you to accelerate the process of meeting and interacting with people at a rate that makes speed dating feel like swimming in quicksand.
But because the process is mostly pleasurable, you make time for it in your life, and after a while you become dependent on it in a way.
And at that point you enter what we in the advertising business call the target zone. And through all the information you have so kindly provided, their algorithms are able to define exactly which specific subgroups you belong to. Then they can contour their approach to you in a way that justifies a fairly substantial advertising rate.
You kind of have to admire the ingenuity of all of this process. I know I do. But there are a lot of people who complain that they resent having their privacy invaded to this extent.
To which people like me can respond with a couple simple questions: Why did you give them all that personal information in the first place? And, didn't you know that social media isn't about you, it's about people who want to sell you stuff?
I am always surprised at the number of people who are completely astounded to hear this. These people are the ones I call the social media morons. They have been sucked in by the lure of the selfie which is a combination of an overly developed sense of nosiness and a chronic look-at-me affliction.
The people who are not social media morons fall into several different categories.
There are people who are looking at social media sites like LinkedIn and BeBee and others as places to find a job or freelance work.
There are people who look at these sites as places where they can develop working relationship with potential clients through conversations. So far I know of only a handful of people who have made this work.These are generally people who are pushing an agenda, be it a religion or some other political or social ideology, and looking to achieve guru status so they can do that even more effectively.
There are literally hundreds of thousands of people who are in the business of helping other people figure out social and other forms of digital media. The majority of these people are scammers of one kind or another, or delusional types who really believe that opportunity for things like social selling are actually worth the time and effort it takes to make it work for them.
There are people like me, who are simply looking to build an audience for their writing, because they have learned that social media is not the place where they can get people to hire them to do anything.
And finally, there are all the rest. People who consider social media a more objective source of news and information than conventional media. People who are genuinely interested in what other people have to say. People who are looking for ideas or products that are interesting. And people who are just there to 'fuck the dog', while they are waiting for a meeting or a plane or having a coffee or just sitting around in the evening with nothing else to do.
Social Media Efficacy or Lack Thereof
Because social media is relatively new as advertising media go, the simple fact is that it has not, at least in the opinions of the majority of media analysts, reached a level of efficacy that really makes it a worthwhile investment for blue chip advertisers.
In fact, over the past few year advertisers like Proctor and Gamble have reduced their digital marketing budget, much of which was spend in social media by 75% and more. The reason sited….lack of performance.
On the other hand, there are a great many local businesses, mostly in the consumer market, who have found social media advertising to be a real boost to their bottom lines.
And if you were a bit of cynical marketer (oops) you could argue that a great deal of their success can be attributed, not to social media, but to the directories they belong to, not the least important of which are  Google and Google Map
How Does This Affect Professional Services Marketing?
This is a question I have asked myself for a number of years. Recently Phil Friedman and I wrote one of our He Said He Said columns on this very topic, which mostly centred around LinkedIn and the ability to reach 'movers and shakers' there.
Phil has a very interesting point of view on this. And because he is one of the smartest people I know, I respect it, but, and he agrees, that it's really not idea for every type of business.
https://www.bebee.com/producer/@jim-murray/what-is-the-sound-of-one-hand-clapping
But for the most part, there is a very simple logic that powers the mathematics of social media.
If you look at it as a traditional marketplace like a Farmer's Market, what you have are millions of stalls set up with people offering perfectly good services. But of all the millions of people wandering around in your market place, you have very very few with the intention of buying.
So What's The Solution?
I would strongly argue that despite all the promises that social media makes these days, the reality is that the modus operandi of building a service business is pretty much the same as it ever was.
Identify the people you want to reach. Do what you have to do to reach them, get face to face with them and present your services. Get them on a mailing list. Follow up periodically to make sure you have the best chance of being in their buying cycle. Repeat this process as needed.
Is this a slam on social media marketing? No. I believe that having a presence their can't really hurt your marketing efforts. What's dangerous, IMHO, is following the advice of the snake oil salesmen who believe that the majority of your effort needs to be there because the potential is huge.
And what's also dangerous is spending too much time there yourself. I know this from personal experience, and have been working hard to reduce the amount of time I spend on social media each day.
Why Am I Telling You All This?
It's quite simple really. If you are in a  professional services business like I am, the majority of the people people you really need to reach are not people whose attention you can attract on social media. Why? Because for the most part they are not there.
Where are they? Well, they are busy running their businesses. They are at trade shows. They are at high end networking events and lectures. They are on the other end of the credible vertical trades and business publications they read. They are on the other end of a phone call or sometimes an email or LinkedIn InMail, because, yes these people do check into LinkedIn from time to time.
The services professionals who are actually working for these people are the ones who know this and don't spend a lot of time building or worrying about their 'personal brands' on social media. They spend their time at all the places in the preceding paragraph.
Which of course, begs the questions….Where do you spend your time? And is it really time well spent?
This is worth having a good hard think about. And making sure that you are putting in just the right amount of effort on social media, and not neglecting all the other tools you have at your disposal.
It's called fishing where the fish are, and it's critically important for you to know where the fish in your business are biting best.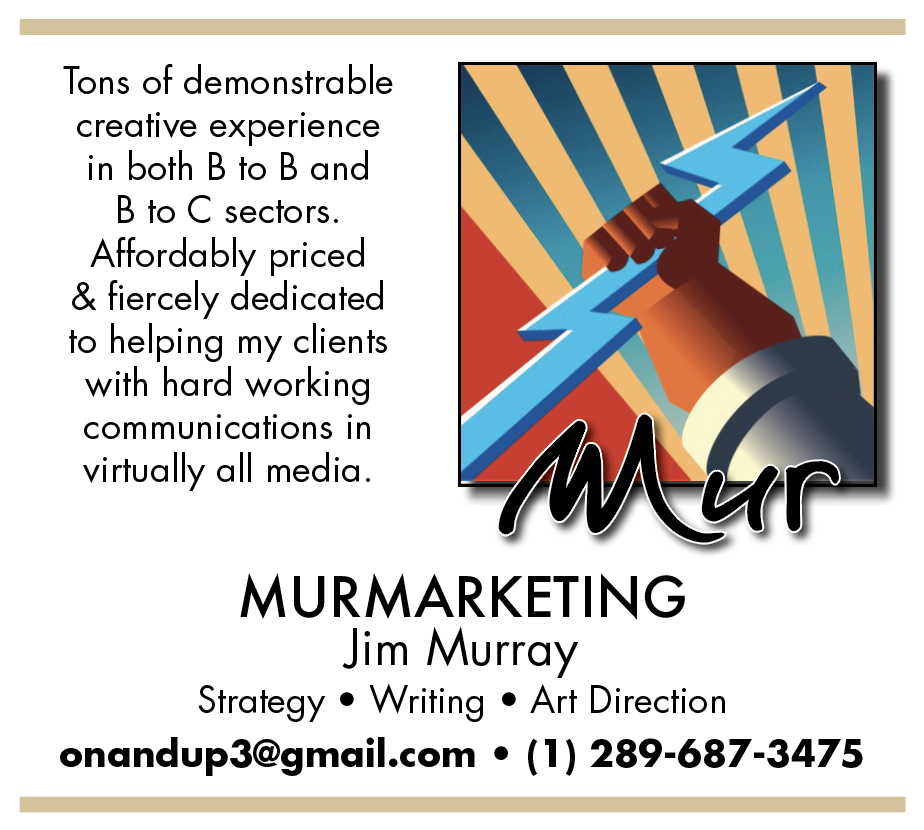 You may be interested in these jobs
Found in: Talent CA - 11 hours ago

---

Descimco est un entrepreneur spécialisé en mécanique dont les bureaux sont situés à Québec et à Laval. En affaires depuis plus de 30 ans, l'organisation réalise des mandats multidisciplinaires en construction sur le territoire du Québec. Reconnu par la qualité de l'exécution de s ...

Found in: Talent CA - 5 days ago

---

Hamilton Health Sciences

Hamilton, Canada

Full time

Unit Summary · The Population Health Research Institute (PHRI), a joint institute of Hamilton Health Sciences and McMaster University, with over 300 employees working directly with over 60 researchers. PHRI conducts clinical research internationally in 102 countries and is a wor ...

Found in: Jooble CA Organic - 4 days ago

---

Enersys

Burnaby, BC, Canada

Press Tab to Move to Skip to Content Link EnerSys is a leading power and energy solutions provider for the Information and Communications Technology (ICT) industry. Our products help power the necessities of modern wired and wireless communication infrastructure, including wirel ...