The Friday Files - The Nature of Certainty Part 2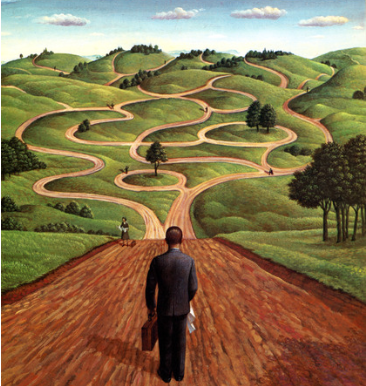 In a way it's funny because certainty in this life is often defined in uncertain terms.
For example, it's a certain that we are all going to die. But it's uncertain exactly when that will take place. Could be in the next minute or so, could be thirty or forty years from now.
And that's the thing about life and all the things it contains.  Which in a way is why so many people out there keep reminding us to make the most of the time we have here, because how much you have is never certain.
For the past few years, a substantial hunk of the writing I have been doing is about the environment and what's happening with it.
When you immerse yourself into that world, or any other world for that matter, you are automatically confronted with a great deal of both certainty and uncertainty.
For example, it's a certainty that the polar ice caps are melting as the mean average temperature of the planet is rising. What's uncertain, however, is when this will get to the point where it really starts to affect life on this planet in a serious way.
One thing that geologists know for certain is that there are a lot of very noxious gases that are trapped by the permafrost at both poles. What's uncertain is how exactly the presence of these gases will affect us. This is just one of many certainties and their uncertainties, that exist in the environment at the moment.
But the real question is are you willing to just sit back living the way we have always lived believing that all the dire consequences of global warming and climate change will be minimal.
That's a dangerous game to say the least. Especially since almost the entire scientific community is agreed that the world, not just part of it, but the entire world needs to be doing whatever its can to slow this beast down, and keep the planet liveable.
The trouble is that for every certainty these days there are a number of uncertain voices out there who are doing their best to make political issues out of just about everything.
Where this has been the most damaging is in the reaction to Covid 19 vaccinations. In the past, the world has come through many such virulent virus attacks, and science and medicine have come through with universally accepted vaccinations to protect us all.
But with regards to Covid 19, it very much seems to be a whole different ball game, where uncertainly is actually sharing pretty much equal space with certainty and confusing the hell out of a lot of people.
The biggest problem with all of this is that the uncertainly is not based on any medical or scientific evidence. Instead it's based on contrary, and often times, uninformed opinions about the nature of vaccination programs, and whether or not people have a right to refuse to be vaccinated, or do any  of the other simple things that science advises to minimize the spread of this highly contagious virus.
In my lifetime I have been vaccinated against every disease and virus that you can imagine. When I was younger my  parents had no uncertainly about getting us vaccinated and I had no uncertainty about having my children vaccinated when they needed to be.
I sincerely believe that any uncertainty surrounding any given issue, will have more to do the ignorance or the cult of personality that has been allowed free reign to blossom on things like social media and chat rooms.
In short, we have become victims of progress. Because when it come to things like Covid, everyone suffers from a lack of freedom, mainly because of those who refuse to get vaccinated. I know that's an oversimplification. But it is true.
The majority of people would love to get back to something resembling normal in their lives, but because of the great number of unvaccinated and anti-mask types, their freedom to do this is restricted because they are simply not certain that it is safe to resume the kinds of activities they did before this plague began.
I have only touched upon two key issues in this piece, but if you think about it for a moment, uncertainly is all around us, and to a much greater degree than ever before.
I myself would like to see more certainty. I would like to feel certain that the world can pull together and keep global warming and climate change from destroying all human and animal life on earth. I would like to feel certain that this Covid pandemic can be gotten under control. I would like to feel certain that my kids and grandchildren will have a world to live in that's a safe and healthy place. 
My only problem is that I am currently uncertain about all of this, and more.
 

You may be interested in these jobs
Found in: Talent CA± - 16 hours ago

---

Wendy's Restaurant

Newmarket, Canada

Education: · Secondary (high) school graduation certificate Experience: 1 year to less than 2 years Tasks Plan, organize, direct, control and evaluate daily operations Determine type of services to be offered and implement operational procedures Conduct performance reviews Cost p ...

Found in: Talent CA - 2 days ago

---

Match Retail

Brantford, Canada

Part time

Overview · Match Retail is looking for a Sales Associate seeking a part-time opportunity to join our team and represent our client, NESPRESSO in Canadian Tire Brantford - 30 Lynden Rd, Brantford ON, N3R 6A4. Working alone at the Nespresso kiosk within the retail location, you ...

Found in: Talent CA - 2 days ago

---

Plan IT Search

Markham, Canada

Full time

Skills and Competencies: · Ability to build and support strong internal relationships with crossfunctional departments · Excellent communication skills, both written and verbal · Strong PC skills are required (MS Office, SAP) and a willingness to become an expert with Tactic Sche ...