The Long & Short Of It : Short Stories by Me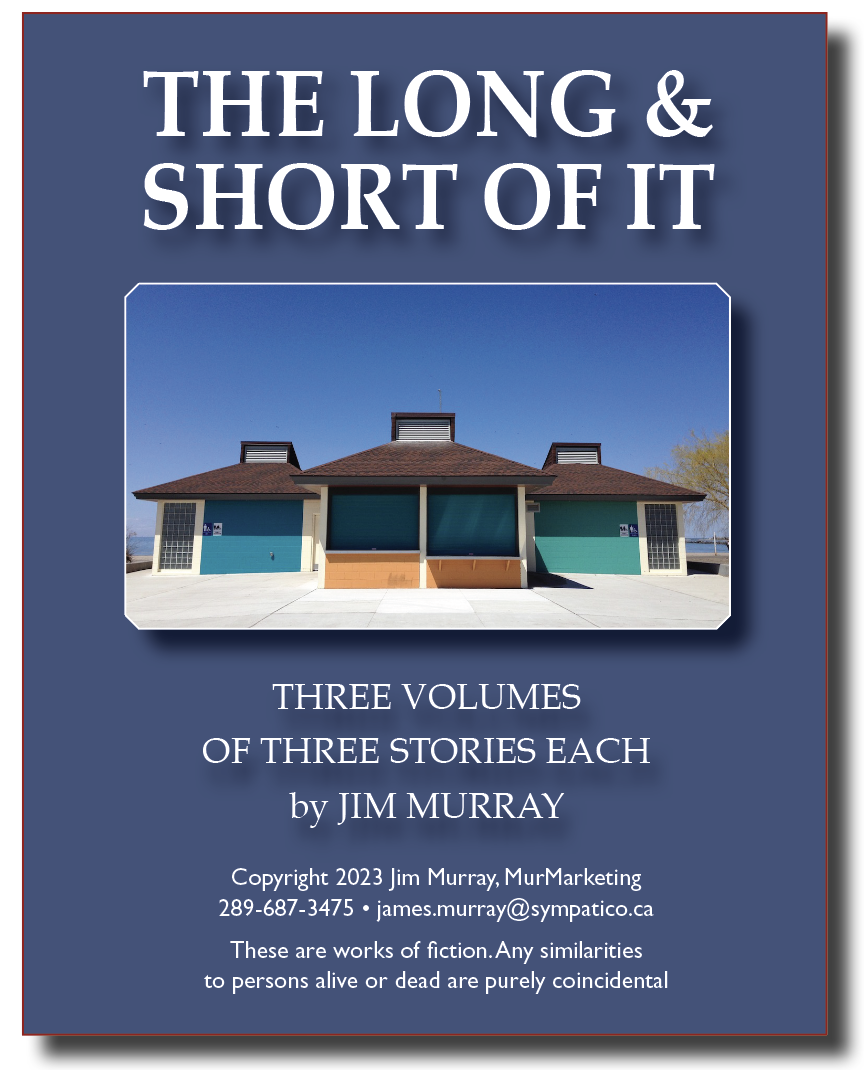 Over the past two years, I have, among other things, been writing short stories. There are nine in all. I have grouped them in packages of three stories, which all tolled end up being more or less the length of a novella.These are written as screen stories that I will be sending to various producers over the next year or so. So they are nice and crisp and fairly quick reads. The storylines are listed below.
They are all very reasonably priced and available on my Kindle page: https://tinyurl.com/2styauf7
The Long and Short of It  Volume 1
Blind Man's Bluff
Tony Shaw, a famous mystery writer, was blinded in a car accident. Today, he is just starting to turn the corner off self-pity street, with the help of his wife Olivia and a young friend. But things get complicated when Tony starts investigating the life of a new neighbour. If he doesn't do the right thing, it could cost him his marriage and his life. A lot to ask of a blind man.
The Mikalov Case
Dale Hogan, a US State Department operative, has blown a major assignment. He had been assigned to safely move a Russian defector, a  scientist named Anatoly Mikalov, to Washington for debriefing, in return for political asylum. But something goes very wrong and Dale, with help from his dad, Jim, a former State Department agent himself, has a strange mystery to solve in order to salvage his freedom and preserve the balance of power in the world.
Into The Heat
Bobby Granger, one of the US Special Forces' sharpshooters, thought he was finished with that life.  Several years after his military career ended and working as a fashion photographer in New York, Bobby's past catches up with him. An old associate needs him to photograph an illicit arms deal taking place in the Bahamas. Bobby doesn't realize it at the time but saying yes to the job will substantially change his life in a couple of different ways.
The Long & Short of It  Volume 2
The Locker Key 
Jake Morrison is a well-known syndicated newspaper TV review columnist and a radio personality for an "all-guy" station and likes his life just fine. But Jake has no idea what he's stepped in when he meets up with an old school friend who gives him a locker key to hold and it very quickly turns his whole life upside down. Because the contents of the locker is something that can make whoever owns it extremely powerful. And Jake is just a regular guy who is standing in the way of all that.
The Brothers Botticelli
The three Botticelli brothers Harry, Angelo and Lou, are anything but private eyes.But when their dad's final wish was to find and punish whoever killed him, they really have no choice. So the brothers team up to figure out a murder that the police have more or less written off as a tragic accident. Needless to say, it leads them into some pretty dark places.
The Virgin Detective
Emil Haven IV genuinely hates being a Haven. He has spent most of his adult life doing un-Haven like things, yet still hoping to win his industrialist father's approval. A moderately successful writer of crime fiction, Emil decides that maybe his father would be pleased if he tackled a non-fiction story. In his quest to find that story, he stumbles across an organized crime caper that's just what he was looking for. But it inevitably opens up a can of worms that Haven just might not be able to handle.
The Long & Short of It  Volume 3
Deacon Loves Penny
Deacon Fredericks is 20 years old and a US Marine veteran, who has just moved to Virginia Beach and is waiting for his 21st birthday when he will inherit close to seven million dollars that was left to him in his grandmother's will. One day, he meets a girl named Penny Jones, who is a recent Virginia Tech graduate with a big AI idea. All she needs is about five million dollars to actualize it. After she explains it to Deacon, he makes the decision to partner up with her and get her idea developed. This is a story about two smart young people who work their way to the top of the AI business in a very short span of time, all of which was made possible by Deacon's millions.
AKA Charlie McQueen
Charlie McQueen, a mathematical genius and sports gambler, is on the run from a mobster he used to work for in New York. He settles down in a small town in Maine and starts an online sports book there. Everything is going fine until one day, someone shows up looking for him, leaving Charlie with just two options: either pack up and run or, with the help of a good friend, get the issue resolved once and for all and get his life back.
Frankie Carlino's Legacy
Frankie Carlino, a retired hitman for a Chicago crime family, is well hidden in the witness protection program, in New Haven Connecticut. One day he gets an idea for a legacy project and hires a young writer named Nathan Bixby to help him. But there are a few things he needs to take care of at the same time, including holding onto the money he stole from his former employer, a finder who is on his trail and a crooked US Marshall who knows exactly where to find him.
Writing
You may be interested in these jobs
Found in: Talent CA - 10 hours ago

---

Curtiss-Wright

Mississauga, Canada

Full time

The Opportunity · Curtiss-Wright's INDAL facility combines a high level of engineering and manufacturing capability with expertise in the management of large and complex defense programs to produce specific solutions for the world's navies. With over 50 years of experience, we l ...

Found in: Talent CA - 2 days ago

---

is more than just a tech companywe are a global leader that is transforming the legal experience for all by while . · Summary: · We at Clio have an amazing team that is on a mission to transform the legal experience for all, and our engineering teams goal is to deliver an incre ...

Found in: Jooble CA Organic - 12 hours ago

---

Oxford Learning Centres, Inc.

Burlington, ON, Canada

Part time

Part-Time - Gr. 11-12 Math Teacher (Educator/Tutor) Wanted Oxford Learning Burlington South is looking for an upbeat, reliable, enthusiastic, dynamic part-time High School Math Teacher (Educator/Tutor) who wants to work in a rewarding teaching environment. Candidates must posse ...