The skill of estimation
Our grandchildren and our children are at school and I was thinking about when I had the opportunity to teach Math for a year. One of the skills I tried to teach was the skill of estimation. In our lives, we may not always need to be precise, so learning how to estimate is a good skill. I wish I had this website to refer to when I was teaching the skill of estimating.
https://www.mathsisfun.com/measure/estimate-distance.html
Here is an example of what they show students:
Here is a clever method to estimate how far away something is:
Hold your arm straight out, thumb up
Close one eye, align your thumb with a distant object
Switch eyes (don't move your thumb!)
Your thumb will seem to change position
Now ... estimate how far it moved sideways (you could imagine the length of a car or something).
Multiply that by 10 and you have an estimate of how far away.
Example
Here your thumb seems to jump about half a car length.
Half a car's length is about 2.5 metres.
Times 10: the car is about 25 metres away.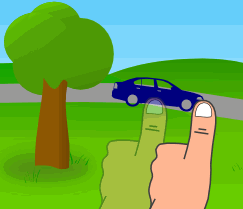 How it Works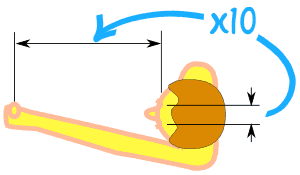 The distance from your eyes to your thumb is about 10 times the distance between your eyes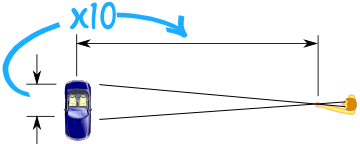 And so the distance to the far object is also about 10 times the width your thumb seems to move at the far object.
This works because the triangles are similar and so the relative lengths are the same.
Learn the Size of Things
To be useful you need to know how long, wide or tall things are!
Small cars are 4 m long
Large cars are 5 m long
Cars are about 1.8 m wide
Adults are about 1.8 m tall
A 5-year-old is about 1 m tall
A normal doorway is 2 m high and 0.8 m wide
A truck and trailer are about 20 m long
The width of a small house is about 8 m
The width of a large house is about 12 m
The height of a single-storey house is about 5 m
The height of a two-storey house is about 8 m
Tall buildings have about 3.5 m for every storey
(Note: to use this method for height, tilt your head and thumb 90° to the side.)
Life Lessons
You may be interested in these jobs
---

COALIA

Thetford-Mines, Canada

Full time

Un environnement de travail collaboratif et convivial au cœur de l'innovation et des hautes technologies dans une région aux multiples attraits pour les amateurs de plein air et pour la vie familiale; ...

---

Richardson International

Medicine Hat, Canada

Full time

At Richardson International, being truly invested is at the heart of everything we do. For 160 years, Richardson has been dedicated to Canadian agriculture. Recognized as a global leader in agricultur ...

---

University Health Network

Toronto, Canada

PERMANENT Full time

The University Health Network, · where "above all else the needs of patients come first", encompasses Toronto General Hospital, Toronto Western Hospital, Princess Margaret Cancer Centre, Toronto Reha ...