4 years ago · 2 min. reading time · visibility 0 ·
"This life has truly been a win." Catherine's last post.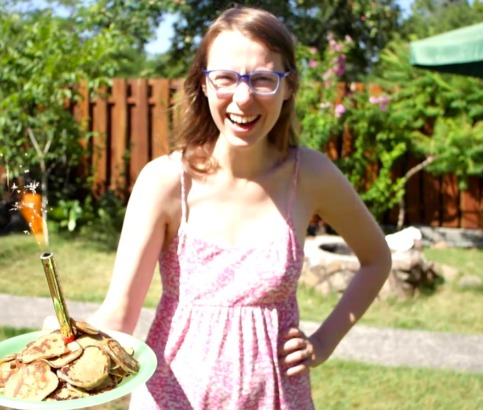 Very early on the morning of July 29, 2017 my friend Catherine wrote her last post. Later that day she was gone. Taken so goddamned early.
Kate and I met Catherine and her incredible husband Szolt early in our joint travels through the raging waters of breast cancer. She struck us immediately as a woman of amazing grace, spunk, humour, and wisdom beyond her years. She was, in reality, still a girl in her outlook and demeanour and we immediately fell smitten with her.
During the ensuing years she remained a source of inspiration, comfort and challenge.
Catherine didn't fight cancer. Catherine lived her cancer and even when it metastasized she carried on living and sharing and loving and caring and celebrating what would turn out to be a cruelly short life.
Her enormous community of friends are admittedly gutted with the news of her death.
At the same time we celebrate the joy she brought to us with her living and writing.
You were loved Catherine. You will be loved always.
This is her last post:
Catherine Brunelle
Last Post - 144 months and one week
Saturday, July 29, 2017
I am writing this to thank all of you. Thank you so much for following along this journey. I've been lucky, not many diagnosed with breast cancer and reoccurrence live as long as I did. Some only get months. For me, it was years.
It was trips to Europe. It was a writing career. It was becoming a podcaster. It was buying a car. It was watching my husband thrive in his work. It was paddling the waters early morning in Balaton. It was cottaging with my family, and playing games like Telestration. It was meeting all your babies! It was working at the library and seeing how they support so many. It was landing a dream job with Amnesty International, which justified how following your joys can actually lead to concrete 'grown up' good things. It was family reunions and cousins and aunts and uncles. It was buying a couch! It was facing fears. It was Claire Never Ending.
It was time with my Dad (wow we are so alike). It was time with my Mom (and shows we watched, the comfort we shared, the support you gave). It was time with Daniel (the car rides!). It was time with JP (the kindness and love). It was time with Catherine (the tea we drank!). It was my fellow writers, Ulrike, James and Kate (and how we believe in each other). It was meeting Kevin. It was time with my long-time friends, seeing how they've grown, and Christmas' Eve Eve.
It was Zsolt. It has always been Zsolt. Everything, every second, instant, thought, laugh, cry, comfort. The way he smiles when he walks into the room. How his face changes when he thinks. His wonderful height, and how I can cuddle up into his arms. How much we have in common. How much we love each other. How you are my very very very best friend.
And it was all of you too, who wrote to me in the comment sections or read along quietly. You made the hard days easier, and my random thought experiments acceptable. It was fun to write with you. I'm grateful to know you were all out there, and in some ways my words left an impact. That was your gift to me.
Thank you.
I've been lucky. I got to have so much. I got to have you.
This life has truly been a win.
https://catherinebrunelle.com/
"
You have no groups that fit your search