Tried and True Guacamole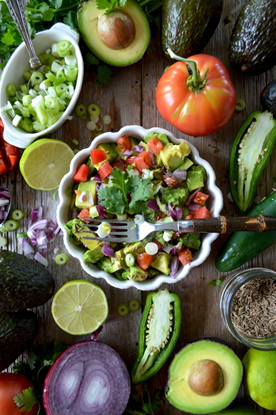 It's my favourite time of the year again… the sun is out and for a lot of people the entertaining begins. As an avid dinner party host myself, I am constantly on the look out for new recipes to share with my guests. Whether it be charcuterie boards, or three course meals, I love to try new recipes. But when it comes down to summer crowd favourites, my tried and true is guacamole! 
Guacamole is the perfect dip. It's super easy to make; light, refreshing and can be paired with just about anything. As a side with chips, veggies, thrown in a taco, burger or even on a slice of toast, it is a staple on my summer menu. 
Avocados originate from Mexico and it was almost 10,000 years ago that guacamole was made. It is traditionally Mexican and when translated from the native Nahuatal language, guacamole actually means "avocado sauce". But since it's American introduction in the 1980's, guacamole has been adopted and modified in various different ways. Although, I love to appreciate the history of the food I make and tend to keep it traditional, I also love to experiment, especially when it comes to making recipe modifications. For instance, if you're not a lover of avocados you can substitute them for edamame or chickpeas. If you don't have lime, you can use lemon and if you want a little extra colour, you can throw in some tomatoes, red onion or even a mango for a sweet & salty variation. The options are endless (and always delicious!)
Too much work you say? Sure you could turn to a store bought guacamole, but it will never beat the freshness and taste of my homemade recipe. It has no artificial preservatives or additives, which makes it a healthy alternative for the health conscious individual, for children and even picky eaters too. Healthy & delicious! 
So with that being said, here is my go-to-summer crowd favourite for you to try for yourself!
GO TO SUMMER GUACAMOLE:
Ingredients you will need:
2-5 Avocados (depending on how many you are looking to serve)
2-3 Limes (I prefer fresh lime juice but bottled works too!)
Green Onion 
Tomatoes 
Cilantro 
Tajin (A blend of mild chili peppers, lime and sea salt used to enhance any meal)
Salt 
When you buy your avocadoes, you will want them to be squishy to touch but not too soft because that means they are coming to the end of their shelf life. 
First, smash the avocados to your desired consistency and add lime juice. Then chop up your cilantro, green onion, tomatoes and stir into guacamole. Add Tajin, salt and more lime juice. The best way to know if your guacamole is perfect is to taste test! You want an even salt to lime juice ratio. Also, if you are not a fan of cilantro, tomatoes or onion, you can exclude them all together. Avocado, lime & salt is great too (especially if it's all that you have on hand).
To keep your guacamole fresh and to prevent it from going brown keep one or two avocado pits in the mixture, add lime juice & stir. This should keep your guacamole fresh for 1-2 days after it's been made. 
So there you have it! Pair your guacamole with some home made tortilla chips, add a margarita and you're set for the perfect summer entertainment snack. Enjoy! 
You may be interested in these jobs
Found in: beBee S2 CA - 17 hours ago

---

Groupe Bellemare

Sainte-Catherine, Canada

Full time

Tu aimes relever des défis ? Les projets n'attendent que toi et tes talents seront mis à profit Saisis ta chance dès maintenant, joins-toi à notre équipe de la manutention · Responsabilités: · -Aider et préparer les plans de manutention, de chargement et déchargement par glissag ...

Found in: Jooble CA - 5 days ago

---

Maverick Trading

United States, Canada

Part time

Empowering the World. One Trader at a Time. Maverick Trading is Hiring · We are a top-ranked proprietary trading firm that allows you to use our capital to become an options trader. · Learn to become an options trader with Maverick Trading We are looking for people with an entr ...

Found in: Jooble CA - 13 hours ago

---

Advantage Solutions

Markham, ON, Canada

Full time

Junior Electrical Technologist - ( 220004DQ ) Description · Our Stantec Buildings Group offers services for all phases of the project life cycle, from pre-project planning through detailed design, construction and operations, to decommissioning. This is where great ideas and rew ...