1 year ago · 4 min. reading time · visibility 0 ·
Volume 4: The Equalizer II,The Guardians & Some Other Stuff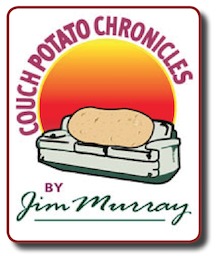 Today, in my little corner of the world, the weather turned a corner that leads straight into spectacular fall colours and a winter wonderland. I won't be enjoying too much of it because I am stuck in my chair for at least another 6 months to a year, but things are looking decidedly positive for my chances of recovering a good chunk of my mobility. It's all, as everyone tells me, up to me to work hard to strengthen my legs and get there. I have never been much for slow and steady wins the race, but in this case I have no choice.
PS:  I have decided to go back to my original logo, which I designed way back at the turn of the century.

In the meantime....

MOVIETIMEThe Equalizer II
OK, so first of all, I'm a big fan of Denzel Washington, and have been for his whole career. He has always appeared to be going for the big meaty roles, so seeing him in this franchise series for Netflix was a bit of discombobulator, if that's a word.
Nonetheless, I was also a big fan of the TV series upon which The Equalizer movies are based, titled, of all things, The Equalizer, which starred the great Brit actor Edward Woodward.
The updated Netflix movie version is quite a bit different. More physical and less cerebral for one thing. And of course, there's black Denzel and whiter than white Edward Woodward. But both are equally compelling in their own ways.
The movie series, directed by heavy duty action specialist Antoine Fuqua, is pretty cool. Denzel doesn't say a whole hell of a lot when he's working, preferring to let his actions speak for him. But ihe's pretty chatty when he's not on the job. So it makes for a very interesting and well rounded character.
Like the TV series, the plots don't really matter as much as the fact that Denzel is tracking down bad guys who deserve everything that's coming to them. Which makes it all very easy to appreciate and glean a certain amount of that 3rd party satisfaction that we have all been getting every since we saw Charles Bronson dishing it out in the great Death Wish movie series.
The Equalizer series is pure escapist moviemaking at its street level best. They are dark, and sinister and the action is well-paced and explosive. This is the kind of stuff you definitely need to be in a dark room with some popcorn and a beer, to really enjoy.
More info on Denzel Washington: https://www.imdb.com/name/nm0000243/
More info on Antoine Fugua: https://www.imdb.com/name/nm0298807/
BOOKBEAT: The Guardians: Ho Hum, Another Great Read From Good Old John Grisham
Ever since I read The Firm, I have been a die hard John Grisham fan. And it's not hard to be one of those because all his books are both interesting and easy to read. He's not out to re-create War & Peace. He's just trying to tell some good stories about various aspect of the legal profession and make them fun for people to read and enjoy.
It's called populist literature, and I love it. And he has a lot of good company with people like David Baldacci, Brad Thor, Alex Berenson, Frederick Forsythe and Scott Turow, to name a few.
The story of The Guardians, is about a lawyer who is also a pastor, who works with a small not-for-profit law firm that specializes in something called Innocence Projects, which means reviewing cases of inmates who they feel were wrongly convicted.
It's written in the first person by the lawyer himself (just call him Post) and the story is fascinating in its sheer complexity. It's also a bit scary and a takes place in pretty highly charged emotional environment, especially for the prisoner in question.
One would think that anything to do with the incarcerated would be kind of dull and tedious, but this is really more about the tenacious investigative process this lawyer, and his investigator (a former innocent prisoner), go through to unearth what really happened in the crime their client was convicted of committing.

Like all John Grisham books, they move right along at a pace that's never too fast or never really drags. This is probably why he is one of the best selling writers in the world.
His resume of best selling novels for both adults and younger readers is something that anyone in the fiction writing business would view with extreme envy.
More info on John Grisham here: https://en.wikipedia.org/wiki/John_Grisham
BOOBTUBE: I Used To Be An Addict…But Things Have Changed
Yep, I was a complete network TV freak, which was OK back inthe day when the networks were all there was, before the cable and now streaming explosions, the former of which diluted the TV offering, the latter stole all the talent who were frustrated creatively toiling for the networks.
Now there is so much interesting content to feed on, that it all kind makes network programming with its tight-ass formats, derivative concepts, utterly predictable storylines and canned laughter seem kind of arcane.
As a result the only thing I rely on network TV for now is sports, and that sucks pretty much big time these days.
The streaming services I have are Netflix, Prime, Acorn (a lot of Brit stuff) and Apple TV, (which has a ways to go before it gets up there with the biggies).
Like most of you, I will dip my toe into a series, before I commit to it, and hopefully with each new edition of this blog, I will be able to hip you to a show/movie or two that I found watchable.
Adios, amigos.
Jim Murray is a writer, reader, sports fan and TV watcher who has been writing about the sports & entertainment worlds since1998, which is when he created his first blog, The Couch Potato Chronicles, which he publishes regularly along with his general editorial blog, Skinny Dipping In The Lava Flow.

Jim is also a former ad agency writer and creative director and has run his own creative consultancy, Onwords & Upwords, from 1989 until just recently when he closed it and opened a freelance enterprise called Murmarketing.
He lives with his wife Heather, in the beautiful Niagara area of Ontario and works with a small group of companies that are trying to make a positive difference in the world.
You can follow Jim
On beBee: https://www.bebee.com/@jim-murray
On LinkedIn: https://www.linkedin.com/in/jim-murray-b8a3a4/
On Twitter: https://twitter.com/Jimbobmur
On Facebook: https://tinyurl.com/y97gxro4
You have no groups that fit your search