5 years ago · 5 min. reading time · visibility ~10 ·
VP of Education Outcomes from 1st Exec Meeting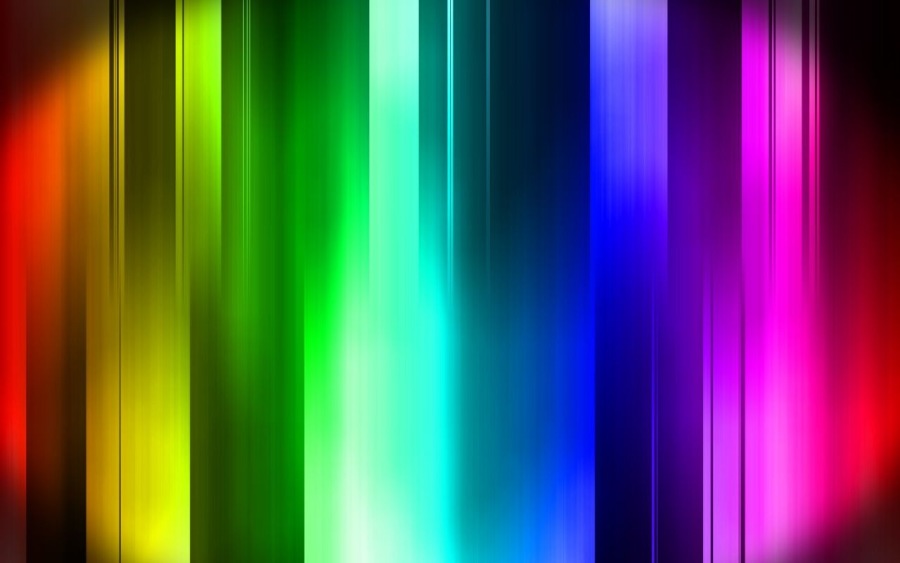 My new role as the elected club VP of Education beginning 1st July 2016 is covered by two charters.  The charter of Toastmasters International and the charter of the Students Union, because our club is registered also under that constitution.  My role is to ensure that both charters are respected, aligned and lead to the educational goals of the club.  The club is restricted to students, alumni, staff and faculty of the college itself.
At the first meeting of the new executive I laid out my short-term contribution as a seven point plan.  The diagram below captures the essential parts of my most immediate initiatives.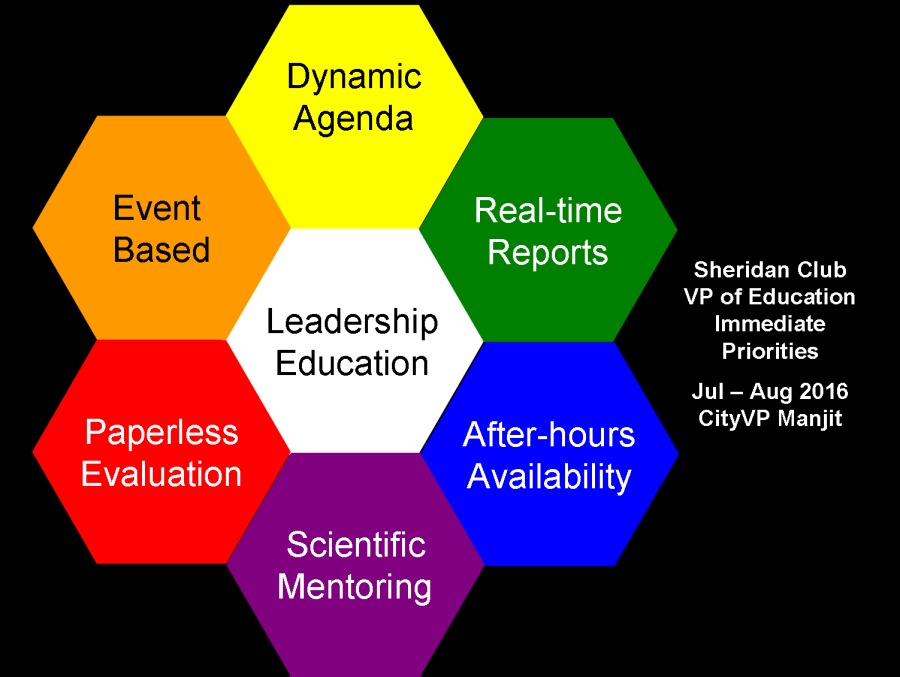 1. Leadership Education
Principal focus is to live up to the slogan of Toastmasters International which is "Where leaders are made".  The President of the club has already outlined this as her primary focus, where in her inaugural speech she reiterated that the core purpose of a leader is to make more leaders. There are documents such as Competent Leader and High Performance Leadership which I will begin to zero on it.  At this first stage my goal is to ensure all club members know of these programs and establish where each club member is in their leadership education journey.
2. Event Based
Being that The Sheridan Club is governed partly under the Student Union Clubs charter, my immediate focus is to make meetings more interesting by organizing meetings as events.  This means ultimately that member experience will be paramount in the creation of an event-based culture.  We have access to visual and audio technologies.  My immediate goal is to assess ideas of how we create a Pre-Show before the actual event i.e. club meeting.  We will try different approaches to create a more fun atmosphere before a meeting is scheduled to start and will gauge how these initiatives effect member experience.  Here I will work alongside the VP of Membership and VP of PR to explore and to make recommendations to the executive.
3. Dynamic Agenda
Since students have study commitments, a regular agenda is not effective to adapting to student needs.  A part of the agenda needs to be aligned with an Event Based approach, but it also needs a degree of flexibility, so that we can adapt to member needs in a college environment.  The goal is to optimize time availability so that we remain true to the educational goals of the club and marry order with adaptive circumstance.  My immediate goal is to ensure we have structured meetings but that for agenda creation we are using leading edge practices, and the power of visual messaging or communication.  Another goal is the adaptation of meeting themes and how it evolves through interaction with the club membership e.g. if a particular speaker has a poignant speech, this could be adapted as the larger theme and the speech become a keynote to that theme.  These are some of the initial ideas we need to explore, so that the agenda is not a static or boring medium, but creates engagement and contributes to the evolution of the club culture.
4. Real Time Reports
As a Club Secretary in the prior executive, I transformed the basic administration task of "taking attendance" to a Turnout Report.  I did not want to use the term "attendance" because it felt too much like students were attending a school rather than self-paced educational program that involves practice of communication and leadership.  If club members felt like the club was extra work, then we create a burden for them because they are already focused on achieving their educational credits as a part of their course of study or degree program.   By focusing on Turnout I was aligned to engagement rather than administration.  As I move into the VP of Education role, my goal is to split the Turnout Report into three real time reports.  The new Club Secretary will focus on a meeting report.  The VP of Membership will focus on a member report, with specific focus on guest experience and not just member experiences and I will create a new report called the Engagement Report, which is a better view of where each member is in their program and also retain the original idea of TurnOut in that engagement.  All of this needs to be discussed with the elected VP of Membership and new Club Secretary.
5. After-Hours Availability
The new Club President (Flynn) talked about not becoming an Atlas at her first exec meeting.  What she meant that no member of the executive should be burdened with taking on too much work.  The role of VP of Education is an "Atlas Role" as in the Greek story of Atlas. I made it clear that I will be leveraging the club membership and the leadership frameworks provided to ensure that members can contribute to the overall running of the club.  That does not take away from my responsibilities to lead the educational program, which is a core commitment for any VP of Education, and does involve a lot of work.  To ensure club members get the best use of my time, I am open to after-hours availability after the club meeting, and I also recognize that I must remain back in the college so that all matters I need to process are done immediately after the meeting, rather than left to wait.  This commitment will be based on the most effective use of my time and ensure that as much value is on the front-end, rather than a last minute rush.
6. Scientific Mentoring
A great mentoring program is an essential form of both member engagement and retention.  At its simplest mentoring at a Toastmasters club means leading new members through the first three speeches and introducing them to Toastmasters.  A longer-term of mentoring is voluntary between mentor and mentee.  Since we do not have such a program in place, my immediate priority is to sit down with the VP of Membership and looking into our system of mentoring and the craft proposals to the executive to be presented at the 15th August club meeting.  Scientific mentoring means that I will propose an evidence based approach to mentoring and look at what works and what does not work.  At this stage my role is to explore what mentoring will look like in the club and then take further steps after presenting to the executive.
7. Paperless Evaluation

Feedback and speech evaluations are a major part of any Toastmasters program.  The college itself has an environmental body which is looking at ecological practices and that is a longer-term interaction.  For now, I am going to focus on how we can create a system of evaluations that is electronic based, which will be called the E-Value Program.  This is where the Higher Performance Leadership program will come into focus, because the long-term goal is create projects that meeting HPL credit standard and contribute to the systems and processes of the club.  At present my immediate objective is to create an outline which I will be working in conjunction with Club Founder Ruben, and report back to the executive a preliminary overview of what shape this program may take and how this will be handled as a major initiative.  Currently this is starting a basic outline stage and it also involves a wider systems look at what can be paperless and what is effective that does need paper based systems.

Summary
Overall, the 7 Point VP of Education Plan outlined above serves as a statement of my intent.  Much of this plan is an introductory venture but it provides the key areas for my most immediate focus, and keeps my mind attentive as to making maximum impact in terms club culture, club voice and club quality which is my contribution to the Club Success Plan. 
http://cityvp.wix.com/virtualmaster#!success/ch6q
The overall Club Success Plan is being led by the President of the Club and involves the entire executive .  What is linked above is the ethos of the VP of Education Success Plan which falls under my particular remit and this speaks only to my goals and purpose as VP of Education of The Sheridan Club and does not necessarily reflect the purpose of other executives, for those plans are respectively their individual accountability, as is the overall Club Success Plan an accountability to the entire executive, led by the Club President.

""