4 years ago · 3 min. reading time · visibility 0 ·
Your 'Learning To Blog On beBee' Info Kit. Use It. Share It. Then Just Do It!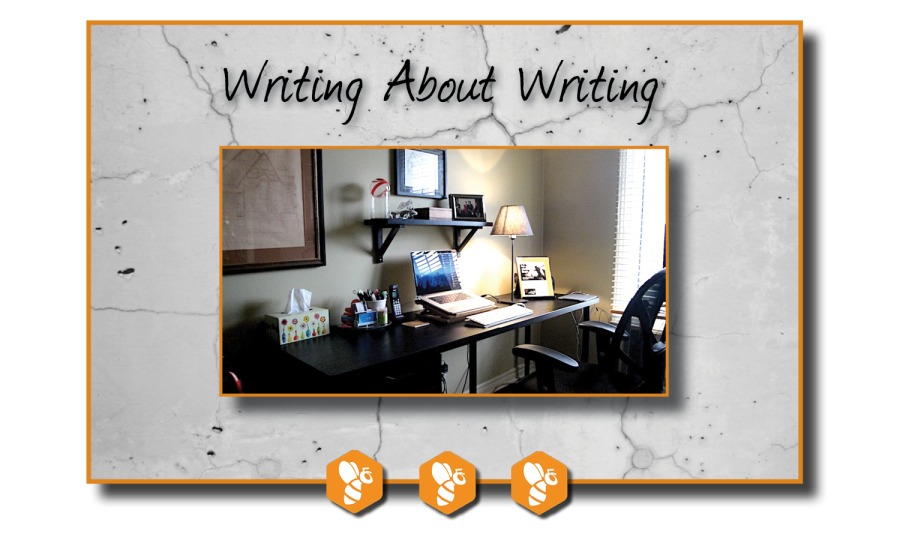 In the past year I have published over 220 articles on beBee.
A very high percentage of all the people who belong to beBee have published none.
But I have always thought this was a little out of whack. Because I feel there is a vast number of people who want to publish here but just don't feel they have the skill to write a compelling post. Or even worse, don't think they can write at all.
If that describes you, read on.
Everybody Who Can Talk Coherently Can Write

I have been a writer since I was 17, which is a hell of a long time. And I have never really had to deal with any sort of mental blocks that would prevent or impede me from writing. So I have been lucky in that regard.
But the one thing that I am told over and over again is that I write very much like I speak. And that's really the trick.
Everybody has something they want to write about. So if you feel that staring at a blank screen is akin to some form of torture, don't do that. There are other ways to get your thoughts down.
For example, get a voice recorder and go find a place where it's quiet and comfortable and tell your story to the recorder. Or use the recorder while you are telling your story to a friend. Or switch on your computer camera and have a chat with yourself.
Then listen to what you have said and transcribe it. You will be surprised at what you end up with. It may not be great, but you've gotta walk before you can run.

Read This Advice

The links in this section are to some of the nuts and bolts articles I have written over the past few years about writing in general and blogging in particular.
Read them. There are a lot of good tips in there and they are all things you can do without popping a blood vessel.
https://www.bebee.com/producer/@jim-murray/are-most-blog-posts-just-a-ton-of-junk-here-s-what-i-ve-figured-out-lately
https://www.bebee.com/producer/@jim-murray/the-answer-to-blogger-question-sharp-1-what-the-hell-do-i-write-about
https://www.bebee.com/producer/@jim-murray/job-1-for-bebee-bloggers-speak-the-truth-period
https://www.bebee.com/producer/@jim-murray/8-things-almost-anybody-can-do-to-create-better-posts

Just Remember, You're Not Writing War & Peace.

This is blogging. This is writing to communicate things you know to people who are interested in finding out about them.
The best posts sound like stuff you would hear if you ran into somebody at Starbucks and they wanted to know what you're up to. It's like an extended elevator speech or those infomercials you get to give at networking events.
It's not packed with complex plots, literary devices, metaphor, symbology, angst and irony. It's just a chat. It's light and breezy. And it's informative.
Don't Just Read My Stuff.
Another good way to learn to write decent articles is right here on beBee and on LinkedIn in the works of people like: Phil Friedman, Don 🐝 Kerr  Don 🐝 Kerr Graham🐝 Edwards  Kevin Pashuk  Paul Walters Graham🐝 Edwards Lance 🐝 Scoular Renée 🐝 Cormier  Francisco Lopez Paul Walters Brigette Hyacinth Jerry Fletcher Jeffrey Strickland Lance 🐝 Scoular and a whole bunch more.
These people all write about different stuff, but what they have in common is that they all write in their own voice. And so reading them will provide you with excellent learning into all the different styles of blogging. And this, in turn, can help you find your own voice.
What you want to avoid is reading stuff by a lot of the big time business gurus, many of whom are so called Influencers on LI Pulse.
A lot of these people are good writers, or have good writers ghosting for them, but their writing on Pulse is very formulaic and frankly not the kind of stuff that you will learn much from unless you are looking to dethrone your boss in some megacorp slaveship working environment.

The Most Important Thing Of All

Commitment.
Your first post may suck. You may even get told that. But your next post will get better and so it will go.
I have a client for whom I edit posts, (because I refuse to write anybody's blog for them), and his stuff was pretty lame when he started. But I explained what I was doing to polish it up. He observed what I did and took it into account and then he watched what I did some more.
It's now two years, (and not that many posts), later and he's got it down. In fact, he is pretty damn good. I have practically nothing to do except subheads and posting. And honestly, he started from literally zero.
That's how it works. But it only works if you make the commitment.
This is a process and as much as I hate the word, a 'journey', where you will learn a lot about yourself and be able to share the things you know and feel strongly about with a lot of other people. And the best part of all is that these people, by and large, will appreciate it.
And if you get really good at it, you will eventually find that there are little pots of gold at the end of the rainbow, in terms of engagement, a growing audience, people interested in working with you or hiring you and, most importantly, personal satisfaction.

Fear Is The Mind Killer

This isn't just about writing. It's about learning how to communicate with real confidence. It's about personal growth. It's about self-motivation. And overcoming any fears you may have about your ability to communicate.
In a nutshell it's about learning to express yourself in a way that you didn't think you knew how to. It's a personal challenge.
And trust me when I tell you that those are the most gratifying challenges to conquer.
Jim Murray is a communication strategist, writer, art director blogger and beBee brand ambassador for Canada.
Charlene Norman
is a business systems and operational analyst. Their collaboration is called Bullet Proof Consulting, located in St Catharines, Ontario and designed to serve forward thinking businesses in the Niagara and Golden Horseshoe regions of Southern Ontario. Web site coming soon.
You can find out more about us at:  http://tinyurl.com/y9zc9gvx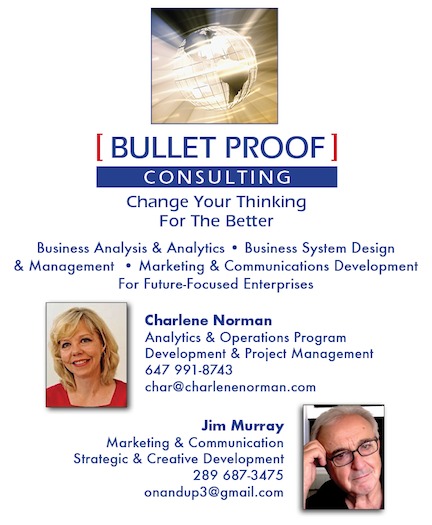 ""