4 years ago · 3 min. reading time · visibility ~10 ·
Zen & The Art of Pool Maintenance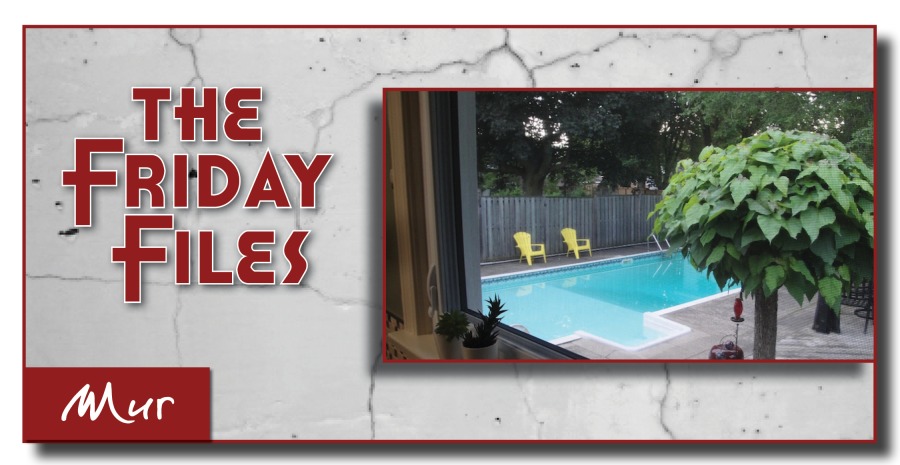 There are nights, mercifully not every night, when you just can't shut down your engines. Some nights it's your mind that's racing, other nights it's your body that just won't get comfortable in a prone position..
For me tonight it's a little of both, featuring a cramp in my right foot that just won't go away until I'm too tired to let it keep bothering me. So I have to walk it into submission. But I can't get back into bed for a while. It's almost as if I have to keep doing something so that my foot forgets that it's being ornery tonight and calms down.
So I wander around the empty house. My wife is on some breakneck tour of terrorist dodging in Europe with her BFF, my sister. They are seasoned travelers those two. They need very little in the way of provocation to organize a road trip. For a day, a weekend or a marathon 19 day excursion to Castles 'R Us.
I don't travel much any more. I did more than my share back in the day as a photographer. Now I will only go to places where I can bring a good chunk of my stuff and settle in for a week, and hang out by the pool or the lake.
In point of fact we bought the house we bought here in St Catharines because it reminded us of some of the nicer cottages we have rented.
There's a strangeness about being alone in your house for what has been a full two weeks now, with three more days to go. One of the things I have done is put everything I use on the counters in the bathroom and the kitchen. This is something that would never happen when both of us are here. And the weirdest thing is that I am all for it at that time. But on my own I'm a bit lazy about shit like reaching into drawers to get stuff out or put stuff back.
Another thing I do is eat at odd times, and when my wife is not around I tend to gravitate to meals that are easy to make like burgers and hot dogs and nachos, or meals that can produce leftovers, like Chinese, pizza and pastas.
The nutritional value of this stuff is pretty abysmal. But I rationalize it by pointing out to myself that I am on a holiday as well. A stay-cation of sorts, with pool maintenance and creative work to do.
The Big Zen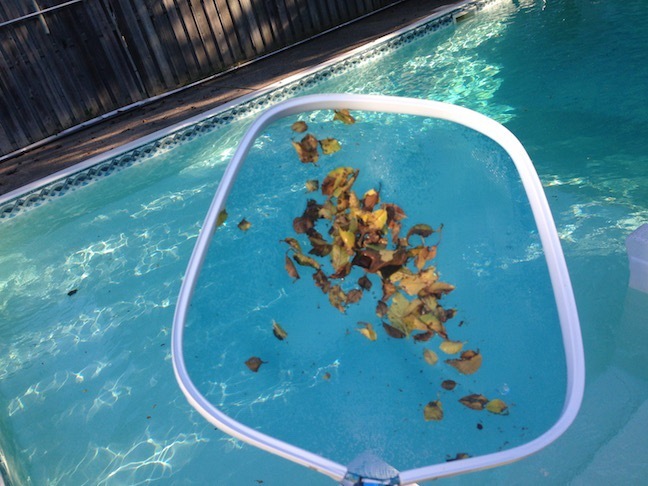 That's the other thing about living in your dream cottage. Pool maintenance.
The pool pump needs to run for at least 12 hours a day, according to Rob the Pool Guy. Somebody has to turn it on and turn it off.
That same somebody has to make sure that the leaves are skimmed off the surface, otherwise they will decay and sink to the bottom and some of them will stain the pool liner. It's very unsightly.
Also the filter basket needs to be emptied every day, or else it will over fill and clog, meaning big bucks for repairs.
And of course the pool cover needs to be rolled out every night so the temperature of the water doesn't get crazy cold, and you don't have to use a hundred bucks worth of propane to get it back up to a temperature that doesn't give you frostbite when you get in to do your lengths.
Once you see the algae building up, (And yes, I can see that) you have prepare the shock treatment, dilute it in a bucket, and pour it in so it catches the current of the pool and distributes itself equally.
After 24 hours, you throw in the Pool Shark, an amazing little gizmo that's kind of like a Roomba for pools. The net result is that you get to look into a crystal clear pool and think...wow, I made that happen.
There aren't many things in life that have given me the sense of satisfaction than taking care of this pool gives me. I do some of my very best thinking when I am engaged in the myriad of activities that pool maintenance entails.
I was a little concerned about it when we first moved in. It kind of felt like a bit of an albatross. But my sister hipped me to the zen thing. She doesn't have a pool, but she's great friends with her next door neighbours who do, and she says she often goes over and does some maintenance, just for the zen.
I thought that was amusing, until we got the pool set up in the early summer and I had to start learning how to do all this stuff. Then I understood.
The Zen Contagion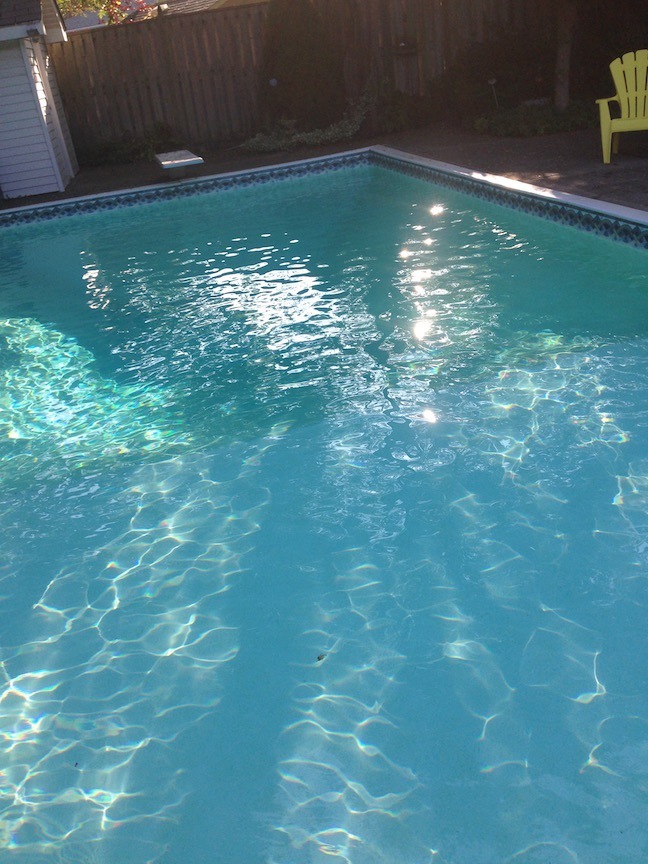 A few of the people who know me best have told me that my writing has changed since I have moved here, that it's not as urgent or cynical. And I can't disagree.
But sitting here tonight and thinking about it, I can safely conclude that the pool and its care and feeling, definitely has something to do with it.
Wouldn't it be nice if I could take that same zen-like attitude and apply it everywhere? Maybe that's what's happening and I'm just starting to become one with it. Who knows?
Peace out…Mur
Jim Murray is a marketer, communication strategist, writer, art director and blogger. His partner, Charlene Norman is a business systems and operational analyst. Their collaboration is called Bullet Proof Consulting, headquartered in St Catharines, Ontario. Bullet Proof is designed to help companies change their thinking for the better, to become more productive, efficient, better branded and successful in today's highly competitive business world. You can get a very clear impression of how we think by reading our business blogs at www.bulletproofconsulting.ca/blog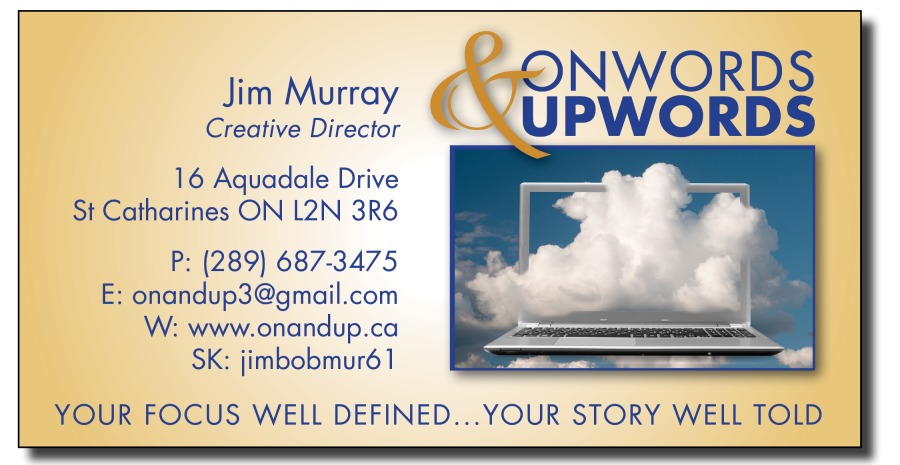 All content & graphics Copyright 2017 Onwords & Upwords Inc. All rights reserved
""""