1 year ago · 3 min. reading time · visibility ~10 ·
Egg On Your Face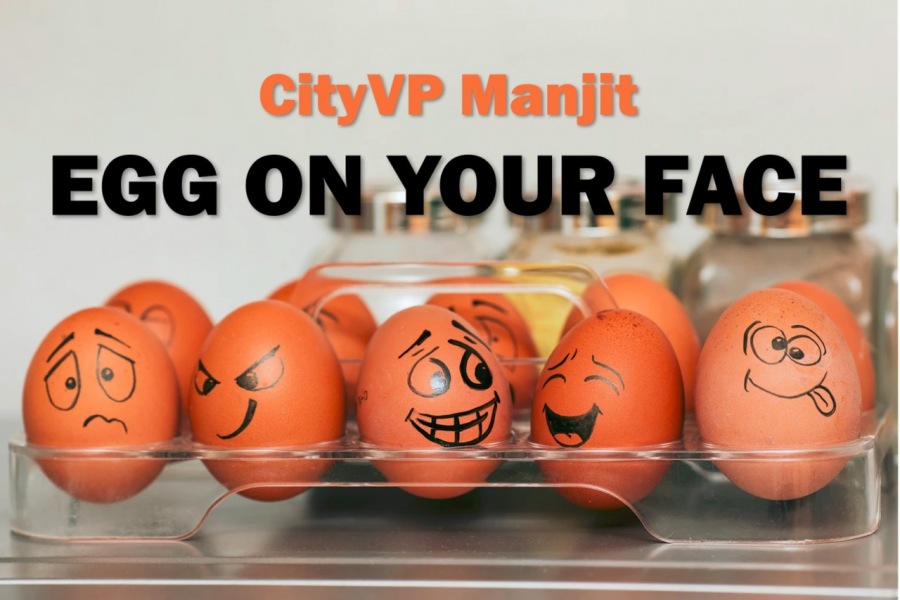 When Manchester City were second place in the 2018/19 season with 14 games left, they had just lost to Newcastle 2-1 and Liverpool looked like favourites to win the title.  That Liverpool team did not lose their last 14 games and reached 97 points.  Manchester City who could not afford to lose - did not lose - they rattled of 14 wins out of 14 to close the season with 98 points.  In that season the title came down to a goal-line decision that was a few millimeters between Liverpool drawing their game against Manchester City and losing.  City deserved the title because they played like champions.
This year Liverpool played more than just champions but like a team that could be bracketed as the "Best Ever", though they did not look like that today as they decided to have an off day losing to Manchester City 4-0 having already secured this years 2019/20 League Title.  Across the Pennines that separate Lancashire from Yorkshire, Sheffield United were busy hosting Tottenham.  Spurs needed to win their last 8 games to stand any chance of getting into the Champions League.  When a poor VAR call went against them, they visibly wilted, the Spurs manager was left to rue his teams mental fragility and Sheffield United had three chances on goal and scored each time.  Soft goals, soft hearts and season over for Spurs, who now may struggle even to get a Europa League place.  They have Everton next and Everton is on fire with Italian coach Carlo Ancelotti turning Everton around, with the help of his assistant and Everton hero Duncan Ferguson. 

If the Spurs board is not giving Jose Mourinho the financial resources (and they cannot due to an expensive stadium build) and the Spurs players cannot give him, what Sheffield United players gave to Chris Wilder (which was amazing heart), then how does Tottenham compete next year?  If they are competitive, it will prove to be Jose Mourinho's greatest managerial feats, which would rank up their with Jose Mourinho taking Manchester United to a runners-up spot, which he himself considered a great feat.  Chris Wilder managing a team that came up from the Championship into the Top 7 itself is an incredible feat - so if a team on a shoestring budget and who did not have resources to fill only 7 of the 9 alloted substitute spots can do this, then heart counts for a lot.

It is the Spurs defense that had egg on their faces today.  They were appalling.  Thankfully Mourinho did not start Ndombele.  There is no telling how much psychological effect it would have on a player that Mourinho has deeply criticized to have started the game and then see his team losing 2-0.  Ndombele should be a world class player but he has yet to show his promise.  At the same time Mourinho should be accountable for playing a defensive formation that did not include his Belgian pairing of Vertonghen and Alderweireld.  The former does not look like he will sign a new contract, though he did sign a contract extension to enable him to play in Spurs last 8 games, and the latter delayed his contract extension but now must be wondering why he did not follow his compatriots example and hold out.  Since the return neither has played a full game and Alderweireld has not even been given a sniff at the touchline.
The worst Spurs can finish now is 13th or 14th, which would itself be classified as a disaster. In the week that saw Wigan Athletic Football Club enter administration as the Covid-19 lockdown has hurt finances of lower league clubs, are Spurs now in such a dire situation that may see them facing problems with their own massive debt?  For Spurs fans, any involvement in Europe is a minimum requirement, but if they lose out on Europe because they end up losing against bitter North London rivals Arsenal next week, that would be a kick in the teeth.  Not that Spurs fans need to celebrate being ahead of Arsenal in the league table, though Arsenal fans held their chest out when they did that for 20 successive years, losing a European place to them places Spurs in an even more worse position.  Which transfer targets are going to choose Tottenham when they have zero European involvement?  At least it is a trophy that they could win, because they have won that one before, when it was called the UEFA Cup.
It was a miserable result for a miserable outfit that lost heart against a team that had a poor re-start until today.  The fact that Spurs are now level on points with Burnley says so much.  Burnley like Sheffield United are one of the leagues poorer teams, and having them leapfrog Tottenham in the table is probably an even worse reflection of the current team, and the sorry state of the Tottenham leadership.  That the Amazon film documentary is still shooting scenes as this debacle plays out, provides a documentary about leadership failure, which contrasts with the last documentary they made, which was at Manchester City, which epitomized leadership success.  With the firing of Mauricio Pochettino and the effects of Covid-19 on Spurs debt burden and new stadium - and Spurs players involved in off-the-field incidents - it will be a painful watch for any Spurs fan, once the filming is done and that documentary is released.  Right now it is the Spurs leadership that has egg on its faces.  It should have been 3 points today at Sheffield United - and all it is, is another reminder of a bad season.

"
You have no groups that fit your search