5 years ago · 3 min. reading time · visibility ~100 ·
Interested or Interesting?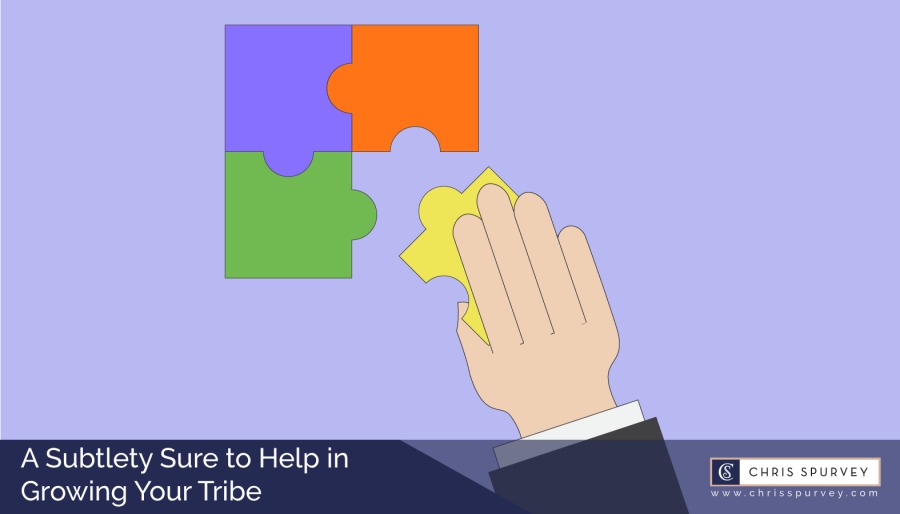 Every Sunday morning, I write an email. I send it to those who have chosen to come along for the ride as I try to figure out the mark that I would like to make on this great blue-green planet. The voyage since mid-2014 has primarily centered on my passion for entrepreneurship and my belief that sales can be really darn fun. Entrepreneurs who choose to make their businesses human businesses are sure to succeed.
The last couple of weeks, I have been building a case for my partners to go out and grab the magic of connecting with others. Doing that really is the first step in building a tribe. A thriving business, following, or movement cannot be achieved in a vacuum. Everything that we would like to achieve must be done with and through other people.
I would like to draw your attention to a subtle but important twist on how to connect on a deep, meaningful level. Whether your connections join your tribe, as a follower, customer, sharer, liker, or contributor, is a by-product of this subtlety.
Let me tell you two stories before I spell it out for you.
----
If, after reading this article, you conclude that you found it helpful, please feel free to share it with your network. Perhaps we can all learn from one another. Thanks!
----
On Friday, I met a local entrepreneur and It's Time to Sell community member for coffee. His name is Jon Butler. Jon is the cofounder of LunchIn. LunchIn is on a mission to make healthy eating convenient. For about $10, it will deliver a healthy, fresh meal to your house or business. I have met Jon a couple of times, and every time I feel his passion for life and business. The first time I met him, I thought, This is a guy who I really hope, in my heart, succeeds.
On Friday, before our meeting, I sat in the coffee shop and got centered about the purpose of the meeting. I thought about Jon and his business. I thought about how I could not wait to get an update on his progress. I wondered how the business was scaling and whether it was hitting or working toward a decent margin that would make it a truly viable business.
When he arrived at the coffee shop, our conversation just flowed. Napoleon Hill's mastermind concept was happening right before our eyes: When two people put their heads together, they have the equivalent of a third mind at work. Jon and I walked away feeling refreshed and invigorated.
When I pulled into my driveway, I checked the mailbox. Inside was an envelope from Sheri Dever. Sheri is also an It's Time to Sell community member. Sheri is on a mission to build meaningful relationships for endless referrals. I opened the envelope, and inside was a card. On the cover was a familiar picture, one taken from the deck of my family's cottage overlooking Little Goose Pond. I had posted the picture on Facebook earlier in the summer. At the top of the card were the simple words "Thank You, Chris." Inside was a note from Sheri, expressing gratitude for the It's Time to Sell community. She also enclosed four bookmarks that contained inspirational affirmations.
After reading the note inside the card, I thought, Wow! Now, that's how it's done!
Here is a picture of the card and the bookmarks.
So, why am I telling you these two stories?
The subtle but important element that most people miss when trying to connect with other people is the fact that being interested is far more important than being interesting. Where most people choke in trying to connect at a deep, meaningful level is that they think, What can I say that will be interesting? That thought process limits the potential magic of the connection. Instead of asking yourself that question, zero in on your personal why and ask yourself, Does this person have a problem that I can help solve? You can find out only by being interested in that person.
"You can make more friends in two months by becoming interested in other people than you can in two years by trying to get other people interested in you." —Dale Carnegie
My challenge to you for this week is to connect with two people by simply being interested in getting to know them. Can you do that?
I welcome your comments below.
____
Connect Deeper?
I welcome you to subscribe to my Sunday morning e-newsletter. In that, I share stories about me falling down and getting back up as I pursue sales as my career. You will receive my best-selling book, It's Time to Sell: Cultivating the Sales Mind-Set, as a welcome to the newsletter. The book and newsletter will change how you look at life and sales.
You have no groups that fit your search