Long Live The King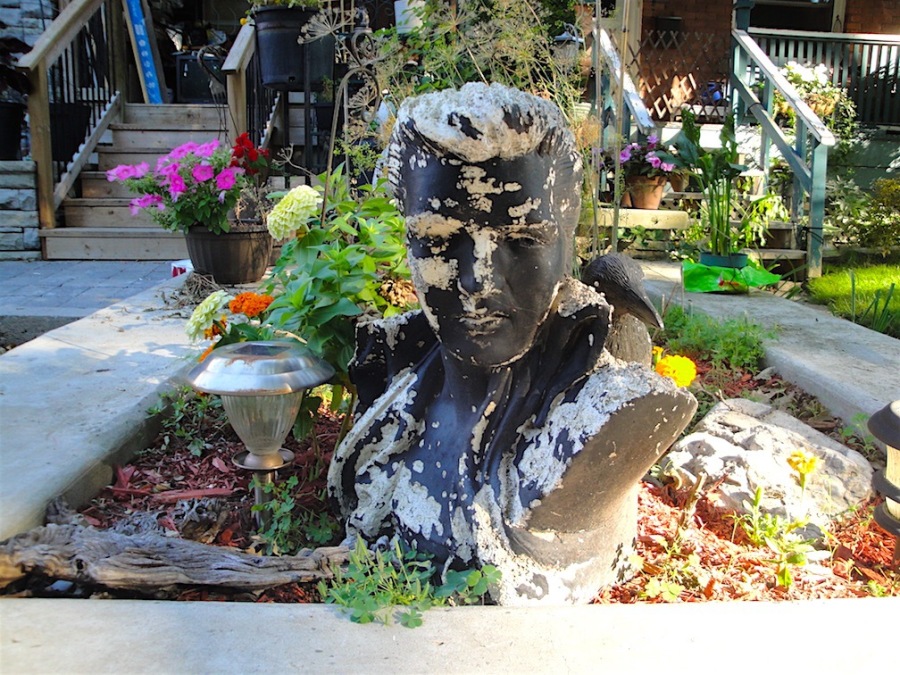 This picture you see here above was one that I took on one of a thousand bike rides I went on when I lived in Toronto.
I used to ride my bike everywhere. To work, to the store. Out for coffee with friends. Wherever.
The view from the seat of a Raleigh touring bike is a lot different than the view from a car. Most importantly, you can see a lot more and, as a result, more interesting stuff catches your eye.
I always had a camera or phone with me on these trips because you never knew what you're gonna run into. I also made it a point to travel wherever I was going by different routes a to make sure I saw as much as I could along the way.
I honestly can't remember where this pic was taken other than somewhere in the east end of Toronto. Maybe close to Eastern Avenue, cause there's a lot of weird shit down that way.
Elvis was probably the first real rock and roll superstar. When he showed up in the late 1950s, rock and roll music was kind of in it s infancy. Radio had yet to warm up to it in any significant way.
But the kids knew what was what, and they were the ones who really discovered Elvis and put him on the musical map.
Young Elvis was an interesting character. He had that kind of boyish charm and aw shucks sensibility in his interviews, but he basically transformed himself when he hit the stage. He got tough, and sexier (or so I'm told). It was like there was this bunch of old souls living inside him. From old crooners to old black gospel singers to kick-ass rhythm and blues types. He embodied and projected all of that with a dynamic that had not been seen before.
There was also something about the time he came up in. The baby boomers were all in their teens and, subconsciously looking to create a culture that belonged to them. And being one of those teenagers, I embraced what was going on 100%. I bought Elvis's records, and I bought Gene Pitney and Buddy Holley, and Bill Haley & The Comets, all that stuff, and listened to it ad nauseum, much to the chagrin of my parents.
I wasn't so much a fan of Elvis, because I saw him having more appeal to the 'rollers' or 'greasers' of the day. I was culturally in the other camp, who were called 'squeaks' or 'collegiates'. These were cultural stereotypes that were defined more by the way you dressed than the music you listened to. Because the music was all new and it was relatable right across the board.
But a lot of people loved Elvis and do to this day. His songs were so all over the place that it was possible to like some of his songs and not like others.
And the people who managed Elvis played this out as far as it was possible to do that back in the day. Elvis was just about everywhere, in every tabloid, on every radio station worth listening to, and even on the mighty Ed Sullivan show. Elvis did interviews all over the place and was always polite. Elvis got drafted and became a poster boy for the US army. Then Elvis started making movies. At first they were musicals, designed to sell albums, but later on they became more a showcase for his acting ability.
Elvis had a great run, and was propelled into the icon stratosphere, which meant that after his touring days were over, he could have his own show in Vegas.
As that time approached, the question of whether all this fame, and to a certain extent, fortune, would spoil The King. And the answer really turned out to be 'how could it not'.
Adulation is a narcotic, and after a while it warps you and turns you into something you never were, or ever dreamed you could become.
You find it hard to be happy, truly happy. And you feed that beast with the insatiable appetite. Eventually, like many of the those in the same stratosphere, like Marilyn Monre, Michael Jackson, Jim Morrison, Janice Joplin and all the rest, you get lost up there.
But when I think about Elvis, which really isn't all that often, I don't think of the guy at the end who came crashing down. I think of the young guy who dragged the music business kicking and screaming out of the 40s and up to the present time. His final scenes were a lot shorter than all the scenes that led up to it.
And our culture owes him a lot. Because whether you were a fan or not, he was the King for a lot of people, and still is to this day.
Jim Murray (that's me) is a writer, art director, marketer, editorialist. reader, sports fan and  TV watcher.  I live with my wife, Heather on the Niagara  Peninsula work with a small group of companies working  to make a positive difference in the world.
My Current Blogs Include: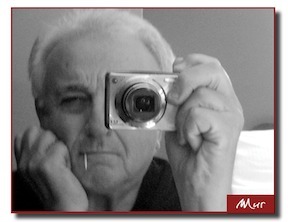 Brand New Day (Environmentally Conscious Products, Services & Processes) • MurMarketing (Communications Advice) • Muritorial (General Interest, Politics, Human Nature and all the rest of the stuff I'm interested in)

You can follow Me:
On beBee: https://www.bebee.com/@jim-murray
On LinkedIn: https://www.linkedin.com/in/jim-murray-b8a3a4/
On Facebook: https://tinyurl.com/y97gxro4

Biz Catalyst 360˚ https://www.bizcatalyst360.com/author/jimmurray/

You may be interested in these jobs
Found in: Talent CA - 2 days ago

---

Where Trades Work

Belleville, Canada

Maintenance I Job details · Job type · Full-time · Full Job Description · PURPOSE · Maintenance I is accountable to the Supervisor, Operations for performance of daily routine maintenance activities and tenant services to ensure that the property and its grounds are kept in excep ...

Found in: Jooble CA - 1 day ago

---

Vedder Sushi

Chilliwack, BC, Canada

Full time

Overview · Languages · English · Education · Secondary (high) school graduation certificate · Experience · 2 years to less than 3 years · Responsibilities Tasks · Plan, organize, direct, control and evaluate daily operations · Determine type of services to be offered and ...

Found in: Talent CA - 2 days ago

---

Req Id: 409290 · At Bell, we do more than build world-class networks, develop innovative services and create original multiplatform media content – we advance how Canadians connect with each other and the world. · If you're ready to bring game-changing ideas to life and join a c ...