Review: Mother-Daughter Days on Russian Hill: Tales of Love and Laughter
Author: Babara Bella
Publisher: Indy Pub; Illustrated Edition (October 1, 2020)
ISBN-10 : 1087896487
ISBN-13 : 978-1087896489
Unlike that of any other, the relationship between moms and daughters has a special place encompassing love, nurturing, friendship, wisdom, mutual understanding, and solid devotion.
In an exquisitely rendered illustrated book, Barbara Bella in Mother-Daughter Days on Russian Hill: Tales of Love and Laughter showcases her powerful bond with her daughter.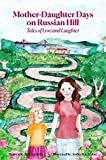 She glows with joy as she sensitively reveals the different phases of her rapport with her daughter from the moment of childbirth into maturity as they explore their neighborhood, Russian Hill in San Francisco.
By the way, if you have ever been to San Francisco, you would perhaps recognize the area around Russian Hill. It is straight north and slightly downhill from Nob Hill, to the south (uphill) from Fisherman's Wharf, and west of the North Beach area. I can vouch for its magic, as I have visited the area several times with my wife.
Bella's rich singsong playful text pulsates like a wise mother's tale that has been told and retold to friends and family. Quite in evidence is her story-telling skills, and once you have read the rhyming verse, it will keep you enthralled until the last page and beyond.
The tone of Bella's celebration of the precious affection between herself and her daughter unfolds when she first sets her eyes on her newborn daughter: "When you were born-a-special day-you brightened our lives in every way."
The love she felt, as a mom, was overwhelming and rewarding, even though motherhood can be tiresome and occasionally dull.
In charming details, Bella describes her many adventures with her daughter growing up. When her daughter was two, they would on Saturday's roll and clown around. As they resided at the top of Russian Hill, they would regularly wander up, down, and about exploring the many ethnic eating establishments. They pretended to be on vacation, and they would sample sesame bagels with Orangina ice cream cones and pastina, fried pork dumplings or tandoori, and Kara's cupcakes-"oh, the glory!"
There were times when they enjoyed upside-down teatime when they would have "Tea at two, under the table. Leave shoes outside if you are able." Let us not overlook those memorable pajama days when they slipped their Pjs down the hill, past cafés, shopping, and visiting friends. "The only stares that came our way were paired with smiles, as if to say: You two are as cute can be, I'll put on mine and make it three."
Other days they loved dressing stuffed animals, rainy days, floater days, name game days, lotta loops days, girl scout days, and long sunset days. And suddenly, there is today when her daughter is an all grown, young woman. Where did the magical years go?
The match of the book's subject and Amber Rae Malott's creative and remarkably expressive color palette is delicious. She possesses a solid understanding of the author's intentions that is quite evident in the delicate, detailed whimsical figures and the original urban sketches. The perspective is particularly effective capturing magical expressive faces combined with an abundance of energy.
As an added plus, the book includes a useful interactive section recording your own favorite activities, adventures and memories. We are also informed that all proceeds from the sale of the book will be donated to children's literacy.
Mothers and daughters always share a special connection, which is etched on their hearts. Best-selling author Heather Gudenkauf said it best: "Having a little girl has been like following an old treasure map with the important paths torn away." 

FOLLOW HERE TO READ NORM'S INTERVIEW WITH BARBARA BELLA
You may be interested in these jobs
Found in: Talent CA - 5 days ago

---

Statistics Canada

Victoria, Canada

Program Officer / Regional Program Officer · Reference number: PSP22J-033494-000034 · Selection process number: 2023-PSP-EA-COLL-181686 Public Safety Canada · Edmonton (Alberta), Vancouver (British Columbia), Victoria (British Columbia), Winnipeg (Manitoba), Fredericton (New Br ...

Found in: Talent CA3 - 11 hours ago

---

Venetian Nail Spa

Calgary, Canada

Employer Venetian Nail Spa Languages English Education Secondary (high) school graduation certificate Tasks Arrange and co-ordinate seminars, conferences, etc. Supervise other workers Determine and establish office procedures and routines Schedule and confirm appointments Answer ...

Found in: Talent CA - 15 hours ago

---

Rona Inc.

Hamilton, Canada

Full time // Temps Plein

En travaillant chez RONA, vous bénéficierez de nombreux avantages, tels que : · Un environnement de travail inclusif et sécuritaire · Une sensibilité à l'équilibre travail-vie personnelle · Des rabais exclusifs aux employé(e)s · Des avantages sociaux : assurances (certaines condi ...