1 year ago · 3 min. reading time · visibility ~10 ·
The Fight in the Dog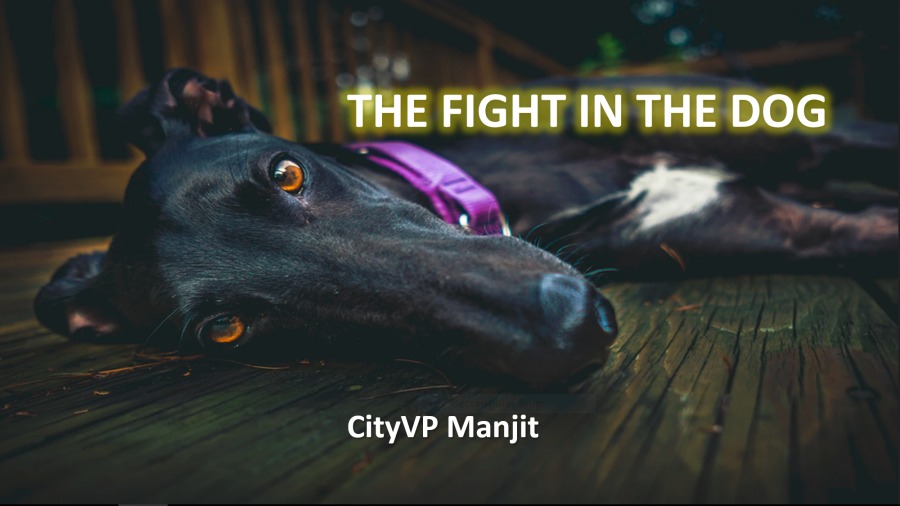 If we believe that we cannot teach an old dog new tricks, then we should not expect Jose Mourinho to manage any different than how he is managing the present Spurs squad.  That gift called Everton just laid down and do what they have been doing for the last 8 years against Spurs, not being able to beat them.  Even with a manager like Carlo Ancelotti who shares Mourinho's habit of winning trophies, the dog that laid down in their 1-0 loss was the Everton team.
At the same time there was the strangest occurrence of seeing the two mildest mannered players in the Spurs team suddenly find their growl as Spurs captain Hugo Lloris laid into Heung-Min Son about not tracking back well and his nonchalant attitude.  In one way it was a bit unfair because there were other players like Lucas Moura who were not tracking back and also losing the ball in the midfield, but no matter what caused the red mist to rise, overall it was a blessing to see the two players confronting each other as they were about to disappear down the tunnel at half-time.
A few pundits do not like this kind of exhibition of loss of emotional composure, but I agree with those pundits who said it will have the right impact on the team, so long as they did end up winning the game.  One of the failings of Pochettino was not instilling the dog fighting mentality into the team.  This mentality is most visible in the Chelsea team and now in the Liverpool team that Klopp has moulded into one of the best teams in the history of football.  It is also the mentality that caused problems for Mourinho when in the era of the millionaire footballer, this poking the dog approach backfired, leading to players revolting against him at both clubs.
The players at Spurs know one thing, while they don't like being shackled to defend like dogs, they know Mourinho has been a serial winner, and his methods though not according with modern sensibilities, might just be the stick that gets the dog in Spurs to wake up.  That soft center is still visible in the team in players like Son and Moura, though both can be lethal under an attack minded team.  Mourinho does not produce attack minded teams, Klopp does.  Mourinho's management is to stifle and stop Klopp minded teams from winning - he is good at putting the dog in people but keep his teams on a defensive leash.
That 1-0 win is a typical Jose result, soak in the talent of the opposing team and win with Art of War tactics.  It is one which Spurs fans hate to see and the great thing about Covid is there are no fans in the stadium to express that displeasure to watch dog-eat-dog football.  It isn't pretty to watch but the price of loss of entertainment is developing mentalities that can win trophies and titles.   This Spurs team has largely been around for a long time, with very lax investments though there is Lo Celso, Ndombele, Ryan Sessegnon and Steven Bergwijn to attest that Spurs dip a little into the transfer market. The question is whether these players can play Mourinho Ball. 

Mourinho's biggest flaw is his biggest strength, which is what he says usually is guided by what he plans and if what he plans is to ugly to the eye, then we may get mad with him and react to what he is saying as opposed to what he is planning.  There will be Spurs fans who will be ready to throw in the towel and howel at Daniel Levy for picking Mourinho.  Yet even though the results on the field look ugly, in this case Daniel Levy made a worthwhile bet - though what Levy loves is high stakes negotiation, not reckless gambling.

Everton have in recent weeks played exceptionally good football and were looking like they were heading under the right direction under Ancelotti - but today they were missing in action.  While they did have some shots on goal from distance, there was nothing that anyone can expected to help Everton secure at least one point.  It might have been better for Spurs to have appointed Ancelotti in terms of playing the kind of attractive football that Spurs are renowned for - but Mourinho in beating his old foe in their first head to head in the Premier League showed why Spurs do need Mourinho. 

In the modern game, it is the pressure from outside that crushes teams within.  Mourinho probably acknowledges that the game has changed very much the same way society and its sensibilities have changed.   Mourinho's methods are now being considered a touch too old school - that his best days are past him and their are supporters who sing "You're Not Special Anymore" - and that is the kind of thing that Mourinho did not face when he was at his prime with Chelsea and leading them to major trophies.   Yet if Mourinho does take Spurs into at least the Europa League, and he ends up winning that trophy next year - then all the present dog like performances by Spurs will be accepted as a cost of doing business with a world-class manager like Jose Mourinho.  He may yet prove again right, that old reputation of being the Special One.
"
You have no groups that fit your search