The Poetic Clipboard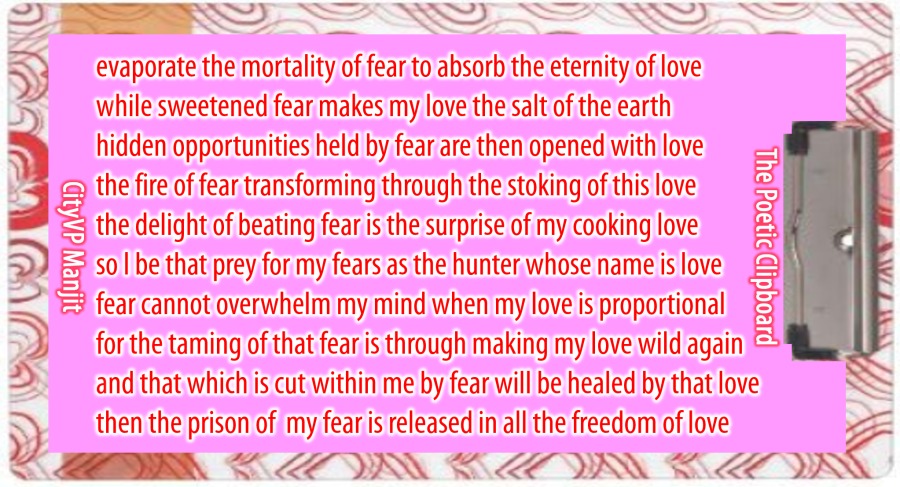 Reference: Ali Anani Post :
A Wrong Question to Ask- Which is greater fear or love?
                     https://www.bebee.com/producer/@ali-anani/a-wrong-question-to-ask-which-is-greater-fear-or-love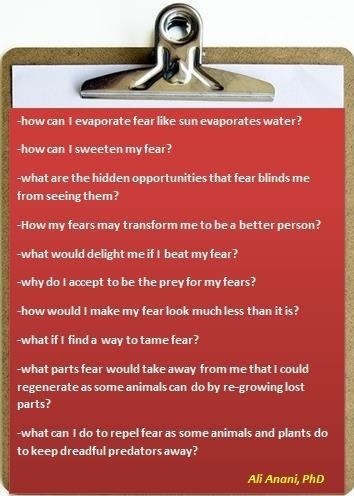 evaporate the mortality of fear to absorb the eternity of love
We know the answer but we boil in our thoughts drowning in the incoming storm of media, a tiny virus that we are told is our mortal danger, but this one is such a weak thing that as we rub our eyes made tired by watching news of its presence, we are the one's who infect ourselves with our own hands, and if we have not kept our distance, it is our lack of measure that allows droplets of this microscopic intrusion to creep into our body.  The media brings us mortality but bring love.
w
hile sweetened fear makes my love the salt of the earth
 Salt has been our friend, each time we feel our throat infected, a quick and hearty gargle may do the trick.  Yet we choose sweetness when today we know sugar to be our enemy.  It has taken more from us than any virus has and here we are not fearing the sugar that may create a diabetic hell but fearing that which fears salt.  We have been making our fear sweet for too long, there is a lesson in this that is bigger than the one that bombards our mind - we are the salt of the earth.
hidden opportunities held by fear are then opened with love
A daughter circles us that is the picture of love but we are locked in our own mental reasoning. How do we even begin to touch the eternity of love that makes life a being, when we are held firmly by the grip of thoughts being held by the jailer called fear.  The opportunities in a daughter are equally being held because she can see her father swirling in the maelstrom of mortality, as if we can command God to give us something he cannot give - but in front of us is a daughter.
the fire of fear transforming through the stoking of this love
The history of man has been a testimony of love triumphing over fear, of martyrs and heroes who in life a thousand times worse than this, stood with valiant minds prepared to die in the name of love.  For sure there are evil people who kill in the name of love but their love is not a stoking, it is a burning of love.  We need to stoke our love so the fire of fear grows larger rather than smaller.  Larger because fire is energy and not smaller because that is shrinking in our fear.  Prod it with love !
the delight of beating fear is the surprise of my cooking love
Cook this fear with all the love you can bring and delight in beating the dough of fear because in working this fear and rolling this fear and tossing this fear, there are many surprises to be cooked from it.  Make the bread of your love, make the cakes of your love, make the cookies of your love and the roti's of your love. The same imagination that can be beaten by fear can be cooked with love and then we begin beating fear because fear is only an ingredient, but love is what you eat.
so I be that prey for my fears as the hunter whose name is love
Fear feels bigger than us because fear is a feeling, but love is a hunt and we must pick up our weapons of the heart and rise from the illusion making machines that speak mortality to us, when we have vitality.  So become the prey for our fears but know that without the right weapons that fear can still turn on us.  Yet when we pursue it, we find it to be the bully child we always knew it was, within the moment we stand up to the reality love exposes us, we find our fear a frightened child.

fear cannot overwhelm my mind when my love is proportional
We have heard so many times that our world is made of signal and it is made of noise, but we overwhelm ourselves with the noise.  The only way to cut through the noise that fear makes is bringing it down to size.  When we re-establish the signal with our own heart, we get to know what was making it beat so much faster, so much harder.  We find out what was making our mind spin faster and our thoughts run harder - then we find proportionality because we must love our selves.

for the taming of that fear is through making my love wild again
Our writing reveals the tracks of fear, the footprints of words have the markings of fear all over them, we did not notice just how many marks we were leaving behind us, but as we leave them, we make of others that which we never intended to make.  They find the words and the footprints of fear and then they start making their own.  Yet the way to break free from this revolving, dissolving and deflating fear is to run free again - in our own home, maybe not hugging but eyes wide open.
a
nd that which is cut within me by fear will be healed by that love
Then there comes the recriminations, the thief that is fear still has one trick of psychology it is prepared to launch, that as we awaken to the dance of the love around us, a world built in its eternity - we move from building fear to constructing guilt, and all we do then is trade one poverty of emotion for another - but allow the cuts of fear to be healed by our ointment of love.  We are not healing the scars of all around us but first healing the scars we have cut with our own fear.
then the prison of my fear is released in all the freedom of love
And then we earn another PhD, but this one in conquering our mind by a flow of love.  The mortality that we were relentlessly reminded of, are just hands that have the power to switch of the demons that sweeten our curiousity and replace them with the blessings that salt our love.  Then we do not need to go the salt fields like Gandhi, because this was not a freedom to be won from an occupying force, the occupying force was our own mind and our freedom is still love.
""
You may be interested in these jobs
---

Sinclair Oil Corporation

Mississauga, Canada

Basic Function · Petro-Canada Lubricants Inc. (PCLI), an HF Sinclair company is seeking an intermediate level Plant Engineer. Reporting to the Team Leader, Plant Engineering, the Plant Engineer will p ...

---

Spice X (International) Inc

St. John's, Canada

Education: · Secondary (high) school graduation certificate Experience: 1 year to less than 2 years Work setting Restaurant Cook categories Cook (general) · Tasks Prepare and cook complete meals or in ...

---

The Salvation Army

Ontario, Canada

Full time

About The Salvation Army · Mission Statement · The Salvation Army exists to share the love of Jesus Christ, meet human needs and be a transforming influence in the communities of our world. · Visio ...