The Therapeutic Nature Of Good Old Fashioned Anger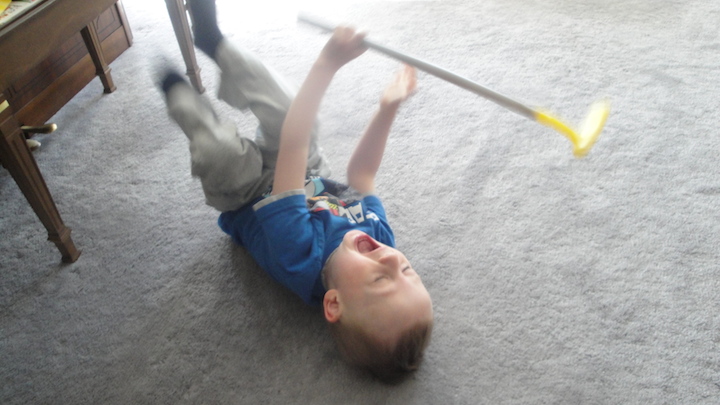 A lot of people with whom I am connected on social media think of me as an angry guy. And some of them wonder where all this anger comes from.
Fact of the matter is that I'm not really an angry guy. I just play one of social media. It's kind of become my brand. Pissed off Jim. He hates just about everything.
Being an angry guy, even if it's just for an hour or two a day on social media is actually something that has been helpful to me emotionally.
A lot of people out there are angrier than I am, but they simply are not lucky enough to have a benign way of releasing that anger, and so they end up either imploding or exploding. Neither one produces a constructive result, These are people whose anger leads them around on a leash and causes them to do all kinds of strange shit. From storming the capital of their country demanding who knows what right on up to getting themselves a gun and going on a shooting rampage.
We all have a certain amount of anger that dwells within us. This is mainly because so many of us are exposed to so much bullshit that it makes us angry that finding the truth is such hard work.
Many of us are angry because we have ended up in league with other people who are angry themselves, or other people who get a certain sadistic pleasure out of inciting anger in others.
People are also angry because, for a myriad of reasons, their life has not turned out the way they always dreamed it would. Either because they have not worked hard enough at it, or they had some sort of setback or disadvantage that kept their dream from coming true.
Still others are angry simply because rage is how they express themselves and they haven't figured out a way to channel that rage into something constructive.
There are a whole lot more reasons for anger in people. But mostly they have to do with the environment in which they find themselves.
If you grow up in an environment where a lot of people are angry all the time, you can easily end up believing that angry is normal. And maybe that's the worst kind of anger there is, because it's the hardest to correct.
Having said all that, I really don't believe I fit into any of those categories. My anger is a little more along the lines of hyper intense bewilderment at the levels of stupidity I see all around me all the time.
When you grow up in the world of advertising, you get a pretty good look at society on many levels, and you see that a lot of people are just really not all that bright.
The paradox is that the world you live in and the people surrounding you are all bright, all clever and actually having a very good time of it here on earth. So you're constantly dealing with a bewilderment of your own.
But my anger is not directed at the people who are not all that bright. No, it's directed at the individuals and governments and media that are deliberately spoon feeding these people bits and pieces of 'cult of personality' jive. Who are controlling them to keep them satisfied with less, and then taking more and more from them.
We see this most clearly in a country like the United States which is structured so that a relative few super rich people control all the media, the corporations and the political processes to maximize business profitability at the expense of the workers who are actually building wealth for them.
They create fear in these people and that fear makes them timid and afraid to really stand up for themselves for fear of being fired and eventually losing everything.
My anger really comes out of empathy for these people and the situation they find themselves in. But this anger and rage is directed at the oppressors, whose greed and avarice is off the charts, and whose concern for the people who work for them and their ability to have any sort of life is virtually non-existent.
You could argue that it's always been this way, and technically you'd be right. But on the other side of the coin, there has never really been the level of disparity between the wealthy and the rest in that country and in many others as well.
I may very well be shouting into an empty cave when I criticize the people who make me angry, but there's also a certain amount of stress relief that you get from venting. Because anger, as many of us know, is one of those things that can build up and cause all kinds of both physical and psychological damage, which, of course, I prefer to avoid at all costs.
So to sum up. Not an angry guy. But I have anger. See disparity all around me and that's what makes me angry. Don't like to see so many people living in a state of fear. Know who causes that state of fear and why they do it. Angry at them. And use the venting of anger to keep myself healthy. Not an angry guy. Honest.

You may be interested in these jobs
Found in: Jooble CA - 4 days ago

---

Flex On-Demand Consultants

Toronto, ON, Canada

Full time

Our prominent client is looking for seasoned techno-functional Business Analyst for a 6 month contract to begin with possibility of extension for a company wide HRIS implementations. Responsibilities: · Evaluate, analyze and optimize HR system performance · Requirements gather ...

Found in: beBee S2 CA - 4 days ago

---

Randstad

Ancaster, Canada

Freelance

Looking for FULL-TIME positions ONLY for our client, an industrial bakery in Ancaster, ON. · Can you work both days and overnight shifts? Are you looking for a full-time position in an active role? Do you have your own transportation to Ancaster? We are hiring individuals for Bak ...

Found in: Jooble CA - 5 days ago

---

De Havilland Aircraft of Canada Limited Jobs

Mississauga, ON, Canada

The Organization · De Havilland Aircraft of Canada Ltd. ('DHC') is a proudly Canadian aerospace company currently transitioning its corporate headquarters to Calgary, AB. DHC is undertaking a consolidation of its underlying subsidiary companies under a single brand currently off ...