5 years ago · 5 min. reading time · visibility 0 ·
My Life Inside The Brand Building Machine Part 1.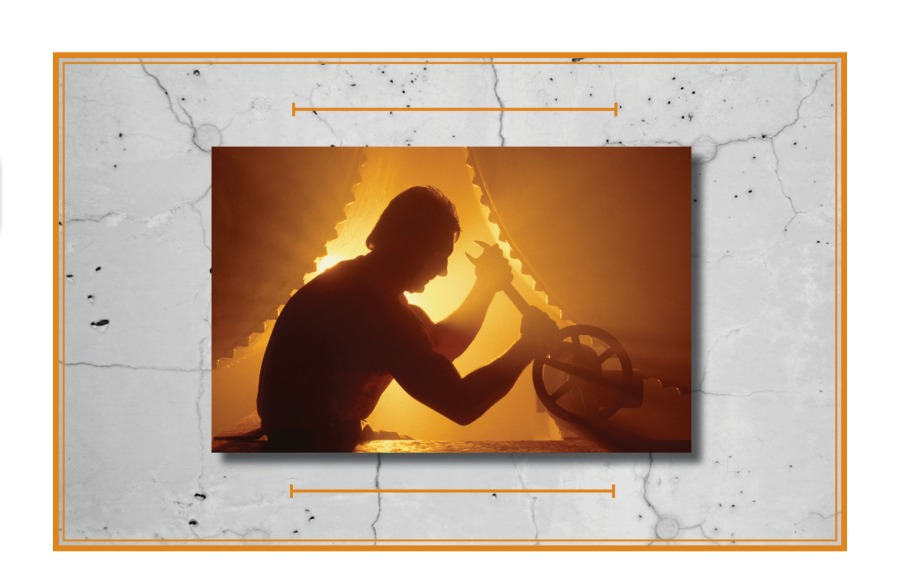 This is the first in a series of four posts that outline my career, and also tells the story of what it was like to be in advertising in the 70s and 80s. It comes complete with some of the more important things I learned along the way.

I think this will be especially useful and informative to those people whose careers began after the start of the digital revolution. This was pretty much around the time when my second career, outside the advertising agency business, started.

It Was The Only Thing To Do After The Mule Died
Bill Bernbach
Advertising breaks down into two worlds. The world before 1960. And the world after 1960, which is much more interesting.
In the world before 1960 very little of advertising was what you would call creative. It was persuasive and it worked, but it was hardly something that challenged your intellect. That's because the world was a well ordered place back then. Women made the bulk of the purchasing decisions and everybody wanted to fit in. Those were the good old days, when practicality ruled.
And that sensibility was reflected in the advertising of the day. Mostly a lot of show and tell.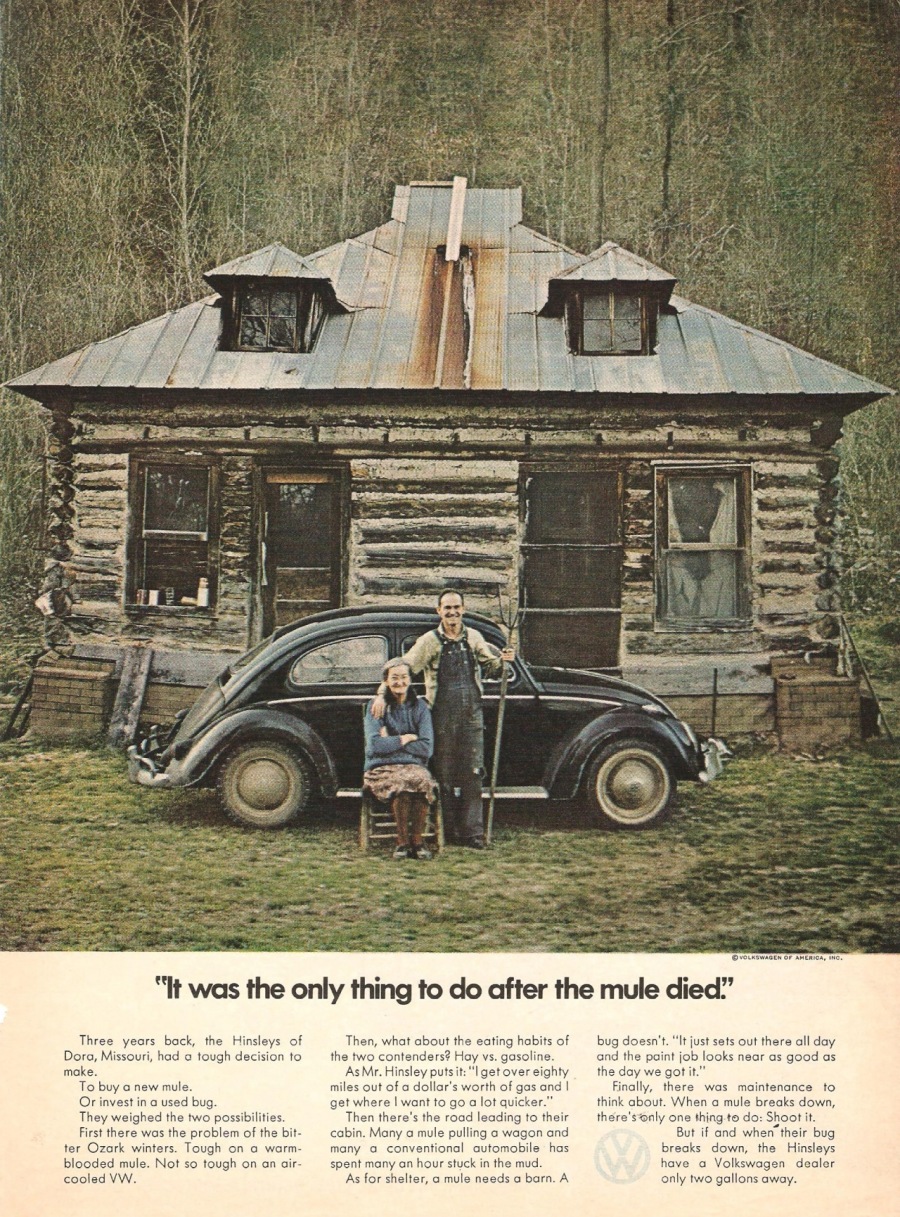 Then in about 1959, a small car German company called Volkswagon, decided they wanted to sell their ugly, but extremely practical little cars in America.
So this guy, Volkswagon's art director, named Helmut Krone, came over the pond and picked a small New York agency called Doyle Dane Bernbach to handle the account.
Helmut Krone was a genius and that genius of his, when coupled with the formidable writing skills of a New Yorker named Bill Bernbach, resulted in the first real new age writer/art director creative team.
Up to then, ads were created by writers and rendered by artists and illustrators in the studio. They didn't really work together at all. It was more of a master-slave relationship with the writers being the masters. Ahh the good old days indeed.
If you watch the AMC series, Mad Men, you will see that this series begins right at this pivotal period in advertising history. The agency in the series is one of many that were at this creative crossroads ie filled with Ivy League educated account men who resented the intrusion of the hip young creative people. These two groups would eventually learn to co-exist. But life would never be the same for them again.
Wisdom Is Meant To Be Shared

The people who mentored me in the early days of my advertising career were people who were there at the beginning of the creative revolution in advertising and it was the job of my generation to carry the torch.
By the time I had entered the business, about a dozen or so years after the initial Creative Revolution, the agency world was already well into this new way of thinking. But the big advantage that myself and a lot of my contemporaries had was the unique perspective of the people we worked for, who had worked their way from one side of the Creative Revolution to the other.
This is not dissimilar to what's going on today, where people like myself, which I have dubbed Hybrids, end up working with people whose experience is completely of the digital marketing environment. The Hybrids have a good grasp on both sides of this new revolution, and are really obliged, as were their mentors, to pass down the wisdom they have developed through their experience in the analog world.|
Because, at the end of the day, it's all about communication. The tools may have changed somewhat, but the objective is still the same...move the merch, as we used to say.

What You Need To Know Here

1. Up to the time of the Creative Revolution in advertising, most brands had been built on the promise of performance that they made to the customer. It was highly transactional. You buy this product or service, because you need this result.
2. With the proliferation of competitive brands in the marketplace, the need to differentiate by more than promise of performance became much more of a necessity.
3. Guys Like Bill Bernbach and Helmut Krone realized that through creativity, they could start building a relationship with their customers based on something called brand character.
This is what's known in the advertising industry as a "Big Idea". And it was big enough to spawn an entire generation of creative marketing thinkers the likes of which the world had never seen before. It really did change everything.

It's Alright To Be Little Bitty
Alan Jackson
I usually tell anybody who asks that my first big time job in advertising was at Vickers & Benson, where I won tons of awards and quit smoking. But it wasn't my first job in the business.
My very first job was at a tiny little agency called Butler MacKenzie, that was in a beautiful old mansion house on Jarvis Street in Toronto.
Except for a 70 year old copywriter named Bruce Murray, (who really taught me how to be a copywriter), this agency was completely populated by MacKenzies. Phil was the dad/Creative Director/art director, Betty was the wife/mom/bean counter. Dave was the older son/account guy, Joe was the younger son/production manager and good old cousin Cal ran the silkscreening operation. Yep, silkscreening.
It was all MacKenzies and Murrays. A real coalition of the clans. I've always wondered if my last name had anything to do with getting hired there.

Your First Job Is Kind Of Like Your First Girlfriend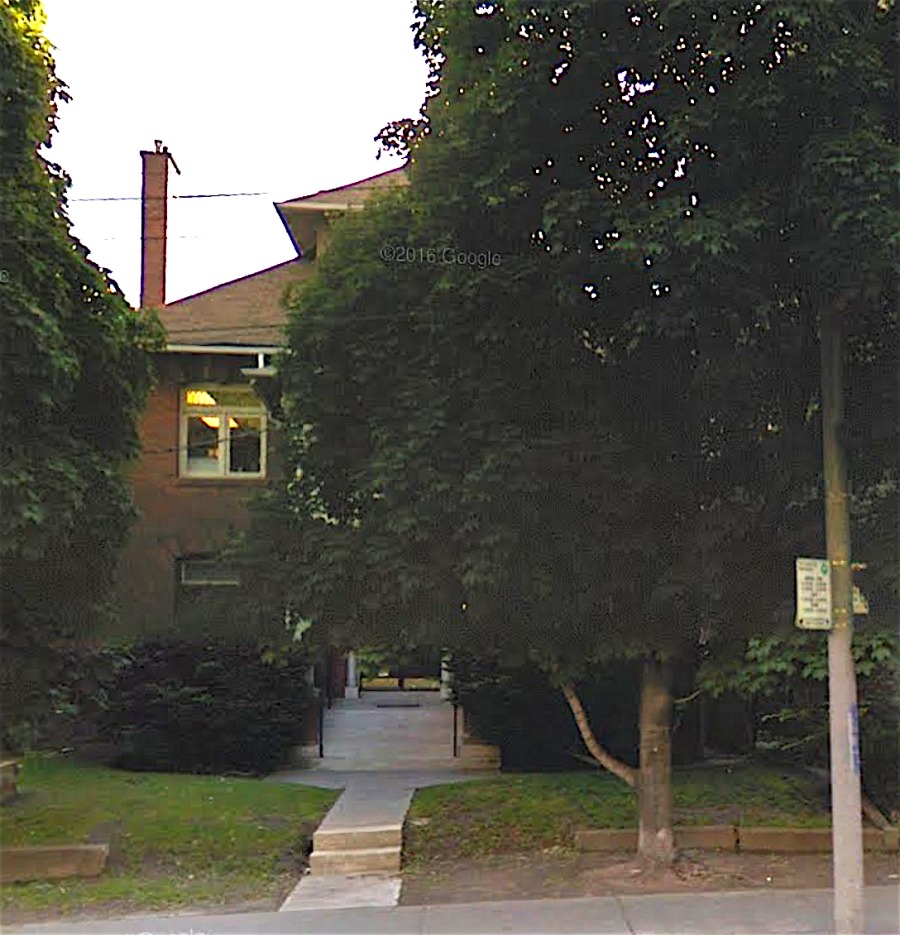 This was a great first job for me, which I got only because I was able to bullshit Phil into believing that I had gobs of that intangible substance which all agencies prize; a sort of a melange of blarney, ambition, creativity and curiosity.
The best things about working at Butler MacKenzie, aside from the MacKenzies, who were all really good people and Bruce Murray, who was the best teacher I ever had, was that I pretty much got to do everything.
I would come up with the idea for an ad, then do a rough layout which Phil would clean up for me. Then go sell it to the client. Then go get the photography and typesetting done, then assemble the ad (by hand, because this was pre-computers), then get the artwork approved, then make the insertion order and send the ad off to the publication. Needless to say you were going all the time.
Butler MacKenzie had three accounts and in all the time I was there, I never saw them go after anything else. Phil had worked at Young & Rubicam for a number of years and I guess he'd just about had enough that world. They had a niche and were very happy in it.
But they knew I was only passing through, so Phil gave me all kinds of advice on how to bullshit my way into a bigger agency, which I eventually did. I probably would have stayed longer at Butler MacKenzie, but they moved to Weston Road and Steeles, which was about as far away from where I lived as you could possibly be and still be in Toronto.
At this point in my life, I had just been married for a couple of years. My wife, Heather was working at CFTO running the music library. We were about 5 years from having kids. But there was no way I was working in the boondocks. So it was time for a change, and it was a whopper.
(See next installment)
What You Need To Know Here

1. People are everything in this business. If you don't all get along, especially in a small agency, it will really make your life miserable.
2. The creative part of advertising is relatively small vis a vis the entire process. And if you take the time to understand the entire process, it makes you a more well rounded creative or marketing person.
3. Working at this tiny agency, for two years was the equivalent of about a decade in a larger agency where all you do is write or art direct or whatever. In fact, I was much busier and probably much more creatively fulfilled working in a small agency than I ever was at a big one. Although there were many other compensating benefits with working in big agencies, quite a few of which don't exist today.
4. I never did find out who the Butler was in Butler MacKenzie. I made queries but nobody was very forthcoming. So I didn't push it.
End of Part 1...More to Come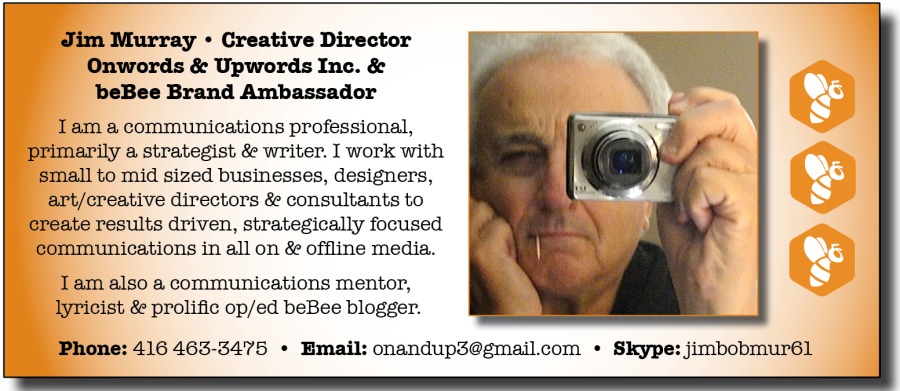 If you want to read more of my stuff, you can do that here:

https://www.bebee.com/publisher/@jim-murray
Download my free ebook, Small Business Communications For The Real World,
:
https://onwordsandupwords.wordpress.com/2013/11/24/small-business-communications-for-the-real-world/

All my profile and contact information can be accessed here:
https://www.bebee.com/producer/@jim-murray/this-post-is-my-about-page


All content copyright 2016 Jim Murray. All rights reserved.