Repost: Two Destructive Words that Scuttle Your Dreams and Goals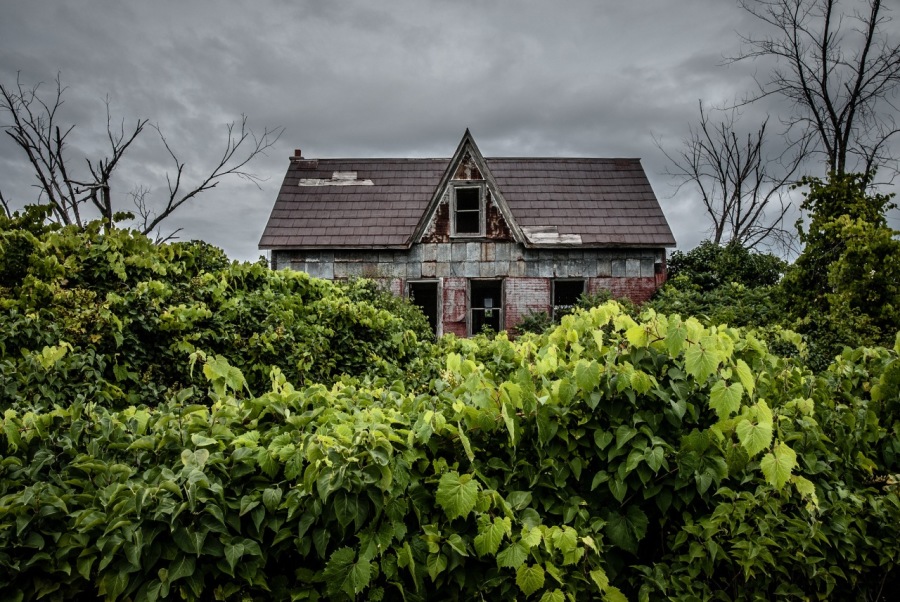 Photo: Abandoned Dream © Kevin Pashuk
Every so often I sit down and take stock of my life.
- What's going well? 
- What's not going well? 
- What do I need to do to fix it?
- How do I get those damn squirrels out of my attic? (Real ones, not metaphorical).
I also take time to dream…
… and wonder.
It is during those times that I have made decisions that have had a huge impact on my life, or my family, or my team.
It's when I set tangible goals… not the kind about what I'm going to eat for dinner, or where to go on vacation, but things that (for me) will make a dent in the universe*.
If you have read my profile, you will notice that I like to take on big challenges – either in a startup organization (start a new med school from scratch), or make a 100-year-old institution the leader in the use of technology (my current role).
I also take these times to look at those things that may be hindering me, or my team from achieving those goals, and set things in motion to overcome them.
Let's call them obstacles, or resistance.
A brief segue…
I read.
A lot.
But there are some books I haven't read, that the mere title was enough to impact me, and caused me to stop and consider the implications.
Years ago, there was a book that was (and still is) a best seller.
Originally published in 1952 (long before I was even a glint in my father's eyes) it is still available on Amazon today (here).
I'm talking about Norman Vincent Peale's The Power of Positive Thinking.
… now, back to my post.
I'm not here to do a review of Mr. Peale's tome – since admittedly I haven't actually read the book.
I do want to talk about the connection between the title of his book and our self-talk which can derail our plans, our goals, and our dreams.
I have found a direct correlation between my words when setting a goal and the ultimate success or achievement of that goal.
This of course is a highly unscientific study based on n=1… but I thought I would share it anyway.
If you want to make a dent in the universe, or perhaps the dynamics in your team (which can feel as big), or repair a broken relationship, you are going to run into resistance.
It's a given.
Like gravity.
You can pretend it isn't there, but you are still impacted by it.
Sometimes this resistance can appear to be overwhelming.
You hear yourself say things like
- "I can't get that person to change their mind."
- "I can't get a promotion"
- "I can't stop snacking before bed – especially when there is cake."
- "I can't forgive that person."
- "I can't find a way through this…"
… and I'll bet you a Canadian nickel that you are right.
"I can't" admits defeat before you even try.
"I can't" is easy to say, since it doesn't require any work, or change on your part.
But if you want to move on, you need to adjust your words.
- "I must find a way to get them to see a different point of view."
- "I will make myself the best candidate for that promotion."
- "I won't snack before bed – even where there is cake."
- "Even though it is difficult, I will find a way to come to a point of forgiveness. I am willing to be willing to forgive."
- "I will find a way through this!"
In my times of deep pondering, when I look back at the goals I've achieved both professionally and personally, I have found that the words "I can't" were never part of my successes.
Sometimes it was someone else who convinced me of the possible.
Most of the times, it was my choice.
It's not about false optimism, but employing a tool to overcome resistance.
Javier Camara Rica of beBee is well known for saying "DREAM BIG!".
It's a most effective tool against the curse of the "I can't".
What do you do to overcome resistance and move forward?
You may be interested in these jobs
---

Campus Support

Calgary, AB, Canada

Position Job Title: Regional Marketing Coordinator · Location: Campus Support Head Office, Calgary AB · Report To: Manager, Marketing Communications · Pay: Starting $20/hr · Other Pay: Paid Cellph ...

---

Whitefli

Vancouver, BC, Canada

Sagittis congue augue egestas integer velna purus purus magna nec suscipit and egestas magna aliquam ipsum vitae purus justo lacus ligula ipsum primis cubilia donec undo augue luctus vitae egestas a m ...

---

Keurig Dr Pepper Canada

Montréal, Canada

Job Overview · **Poste occasionnel sur appel · **Doit être disponible pour travailler les quarts suivant : · - Du lundi au jeudi de 17h00 à 3h00 · - Du vendredi au dimanche de 18h30 à 6h30 Responsabi ...