1 year ago · 2 min. reading time · visibility 0 ·
Review: Charles Souby's, A View From The Borderline
One of the takeaways I experienced from reading Charles Souby's, A View From The Borderline, is they are deceivingly complex and compelling. These slickly crafted eclectic mix are stories that will appeal to just about anybody and are perfect for filling idle moments in a doctor's waiting room, a barber chair, or perhaps while riding on a bus.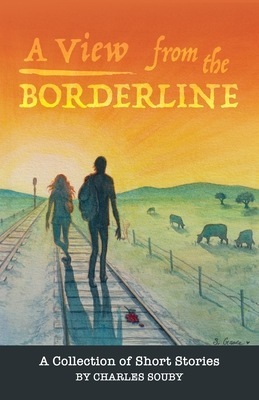 Nearly every story is a world in itself that is easily held entirely in our minds as Souby, without waffling, engrosses us, managing to say more with less. It is easy to consider these stories as a whole and complete, each according to its specific message and depiction. Throughout, Souby's style is polished and assured as the yarns swivel unexpectedly into the last page climax. 
Souby is no stranger to the short story, and his work has appeared in The Saturday Evening Post Online, Story Teller Magazine, and Opening Line. His stories are steeped in some very oddball characters whom he aptly describes in an interview as "believable with exaggerated defects that reflect and illuminate desperation in this world." 
In The Gurgling Coup, Davenport, a recently retired investment advisor is someone who profoundly detests his downstairs neighbor, Mrs. Goldberg, who feeds the pigeons in the park across from their apartment. 
Every day she would fill up a plastic bag with bread crumbs that she picked up in an alley behind an Italian restaurant in town. The owner knew about her favorite hobby, and he would leave every night a healthy stash behind the dumpster. Davenport was a stickler when it came to obeying local ordinances, which prohibits the feeding of birds in the park. He was so obsessed with putting a stop to Mrs. Goldberg's pastime that he cooked up a scheme where the pigeons would be fed Alka-Seltzer, which he would purchase cases from a local pharmacy. When Alka-Seltzer enters a pigeon's gut, this causes food to expand like a balloon full of helium until the bird explodes into a confetti blast of feathers and intestines. Indeed, not a pleasant sight! What happens with his plan, I will leave this up to you to read the story.
Imagine you are the owner of a dry-cleaning establishment, and you are accused by one of your customer's in stealing a pair of her husband's Scottish plaid golf pants. Unfortunately, this is the accusation that Mr. Duffy is subjected to in The Plaid Golf Pants. Mr. Duffy claims he never received the pants from Mrs. Rosewood. To make matters more interesting, Margaret, the young daughter of Mrs. Rosewood, manages to creep into Mr. Duffy's truck where she grabs a pile of clothing. Subsequently, Mrs. Rosewood appears in her second-story window holding up a can of lighter fluid and a barbecue torch, threatening to burn all the items that were whisked away by her daughter. Duffy reports all of these happenings to Inspector Roland McDermott, who is the town's lone hostage negotiator and whose task is to retrieve the clothes as if it was an actual hostage situation. McDermott is less than thrilled and wasn't too shy to express his feelings to his superior. Does he succeed or fail?
Souby is to be particularly commended for his ability to strip away the outer layers of life and to reveal that under the right circumstances, ordinary people can be tempted to display some questionable and irrational behavior. Even though you may consider many of the tales outlandish, nonetheless, you still have to admit that they are by turns somewhat moving, intriguing and provocative. And some even bring out humor coupled with a dose of absurdness. 
Follow Here To Read Norm's Interview With Charles Souby
You have no groups that fit your search