Review: Shelly Frome's Miranda and the D-Day Caper
In Miranda and the D-Day Caper Shelly Frome offers an off-beat, comical thriller set in a small town in the Blue Ridge Mountains of North Carolina.
Frome cleverly brings his setting to life with a quirky atmosphere where his protagonist, Miranda Davis, a real estate agent and recent amateur sleuth, encounters an eccentric type of culture which is so vivid that the yarn could not have been set in any other location and still have the same characters and plot.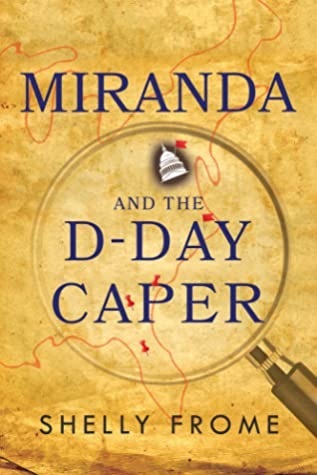 The narrative is jump started when Miranda meets up with her long-lost cousin, Skip. Skip is hightailing it from New York City, and out of the blue shows up on Miranda's door step seeking her skill and support. Before his arrival he had emailed Miranda a succinct note about an article he read in USA Today describing how she had figured out a cold case regarding her client who was an "unhinged looney." With her talent as a sleuth, he believes that she will without hesitation help him out of a precarious predicament he now finds himself in.
Skip informs Miranda that he was brought in as a temporary fill in host for an old school buddy, Chris Holden at a radio station in New York City as a late night-time host.
One night, to gain notoriety and strengthen his radio ratings, he sticks his neck out and wings it. His audience is made privy to his purported discovery of a right-wing conspiracy that will have overwhelming effects on their democracy. And this is not all. He ridicules a prominent ultra right-wing radio broadcaster with an extensive following, who often blabbers on his radio program about all kinds of end of the world schemes.
To add some more food to his story, Skip reveals to Miranda that he may have inadvertently stumbled across documents in the station manager's office concerning some kind of plot using WWII codes. Apparently, Skip's discoveries and his mockery of the right-ring radio announcer must have ruffled a few feathers. Shortly after his daring broadcasting shenanigans, Skip receives sinister messages from some of his listeners.
Adding another layer to Skip's eerie predicament, the broadcasting company that hired Skip drops off an envelope at his home, demanding that he sign a non-disclosure agreement within one hour. He is not overly alarmed and flings it into a nearby trash can. Shortly after, there is a shattering of glass emerging from a high-powered pellet gun aimed at Skip's window. This was more than enough to persuade Skip to skedaddle. Without wavering, he packs up, snatches his cat Duffy and heads towards Miranda's home with little or no sleep.
While on his way, he stops off at the Black Mountain Motel. It is here where some "dude" on a motorcycle slips into his room, grabs Duffy, slices his collar, tosses aside his white ribbon leash, and takes off. And if that wasn't enough, Skip is also assaulted and suffers a nasty head wound when he shows up at his ultimate destination.
There is never a dull moment in the story as Frome takes his readers on a rollicking wild ride filled with off-the-wall situations. He has crafted a potent blend of suspense and humor where conspiracy theories, events and figures resembling the real-world are meshed together, creating a complex plot that is sure to upset our sense of reality.

Although we might convince ourselves that we are knowledgeable, part of us nonetheless wonders if what we are reading is indeed fictional. I had to ask myself if Frome based some of his nefarious characters on familiar television personalities, politicians and events? I bet he must have had great fun as he chuckled aloud writing the story.

Incidentally, this is the first time I came across a work of fiction where a cat plays a role in the plot!
Follow Here To Read Norm's Interview With Shelly Frome

You may be interested in these jobs
Found in: Talent CA± - 4 days ago

---

Silver Creek Travel Centre

Hope, Canada

Education: · No degree, certificate or diploma Experience: Will train Tasks Operate cash register Scan items Tabulate total payment for goods or services required Receive payment for goods or services Calculate daily/shift payments received and reconcile with total sales Stock sh ...

Found in: Talent CA - 1 day ago

---

CPP Investment Board

Toronto, Canada

Full time

Description du poste · Nous sommes à la recherche d'un adjoint qui se joindra à l'équipe des placements dans les produits et services industriels du groupe Actions à gestion active, Amérique du Nord. · Le groupe Actions à gestion active, Amérique du Nord du service Actions à ge ...

Found in: Talent CA± - 4 days ago

---

Pizza West Holdings Limited Partnership

Edson, Canada

Employer Pizza West Holdings Limited Partnership Languages English Education No degree, certificate or diploma Work setting Food service establishment On-site customer service Relocation costs covered by employer Restaurant Tasks Establish methods to meet work schedules Supervise ...