Blogging
>
Norm blog
>
Review: Gavin Larsen's Being a Ballerina: The Power and Perfection of a Dancing Life
Review: Gavin Larsen's Being a Ballerina: The Power and Perfection of a Dancing Life
Author: Gavin Larsen
Publisher: University Press of Florida
ISBN: 978-0-8130-6689-9
Suggesting that the life of a professional ballet dancer requires extraordinary devotion, years of study, endurance, and exceptional coordination would be a vast understatement, particularly after reading Gavin Larsen's memoir, Being a Ballerina: The Power and Perfection of a Dancing Life.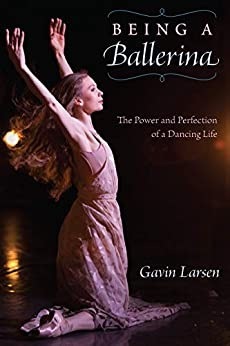 At the tender age of eight, Larsen begins her studies and performs as a professional for eighteen years until 2010, when she retires. Her career included performing the Pacific Northwest Ballet, the Oregon Ballet Theatre, the Suzanne Farrell Ballet, and the Alberta Ballet and guest artist with Ballet Victoria.
In her memoir, Larsen offers thoughtful perspectives, recollections and heart-pounding adventures that are fleshed out with colourful descriptions as she candidly exposes many highs and lows of her career in a competitive ballet environment.
Her dancing experiences are masterfully chronicled, beginning from her first day as a young child attending the New York School of Ballet. As described, she drifts into class, not knowing where to go and what to do, telling herself to slip in unnoticed, blend in with the bunch of kids already there, and make it as if you know where you belong. Pretending, as Larsen mentions, soon become everything, and so it began.
Larsen states it is a life that started without a beginning but with a mandate to pretend that there had been one. Her life now includes following a daily routine religiously, "knowing that the point of the daily routine is to bring your instrument out of its case and pluck a few strings before the fine-tuning can begin."
Her next challenge finds an eleven-year-old auditioning for the School of American Ballet before an audience of Russian older women who were to decide her fate. She describes her experience as intimidating, and engraved in her mind was an impression of the old-guard, traditional Russian ballet master as all-knowing and strict. Even though she did not know how to perform a proper brisé, the school nonetheless accepts her.
A few weeks later, Larsen performs in George Balanchine's The Nutcracker as a boy Polichinelle in act two and a baby mouse in act one. You can fully imagine how eager an eleven-year-old would feel being chosen as Polichinelle!
After several years of study at the School of American Ballet, Larsen lands a spot as a professional ballet dancer with the Pacific Northwest Ballet (PNB). Seven years later, realizing that she is not advancing in her career and underappreciated, she quits her stable union job. 
An opportunity presents itself with a local Canadian company, the Alberta Ballet in Calgary. She accepts and remains with the company for a brief time when some of her mentors left for greener pastures. Her next undertaking is with the Suzanne Farrell Ballet, which was not a full-time organization; it was a pickup group set up with a rotating roster of dancers. Her last stop is with the Oregon Ballet Theatre, where she retired in 2010.
What stands out about this intimate, fascinating biography is that it isn't the typical one where the author bores you with countless pages of detailed useless details of stories and performances. Instead, it is an expository glimpse at what it takes to develop into a professional ballet dancer and the many hazards, backbiting, and tears experienced along the way, endeavouring to achieve success. 
Revealing a life can be risky, and quite often, writers are evasive in telling the whole truth about themselves. They leave the reader hungry for more. Such is not the case with Being a Ballerina, where Larsen is unafraid to focus on what was personal and first hand.
She has "been there and done that." As a result, she provides her readers with incredible intelligence and enhanced perception, a vivid picture of a ballerina who is eager to sacrifice personal time and recreational fun for practice to refine technique. Where tripping, tumbling, and unbearable pain because of injuries are all part of the game, which Larsen was not exempt. And, as Larsen states and perhaps succinctly sums it up: "The things our bodies are capable of are astounding, and virtually nobody comes close to tapping into that potential. As a race, we are more focused on pushing the limits of our brains, and as a result, our bodies get treated as suitcases for our mental capacity."
Follow Here To Read Norm's Interview with Gavin Larsen
Follow Here To Watch A Video of Gavin Larsen

You may be interested in these jobs
Found in: Jooble CA - 4 days ago

---

Banque Nationale du Canada

Montréal, QC, Canada

Une carrière aux Marchés financiers à la Banque Nationale, c'est participer à une transformation qui a une incidence directe sur les clients. En tant que coordonnateur, tu fourniras un soutien administratif aux équipes Revenu fixe, Devises et Matières Premières de la salle des ma ...

Found in: Jooble CA - 4 days ago

---

Lex Metal Fabricators Ltd.

Mississauga, ON, Canada

Full time

Company: Lex Metal Fabricators Ltd. Business information: Lex Metal is a full-service custom metal fabricator. We specialize in the fabrication and installation of miscellaneous metals, structural steel, AESS and joist reinforcement. We design, fabricate and install structural a ...

Found in: Talent CA± - 3 days ago

---

KAL INSPECTION & TRUCK REPAIR LTD

Surrey, Canada

Education: · No degree, certificate or diploma Experience: 2 years to less than 3 years Tasks Read and interpret engineering drawings, blueprints, charts and tables Set up and adjust production machineries/tools Fit and assemble components and machine parts to close tolerance Mai ...