4 years ago · 2 min. reading time · visibility 0 ·
Review: The Book of Angels: Twin Flames Rising
Author: Maya El
ISBN: 9781976293573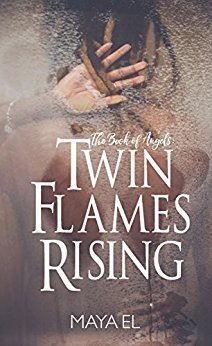 If you are into "chick lit" and quick easy reads, you are going to enjoy Maya El's debut short fiction, The Book of Angels: Twin Flames Rising, which is a perfect beach read or on a plane.
The yarn follows Nathalie Parker, wife of Pastor Carson Parker as she deals with an abusive husband who is also possessed with hidden demons. Set in Chicago, Carson is the head of the largest black church and where he is much respected. From the outside, everything looks orderly between Nathalie and Carson, but do we really know what goes on in someone else's backyard?
In addition to the denigrating relationship between the couple, Maya El offers her readers several other themes to ponder over such as living under curfew laws, where we become aware of a curfew in the inner city between the hours of 6 P.M and 6 A.M. The only way to be granted an exception was to have a city job requiring you to work inside of curfew hours, but even then, all businesses were closed. In the event you were outside or driving during curfew hours, this would mean risking being arrested. Checkpoints were set up that were the vehicular equivalent of stop and frisk and have led to all kinds of police abuse and brutality. Law suits filed by the ACLU against the curfew had done little to deter them.
Other themes involve a racially charged environment where profiling, racism, police brutality and cover ups are rampant. This is the stuff of society's worse nightmare which unfortunately is not fiction but reality where tensions arise from multiple sources leading to tragedy. Not to be left out are some earthy sex scenes and some good old fashion romance that will be sure to satisfy lovers of the erotica genre.
Nathalie and her friend Tameka are dance instructors and they operate a studio, owned by Carson. Apparently, Nathalie was introduced to Carson by her parents who had arranged for her to sit next to him at a formal dinner party to celebrate his signing on as senior pastor of the church. It does not take the reader too long to figure out from the opening chapter that something is not exactly copasetic between Nathalie and Carson, particularly when she hides the truth from her father concerning her offensive and narcissistic husband who manipulates people to get what he wants, including sex. And according to Nathalie, she doubts if he really cares one bit about the people in the church or the community.
Maya El imparts a distinctive voice to Nathalie leading readers to embrace compassionate feeling towards her and an understanding of the dilemma and ambiguity she faces concerning her husband. On the one hand she appears to have it all with economic comfort and a powerful and respected husband. Yet, on the other hand, she can't continue to live a life of abuse.
What also stands out is Maya El's emotions that run hot particularly her evocations of the African-American horrendous experiences at the hands of law enforcement agencies. And above all, be prepared for quite a surprise ending.

FOLLOW HERE TO READ NORM'S INTERVIEW WITH MAYA EL
"