5 years ago · 3 min. reading time · visibility ~10 ·
The Story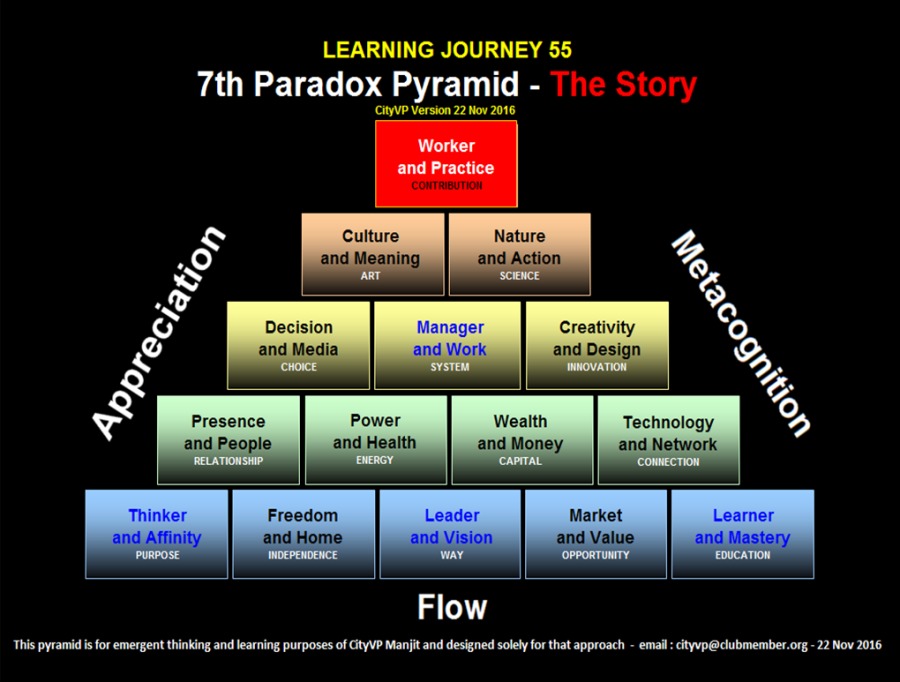 I am not going to say why this buzz is important to me but it is an acknowledgement of those who make a difference in a person's life and in this case the original appreciation buzz is here:
Buzz Submitted by : Aurorasa Sima


Authenticity happens in the moment and it represents who a person is and not what a person claims to be

In a New York minute a context can change simply because something larger comes into our field of view and then what we read changes in that minute.  We study the new information and if the new information provides us greater insight, it adds to new layers of appreciation that bring to life that which we call authenticity and in addition that which we call truth.
My initials are MSB, the greatness that flowed into Aurorasa Sima's life is MTB.  Aurorasa would acknowledge here the same sense that I have that coincidences due have a supernal quality to them, and when trust and authenticity are living things, that is what forms the greatest relationship glue, the coming together of lives as if an invisible hand is creating that flow.
The reality of this invisible hand however is fully visible to me in the expressions and truth of Aurorasa.  We simply don't have that many people in the world who remain unfiltered in their communications and when they do arise, they are rare people.  It is then not surprising that some unions have a natural flow to them and the blessing in these unions are a two-way one.
For me the words mentor and mentee are HR words, and they don't begin to describe that rare beautiful form of life called a genuine relationship.  It pleases me to see such relationships come into being because they are not born of necessity but absolute respect and loyalty.  Respect is still common but loyalty is a declining value, one which members of society assume as being a euphemism for distrust.  Where loyalty and trust and common atomic bonds, there my appreciation for the subsequent relationships makes me feel very good to see this.
In the course of being in the procurement profession in my formative years, I have had the pleasure to recognize the best sales professionals and that in turn has informed me regarding higher purpose found in sales.   The difference in my worldview is that I focused on the top 20%.  It is only in recent years that my perspective about grassroot realities have been changed by grassroot actions.  More importantly I know when I have seen higher order thinking (MTB).
In this regard I honour this arrival, because difference makers are not a dime a dozen and now when I read Aurorasa's buzz, I see a whole new world, one which I am glad has become the most prominent part of her growth and developing being.  The word family is not to be used lightly and where the bonds are solid - there the word family evolves and in this case family is not a blood relationship, it is a heart relationship.
When Daniel Anupol, our VP of Membership in my Toastmasters Club declared "We are Family", his expression is revealed in actions and not simply as words with a sell-by-date.  So it is I see consequently in the relationship that has been revealed to me now - and in this case I cannot call this relationship a mentor-mentee one - but a father-daughter one.  It is in the heart where this relationship evolves.  We may talk of leaving a legacy, but in this moment, in this particular hour what I value is the living reality - one which one of my late colleagues referred to as the "breath of life" or as he put it "ruach".
I do not get to see this ruach emerge in professional relationships because profession is merely what we profess - but in the personal that is professed, that is where authenticity emits itself and truth flows into the river of life .  Such is that form of touch that I consider this a gift of the most beautiful kind - a gift that keeps on giving and that is the true basis of a better world.  It is a rare human being who views a relationship as a relationship and not something that is some convenience, or some stepping stone or even a lucky break.  When it is a coming together of what is right, what is true and what is beautiful - then I take a step back and my eyes observe this relationship as 100% appreciation - a two way appreciation of that which I call life.
This then is the story of truth and authenticity as living realities, so long as both shall be real, and in this powerful reality, this particular story is as real as real can ever be and I in turn dedicate this paradox wisdom to the continuity and future success and best wishes in this emerging story - the best kind of story there is which is the continuously improving of being.

"
You have no groups that fit your search