1 year ago · 3 min. reading time · visibility ~10 ·
Winning When You Had No Right To Win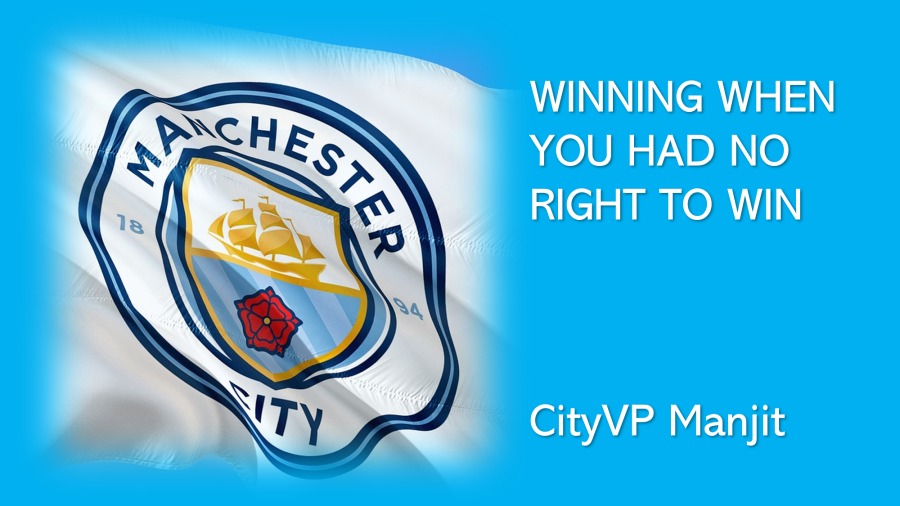 Two times Spurs played Manchester City this season and two times Manchester City outplayed and outshot Tottenham but how did Manchester City then end up gaining only 1 point out of a possible 6? 

It is mystifying that how a team that was a monster last year pipping Liverpool to the League Title is showing open wounds of lacking confidence.  Who would have thought that Sergio Aguero would turn down taking a penalty and then hand off to another Manchester City, who showed even a greater lack of confidence with a weak shot that Lloris saved.

Who would have thought that a team that has consistently been clinical like Manchester City would miss near open goals with rushed shots.  It is understandable that there is the belief that Liverpool is uncatchable, with Liverpool needing only 7 wins from their final 13 games to claim the title (unless City cough up more points like they did today). 

There is a school of thought that this kind of win is a feature of Mourinho football, but the amount of luck Spurs had today to get them across the line is quite remarkable.  Even when City were finishing so poorly, Spurs nearly gave up points with a couple of horrible slices in the defense that saw Lloris make a difficult save from one of his players and then watched him be beat by another weird knock back that flew over Lloris only to thud against the crossbar. 

With those kind of huge defensive mistakes not being punished and Manchester City not scoring despite having 14 chances before Spurs scored on their first chance.  But then what a debut goal it was for the new £27 million pound buy from PSV Eindhoven.  PSV were not happy that Steven Bergwijn forced through the transfer.  With the prior acquisition of Lo Celso and Ndombele,  Bergwijn looks like another astute buy, but this time under the auspices of Jose Mourinho.

In order for Spurs to get into the top four, it will require more than counting on opposition to have really off days or Chelsea to stutter.  It also requires victories against Sheffield United and Wolves who are just as likely to grab the key final Champions League spot as are Manchester United.  Even 9th place Everton if they hit a hot streak are capable of achieving a 4th place finish.  So Spurs are just as likely can finish 9th as they can 4th.  Victories against up and coming games against Wolves and Sheffield United may end up being more difficult than their encounter today with Manchester City.
Maybe Mourinho's method of players behind the ball helped to make Manchester City rush things, but they cannot count those other 4th Place contenders to rush things - they will be clinical even with trying to play a safer game.  If anything the Spurs attack has just improved with the new Dutch winger in the line up, even without an injured Harry Kane.  Yet will Mourinho trust his forward line enough to let them attack.  Today we saw more signs that Mourinho is moving slowly to the kind of tactics that Spurs fans fear. 

Yet Spurs fans cannot have it both ways.  If these tactics lead to landing a major trophy, Spurs fans should ask themselves whether Manchester City deserved to lose today.  They cheered the victory wildly even though it was being done the Mourinho way, rather than the pressing and exciting Pochettino way.  What is more worrying for Manchester City was the look of resignation on Pep Guardiolo's face, he looked depressed and down in the dumps slumped in his chair.  The good news for him is that he has a game against West Ham next weekend to get his troops back into winning ways.
What City will be hoping for, which is what happened to Liverpool is that they win the Champions League, thus alleviating the pain of failing this year in the league.  Pep did not take his loss lightly today.  As reporters waited for interviews, they found the Manchester City team locked behind closed doors, no doubt getting a grilling from their red hot Spanish fury of a boss.  Like Mourinho, Pep does not like to lose. It will be interesting to see what happens to Tottenham players the day they get the locked door treatment. 

The difference between winners and wannabees is how they digest the bosses anger.  Manchester United simply rejected that anger when it came from the meltdowns of Mourinho and so he lost that dressing room.  Manchester City players will take the heavy criticism and Pep reading the riot act to them because they know Pep is a winner.  Yet Pep is also a realist and his anger is more geared to knowing that Liverpool now is so far ahead of his team, that the current 22 point gap, the largest in Premier League history is one that he cannot simply close with more incoming new players.  So it is that Pep spent just as much energy directing his anger at League officials, as he must have done due that locked door.
No matter how fortunate Spurs were today, the real test of their 4th place credentials will be how effective they are against lower level teams like Aston Villa.  How well they match up with Liepzig in the Champions League and then how they deal with Chelsea in a huge six pointer matchup on 22nd February.   Maybe this team with its winter acquisitions are now better placed to try to make it to 4th place, but it is against the teams they should be beating that will give us the answer that they can.

"
You have no groups that fit your search