The Trouble With God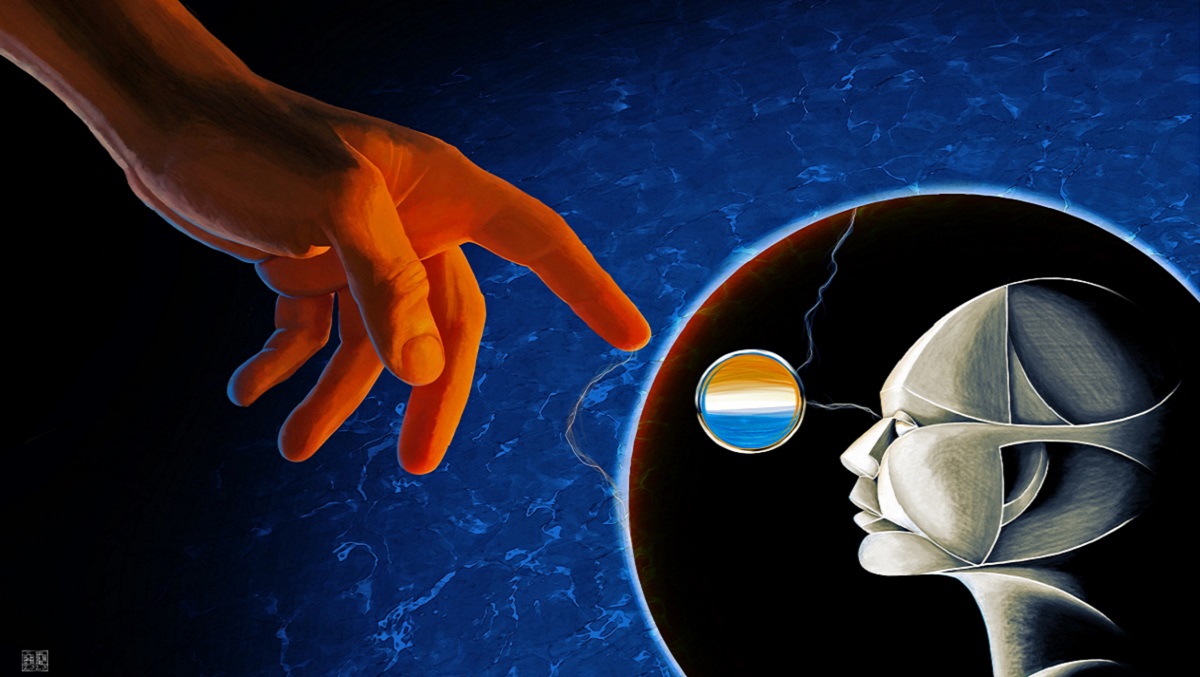 The trouble with God is that he is a great manager. He creates all kinds of things and leaves them to fend for themselves, confident that his creations will grow and thrive and evolve and that it will all will be good for everyone and everything that is part of his creation.
And that worked really well right up until he created the earth. He put it just the right distance from the sun, so that it would grow forests and provide light and warmth. He created rainfall to fill the oceans, lakes and rivers. He decided that the earth should spin at 1000 miles per hour so that there would be sunshine somewhere all the time. Then he created all the animals, and one special one that would be the custodian of the earth. That was man. He gave men the kind of brain that would help them figure out how to use the gifts of the earth they were given. And then, satisfied with a job well done, he left.
And now, a mere several hundred thousand years later, we have failed. We have failed to protect this planet and all the creatures on it. We fight endless wars to conquer each other for power and gold. We build great machines and suck resources out of the earth with no regard for the environmental impact this would have. We breed like rabbits to ensure an ongoing market for all the crap we create. And we fill the sky with black smoke that is choking us all. We cut down the forests that keep the pollution we make under control. We keep taking and taking, and we will until there is nothing left to take.
I really believe that we have veered off the road of whatever God's plan may have been for the world. Because the trouble with God is that he evidently failed to recognize that entities that can think for themselves will eventually spawn aberrations that will think only about themselves and that they would eventually become the cause for all that is wrong with the world. Or maybe he did know that and hoped that we would all simply learn to deal with it, and that the forces of good would triumph over the forces of evil.
It was a bit of a crapshoot. But evidently God was willing to take the risk.
And if God ever came back to check on how we're doing, I would not be surprised at all if he didn't just blow it all up and write it all of as an abysmal failure. You win some and you lose some.
There are many religious people who think that God will send a saviour and that saviour will help right all the wrongs and heal the planet that man has broken.
I often wonder about just how this saviour would be received in a world that is divided and in conflict with itself on so many levels. I'm really not sure that this saviour would be able to save much of anything.
So it all comes right back around to us. We need to take a breath and really start to understand why we are here spinning on a ball at 1000 miles per hour. Capable of so much good, but having to deal with so much bad.
We need to change the way we think about life, and about each other and realize that God created this beautiful place to be garden and not a battleground.

You may be interested in these jobs
---

Connect Hearing

Toronto, Canada

Full time

Toronto, Canada · Customer Care Representative · You comfortable in a fast-paced retail clinic environment? Are you looking for an opportunity to make a difference? · Are you passionate about providing customer service that exceeds expectations? · If so, we think you belong her ...

Found in: Jooble CA S2 - 4 days ago

---

Meeks renovations

Ontario, Canada

Description · Hello, I have 10 years experience in renovations and am excited to start your project · Experienced in-Bathroom renovation · Drywall · Mudding · Tapping · Painting · Finishing · Framing · Ceramic tile · Subway tile · Call me for a free quote · 819 432 4592 · Based ...

Found in: Appcast CA C2 A - 1 day ago

---

Ministère des Transports et de la Mobilité durable du Québec (MTMD)

Lanaudière-Nord (Saint-Esprit), Canada

Renseignements généraux · Vous avez envie d'action ? De travailler au sein d'une équipe dynamique ? De participer à l'amélioration de la qualité de vie des Québécoises et des Québécois ? Saisissez cette occasion de mettre de l'avant votre implication et votre créativité afin de f ...