4 years ago · 6 min. reading time · visibility ~10 ·
"The Truffle Incident"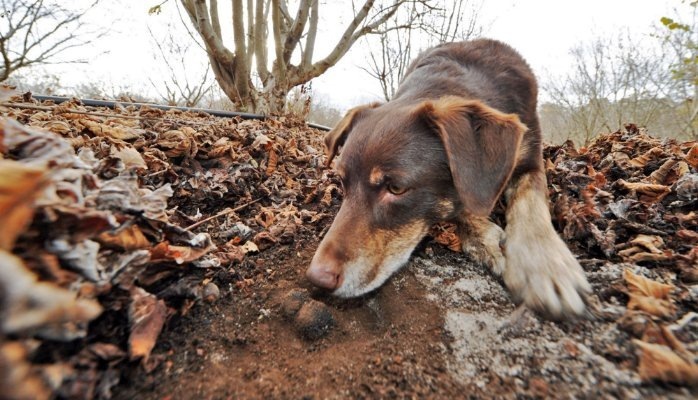 It's 1985; I'm living in Toronto, a culinary and cosmopolitan metropolis. I'm a cook, (Chef de Partie position), at a fine dining French restaurant and I'm enjoying it, Cooking great food and constantly learning on a daily basis.
   The restaurant community, in particular the culinary community, as with any profession, has a social network; you know people and they know people and so on. (Yes believe it or not we had "networking" before there was the internet, beBee, LinkedIn, FB, etc. LOL). One of my friends was a cook at another French restaurant and we would get together for a beer after work occasionally. On this particular night I was finished before him so I walked over to his restaurant to wait for him..
   I was at the bar of the restaurant, with my first pint of "wobbly pop" in front of me, when Chef Andre approached me. This was quite out of character for him as although he knew me and that I was a friend of one of his cooks he was always quite standoffish, not very sociable, and he rarely even acknowledged me but on this night he came up to me and said, in his heavy French accent, "Good Evening Randy, how are you?" I shook his hand and told him I was fine. I noticed a little nervous energy bubbling out of him, not normal for him as he was usually very reserved. He looked me in the eye and asked me, "Have you ever had truffles before?" To which I responded yes, although my experience had been limited to canned truffles, whole and peelings, but I didn't tell him that.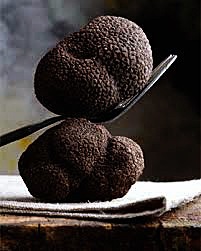 Well being the typical Chef that Andre was he knew, and he asked me again, already knowing how I would reply, "Yes of course, but have you ever had fresh truffles?" I looked him in the eye and had to respond, "No", which brought a huge smile to his face.
   What is it with these Chefs? How do they know everything? (I know that ALL of you out there know exactly what I'm talking about). Yes of course he knew I'd never had fresh truffles before, was it stamped on my forehead?
Andre explained that he had just received some fresh truffles, black ones from Italy and would I like to try some. His excitement was contagious as was his sincerity in sharing some with me. I saw a side of Andre I'd never seen, I saw a Mentor coming out of him and he wanted to share something with me. I was very thankful and said yes, of course, I would love to try some.
For those of you familiar with truffles you know that there's nothing like them in the world. Having only been exposed to the canned product I was in no way prepared for what was about to happen, it would not only change my outlook on truffles but my perspectives on "fresh product" and my attitude towards cooking and food in so many ways.
   Andre instructed the bartender to set my beer aside, for later. He ordered me a glass of ice wine and told me to wait a moment until he returned.
   A few minutes later Andre returned, very giddy like a schoolboy, his mood was contagious as was the anticipation starting to build in me. He set in front of me a black bowl with a couple of quenelles of fresh, house made, French Vanilla Ice Cream. You can always tell the quality of a "French Vanilla" ice cream by the vanilla seeds present throughout the cream, pure white perfectly formed quenelles, like two eggs, and the black bowl background highlighting the minute black specks of vanilla seeds generously spread throughout. My mouth was already watering but a smell reaches my nose that I've never smelled nor will I ever forget; a pungent, aromatic, earthy perfume that I can't describe is invading my head. Chef Andre has a small basket in his hand with numerous large black "nodes" in it. He sets the basket on the bar and picks one up, about twice the size of a disfigured golf ball, absolutely pitch black. (I hate to say it but it was very reminiscent of reading about Don Juan and Carlos Castaneda picking Peyote buttons, the same excitement was building inside of me).Chef Andre produced a truffle slicer in his other hand; it's a small mandolin with a very sharp "fluted" blade, and proceeded to slice paper thin slices of fresh truffle, his arm's a blur as he's rapidly moving the truffle back and forth over the blade, the paper thin slices rapidly piling up over my ice cream. With every slice the smell is getting more pungent, he watches me with satisfaction as my eyes roll back; overwhelmed from the smell. My senses are in overload, I have never experienced a sensory perception like I'm feeling at the moment. My intellect is speechless but other aspects of me are waking up, savoring what my nose is bringing in, anticipating what my mouth is about to bring in. My body is excited.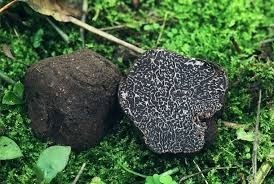 After a very generous stack of delicate shavings are laid on the ice cream Chef Andre stepped back, I tentatively picked up the silver spoon next to me and slowly lifted the first slice. The cross section of center cut truffle revealed an intricate design of light and dark veins throughout, ranging from pitch black to dark gray with lighter speckles throughout, an intricate pattern that was mesmerizing, that you could lose yourself in. it was fresh, moist and still looked alive. I slipped it in my mouth and my body reeled at the impact the flavor had on me. I am not being dramatic here; this was one of the most incredible things I've ever tasted. It's not only the taste that's difficult to describe but the whole effect on my body, the way it reacted was unimaginable. I could see the satisfaction on Andre's face as my smile widened. I continued the next bite with 3 slivers of the "Black Gold", (They are expensive), and a half spoon of ice cream. Just when I thought it couldn't get any better the smooth cream with the deep vanilla just set my mouth screaming. Believe it or not the flavors harmonized with each other perfectly. It was just that everything was
so fresh!
Truffles are usually used for more savory dishes; they can be used with fish, game, poultry, pastas, pates and terrines. Personally I enjoy sautéed sweetbreads with a truffle sauce, so having them fresh with Ice Cream was an unexpected delight. Andre reminded me of my ice wine sitting on the bar, and then walked away so I could enjoy the rest in peace. He was happy; he could see the instant change in me and knew that he had influenced me, "mentored" me; he had converted another culinarian, even in some small way.
The Ice Wine just added another dimension to the whole experience, I savored it for as long as I could but it was gone before I realized it. I sat content, looking at the empty bowl and glass. My mind was empty, my intellect gone, my body enjoying the moment for what it was, I almost felt "high"; actually I did feel "high". It was an incredible, revelating experience for my body and other nebulous aspects of my being, bypassing my intellect completely.
My friend finished work and joined me, we then proceeded down the street to a local "hole in the wall" that we frequented to enjoy our after work libation. Contrary to my usual gregarious self I was quiet, I didn't have much to say. I was in a great mood but my intellect had been turned off, or at least toned down. I was still savoring, enjoying, and digesting the interaction that I'd just experienced. My body and other senses were awake and didn't want to let go. I was hanging on to the blissful feelings for as long as I could, reveling in my unique state of being, enjoying every moment as it happened.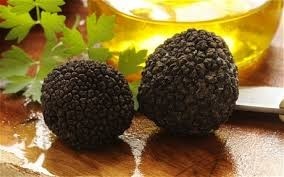 Although Andre was not really a Mentor of mine I had to share this story as it is an experience where I learned something profound and I'm ever grateful to Andre for being the catalyst in this lesson. Andre set up a situation, introduced me to something and then the universe took over and communicated to me directly. That incident changed my perspective in many ways, it taught me about subtlety and freshness. It opened my eyes to more possibilities that I didn't know existed; And it fuelled my love for truffles.

   I believe that this was not a conscious action on Andre's part; the "spirit", "Karma", "higher powers", (whatever you want to call it), guided him and he just went along for the ride, he followed his instinct. The actual intellectual discourse between us was short and casual but his actions and presentation were directed at my senses, the whole interaction took place on an unconscious level and although it was brief it was very profound.
   The point is that even our most casual interactions, our shortest conversations can have a lot of meaning and contain a lot of knowledge. There is knowledge to be had out there, everywhere and every day. Sometimes it is structured, long term, as in working in a kitchen, or anywhere else for that matter, for years, and sometimes it's a fleeting moment where the powers of the universe and karma align and hit us like a lightning strike, and it's not just our intellects, our minds learning, it is other aspects of our beings learning about the world around us. I'm sure that everyone has felt this at some point in their lives.
   I talk a lot about Mentoring, it is a very important aspect, a necessity in our industry, especially in the kitchen, as it is in life and while the majority of the time it is a long term situation/relationship there are the rare occasions when it is a "lightning strike". Such was the occasion here and I can still feel the impact of this fateful interaction; I will carry it with me for the rest of my life.
   I talk a lot about my experiences and my Mentors from the past in the hopes that I can pass on some of the lessons and knowledge that I've been so lucky to have received to someone else out there traversing their "path to knowledge". That's good Karma.
   Happy Cooking Everyone!
   P.S. The great photo at the beginning of this article is from "The Truffle & Wine Co." in Manjimup, Western Australia. It is a truffle farm, vineyard and winery. They hold "Truffle Hunts" there with highly trained and very friendly dogs. I think I know where I'm going for my next vacation/adventure. (photo credit; James Morgan)(www.truffleandwine.com.au )
    (LMAO!!, I just had a visual of Elmer Fudd sneaking through the forest, carrying his cartoon shotgun, whispering, "Shhhhhhh...be vewy, vewy quiet,... we's hunting twuffles...)
""""