10 months ago · 1 min. reading time · visibility ~10 ·
2021 Rebot | Unified Global Networking Summit Dec.12th 2020 Online


We must rethink the way we work and live!
The pandemic has forced organizations to transform to compete. Work models are in flux, new endpoints are proliferating, data is under siege, consumer behavior is changing, and global supply chains are being disrupted.
Let's explore together the latest market trends and solutions and how technology allows us to emerge stronger, faster, and more resilient.
This summit is about "
The shifts during the Pandemic Era - How to overcome them with creativity
".
After
Introduction & roundtable
, the summit will organize breakout rooms so participants can network together.
Here is a unique way to collect information through google slides presentation, pdf documentation, informal contact exchange with new
#opennetworkers
, to uncover new
#synergies
and create potential partnerships and new business canvas.
If you would like to co-host, during this event, a Breakout room for presentation purpose, let us know in the comment(s) field of this form which topic you would like to cover we will send you the details.
This event is addressed to LinkedIn Open Networkers, from organized presenters to virtual networking visitors.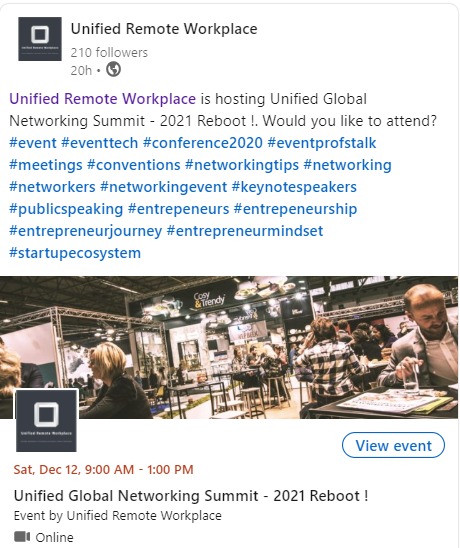 Time table by time zone:

1 - 6:00 a.m. Pacific Time (PT)

2 - 7:00 a.m. Mountain Time (MT)

3 - 9:00 a.m. East Coast Time (EST)

4 - 2:00 p.m.Greenwich Mean Time (GMT)

5 - 3:00 p.m. in Paris, France

6 - 7:30 p.m. in India

7 - 11:00 p.m. in Tokyo, Japan

Thank you for your interest, you can now fill in the following fields and our team will take it from there.

Unified Remote Workplace is a creative technology company providing key digital services. Focused on helping our clients to build a successful business on web and mobile.

With COVID-19 spreading across the globe, businesses have been faced with the challenge of finding ways to operate remotely. We all hope that this pandemic will be over soon, but for now, the best solution for most companies is switching to a remote working environment. It's pretty understandable that most businesses aren't yet prepared for such a drastic change.

The vast majority of companies don't have a fail-proof plan on how to organize and restructure their internal processes to set up an effective remote workplace.

But it all really comes down to having the right set of tools.

We aim high at being focused on building relationships with our clients and community.

Working together on daily basis  requires each individual to let the greater good of the team's work surface above their own ego.

Initially, we generate unlimited conversations that lead to sales. We pride ourselves to be №1 full integration compatible platform of all time.

You have no groups that fit your search